printer friendly version
Monitoring the safe ventilation of mines
March 2022
Flow Measurement & Control
Today's workplace occupational health and safety (OHS) requires that adequate ventilation is provided in the workplace. Due to the ongoing global pandemic, this has become mandatory. One of the industries most affected by this regulation is the mining industry where staff are working in tunnels and confined spaces.
The requirement for mining companies to monitor the air quality underground is important for the safety and health of their staff. By accurately monitoring the air quality and airflow volumes in the operations underground, mining companies will improve working conditions, maintain full staff complements and also assist the operations with energy management by determining the air circulation.
Ideally, fresh cool air in a room must be circulated or replaced between three and seven times an hour. Process Automation Solutions (a business unit of Digital Industries) can assist the industry with cost-effective industrial air velocity measuring solutions in the form of thermal mass (hot-wire anemometer) air flowmeters.
The basic principle of hot-wire anemometers is based on a thin metal wire placed in the tested flowing air/fluid. A current is applied to the wire to generate heat and make the wire temperature slightly higher than the tested fluid. A part of the heat generated is taken away by flowing air/fluid and the amount of heat transfer is correlated to flow speed. Thus, by controlling the current via the change in wire resistance and measuring the temperature differential between upstream and downstream, the device calculates the flow velocity. A schematic demonstrating the hot-wire anemometer principle is shown in Figure 1.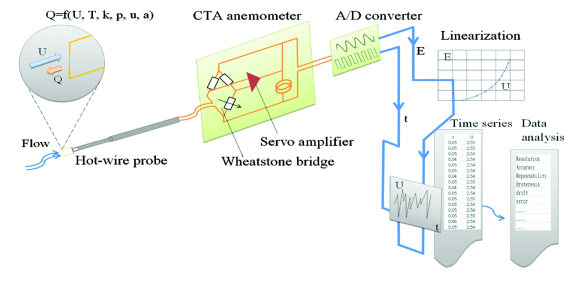 Hot-wire anemometers are most suitable for accurate measurements of very low flow rates. Though some models are designed to measure high flow rates up to 4572 m/min, they still have high accuracy when measuring very low flow velocity.
Temperature compensation
To make flow velocity measurement more accurate in a temperature-varied and flow-varied environment, the eYc-tech FTM06C air velocity transmitter comes with an additional temperature sensor. This sensor measures local fluid temperature, which can be used to adjust flow measurement. The probe shown in Figure 2 integrates a PT20, PT300 and PT1000 RTD temperature sensor and flow velocity sensor, producing an accurate measurement in every condition.
Applications
The hot-wire anemometer has been widely used in various industries, including:
• Mining – optimal control of indoor air quality and ventilation energy savings.
• Chemicals – ammonia gas measurement in chemical fertiliser plants and gas flow measurement in battery factories, sampling systems and induced draft fans.
• Metallurgical – measurement and control of heating furnace gas (blast furnace gas, coking gas, natural gas, etc.) in rolling mills; control of hydrogen, oxygen, nitrogen and other gases in heat treatment quenching furnaces; gas metering in steelworks; measurement of coke oven gas in coking and iron works.
• Power – hydrogen measurement; measurement of primary and secondary air in blast furnaces of power plants; gas measurement during gas distribution in fuel systems; measurement of various gases in boilers and auxiliary systems; measurement of gas in a gas furnace.
• Environmental protection – measurement of the aeration tank in sewage treatment processes; monitoring the discharge of SO2 and NOx; gas measurement in biogas utilisation processes; measurement of chlorine gas during chlorine treatment.
• Food and drug – carbon dioxide treatment in breweries; measurement of gas flow during thermal oxidation; ventilation systems; addition of fresh air during processing; boiler intake, exhaust gas and process control.
• Pulp and paper – measurement of gas and air supply for boilers; measurement of gases in wastewater treatment systems; flue flow monitoring; boiler recovery secondary/tertiary air.
• Other – pipeline and industrial processes; factory compressed air measurement; coal combustion process powder/gas ratio control fuel; control of hot air discharge from vertical mills in the cement industry.
For more information contact Johan van Jaarsveldt, EOH Process Automation Solutions, +27 11 607 8100, johan.vanjaarsveldt@eoh-pas.co.za, www.eoh-pas.co.za
Credit(s)
Further reading:
Mass flow controllers and meters
Electrocomp Flow Measurement & Control
Unlike most other devices on the market, these devices do not suffer from drift and do not require in-service recalibration.
Read more...
---
Magnetic-inductive flow meter for phosphate precipitation
Instrotech Flow Measurement & Control
With a 4-20 mA signal or optional pulse output, the MIK allows for immediate response to the latest process conditions.
Read more...
---
Inline process viscometer for polymer and oil monitoring
SECO Process Instrumentation Flow Measurement & Control
This hermetically sealed unit is assembled entirely from 316L stainless steel and includes built-in fluid temperature measurement.
Read more...
---
Wall-mount ultrasonic flow meters
Royce Water Systems Flow Measurement & Control
High measurement accuracy and minimal interference due to its advanced error correction technology are among the flow meter's benefits.
Read more...
---
Flow meters and switches for very slow flows
Instrotech Flow Measurement & Control
Kobold's KSV meters are shock resistant, small, lightweight and simple to install for measuring liquid or air flow with full-scale accuracy within +/-6%.
Read more...
---
Process Automation Solutions appointed as main contractor
EOH Process Automation Solutions News
Process Automation Solutions has been appointed as the Main Automation Contractor by South Africa's liquids pipeline operator to upgrade the control system, metering and leak detection system for inland bound crude oil pipeline.
Read more...
---
Indian airport's fuel station retrofitted with Rotork actuators
Flow Measurement & Control
A reduction of downtime was of critical concern to the customer, which can be assisted by an holistic asset management programme such as Lifetime Management.
Read more...
---
Flow control for wastewater treatment
Flow Measurement & Control
Going beyond simple open/close functions, the Rotork actuators can move the valves and gates to exact positions to provide complete control of flow in the process.
Read more...
---
Flow measurement of abrasive slurries in hydrocyclone feedlines
KROHNE Flow Measurement & Control
Dedicated flowmeters for cyclone classification help miners improve throughput while keeping maintenance costs low.
Read more...
---
Intelligent electric actuators control flow at chemical plant
Flow Measurement & Control
The actuators have been installed in the cracking units in the plant to control the flow of the oil that is the feedstock at the heart of the production process.
Read more...
---