printer friendly version
Balluff adds wireless solution to IO-Link portfolio
March 2022 Industrial Computer Hardware Fieldbus & Industrial Networking
As a digital interface, the IO-Link communication standard enables fieldbus-independent point-to-point connection and seamless communication between intelligent sensors and automation systems. The technology is thus an essential building block for the factory of the future.

With the introduction of IO-Link Wireless, Balluff is now adding a wireless solution to its own extensive IO-Link portfolio. "Whether in inaccessible places, in robotics or in highly dynamic transport systems, IO-Link Wireless promises an even more flexible and sustainable application – while maintaining system integration and compatibility," says Balluff product manager, Michael Zahlecker. Customers already using IO-Link can easily configure IO-Link Wireless via the integrated web server.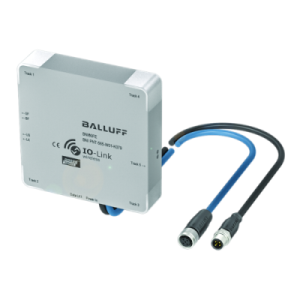 Via the IO-Link master, intelligent sensors and actuators are linked to the controller.
Instead of using cables, the wireless master receives the sensor data by radio via a bridge or hub. "The new wireless standard meets the high demands of factory automation," says Zahlecker. Easier planning and installation, greater flexibility and mobility, and the elimination of plugs or cables are among the major advantages over a wired system. At the same time, IO-Link Wireless can be used worldwide without a licence in a frequency range of 2,4-2,483 GHz.
"When developing IO-Link Wireless, high reliability was of paramount importance to us," explains Zahlecker. A latency of 5 ms and an error rate of 10-9 thus enable direct connection as well as fast and reliable data transmission. A further plus-point is the problem-free scaling and extended integration of up to forty devices.
The wireless IO-Link variant is used in dynamic, fixed and mobile applications: On transport systems with high speeds, compatible sensors can thus be placed directly on the carriage for more precise monitoring. When changing tools on a gripper, the absence of cabling enables data transmission in confined spaces. This also applies to milling machines, which offer little space for sensors but require high process reliability. Here, the new system scores with its robustness: "Since there is no need for cabling, IO-Link Wireless can also be used to install condition monitoring sensors in monitoring systems, even in inaccessible places," explains Zahlecker, "making the system ideally suited for retrofitting existing solutions."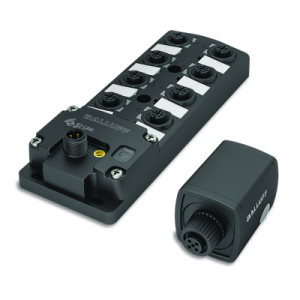 Instead of using cables, the wireless master receives the sensor data by radio via a bridge (right) or hub (left). The technology is thus an essential building block for the factory of the future.
In addition to the new IO-Link wireless standard, Balluff offers various solutions for contactless data and power transmission, and is constantly expanding its own wireless portfolio. "Using wireless technology, we want to unleash industrial communication," says Hubertus Breier, head of technology at Balluff, describing the benefits of wireless solutions in industrial communication. "Thanks to the IO-Link Wireless standard, we can now collect data in applications, for example, where this was either technically impossible or too costly before."
Credit(s)
Further reading:
New user-friendly modular controller
Allpronix PLCs, DCSs & Controllers
Novus has released its N20K48 controller family. This new concept is based on a compact, powerful core controller plus a growing family of micromodules that enable it to meet a wide range of application requirements.
Read more...
---
Non-contact microwave limit switch
Allpronix Valves, Actuators & Pump Control
The MWS-ST/SR level switch's use of the heterodyne detection method produces an output that is proportional to the received power level.
Read more...
---
Cleanroom tablet PC
Extech Safety Systems Industrial Computer Hardware
The device is convenient to operate, even with multiple pairs of nitrile cleanroom gloves or a stylus. Both the front and rear cameras of the tablet can be used within the stainless steel enclosure.
Read more...
---
Non-nuclear slurry density meter
Allpronix Analytical Instrumentation & Environmental Monitoring
Rhosonics helps mineral processing plants to replace nuclear density gauges by using ultrasonic technology, allowing operators to achieve process optimisation in a safer, more reliable, sustainable and cost effective way, and contribute to a greener and smarter industry.
Read more...
---
Industrial Ethernet rack mount switch
Allpronix Operator Interfaces, Switches & Relays
The Korenix Jetnet 7628XP is an Industrial Ethernet rack mount switch with a 10G backbone capability and 4x 10G SFP ports. This Layer 3 managed switch can operate in extremely harsh environments.
Read more...
---
Compact and powerful energy monitoring unit
Opto Africa Holdings Electrical Power & Protection Fieldbus & Industrial Networking
The RIO EMU's slim form factor is ideal for 'just one more thing' retrofit jobs thanks to DIN-rail and panel-mount options.
Read more...
---
Is your manufacturing plant ready for IoT?
Editor's Choice Fieldbus & Industrial Networking IT in Manufacturing
Pockets of IoT exist in manufacturing plants today; the challenge is to fully digitalise the entire plant.
Read more...
---
Rugged, fanless computers in 19-inch rack housings
Rugged Interconnect Technologies Industrial Computer Hardware
The solution is ideal for railway, maritime, defence, medical or other applications that need to be supported for ten years or more.
Read more...
---
Mini-PC for IoT and industrial applications
Brandwagon Distribution Industrial Computer Hardware
Compulab recently launched fitlet3, its latest Atom-based miniature fanless PC, featuring Intel's newest Atom processor family, Elkhart Lake. Designed to be highly versatile with multiple functions in 
...
Read more...
---
Ultra-low latency standalone 4xD1 H.264 video streamer
Rugged Interconnect Technologies Industrial Computer Hardware
The XStream-SD4 is an intelligent, standalone, ultra-low latency H.264 streaming solution that accepts 4x NTSC/PAL/RS-170 composite video sources and records and streams them over 100/1000 Mbps Ethernet. 
...
Read more...
---