printer friendly version
Flow control at US water resource recovery facility
February 2022
Valves, Actuators & Pump Control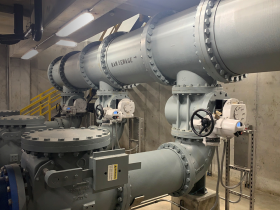 Rotork IQT part-turn electric actuators have been specified for use at the Water Resource Recovery Facility (WRRF) in East Lansing, Michigan, USA. This activated sludge/tertiary filtration plant has the capacity to process approximately 71 million litres of water every day. 
Over 100 actuators have been ordered, consisting of various IQ3 and IQT3 range part-turn electric actuators, including the IQ18, IQ25, IQT-125, 500, 1000 and 2000. These actuators serve a variety of vital roles, including the operation of flow control valves, sluice gates, ball control valves, AWWA butterfly valves and eccentric plug valves. They were installed alongside IW Mk2 quarter-turn worm gearboxes. 
The actuators are able to accurately control the exact amount of flow. Going beyond simple open/close functions, they can move the valves and gates to exact positions to provide complete control of flow in the process. In addition to this modulating service, the actuators also provide an isolating service in a new digester process. The digester process breaks down the waste material to produce biogas, and the actuators ensure that the flow of municipal wastewater can be stopped, should it be necessary to do so.  
For more information contact Reshnita Singh, +27 11 453 9741, reshnita.singh@rotork.com, www.rotork.com 
Further reading:
Wireless communication and control of electro-pneumatic manifolds and IO
SMC Corporation South Africa Valves, Actuators & Pump Control
SMC analysed the control of manifolds-in-motion, where the physical removal of communications cables is desirable. Applications include manifolds mounted on robot gripper assemblies or rotating tables. 
...
Read more...
---
Valves for motorised open/close functions
Valves, Actuators & Pump Control
The valves' robust, self-locking linear actuator has a safety switch-off function with overload protection, a manual override and an optical position indicator.
Read more...
---
Abrasive Flow Solutions celebrates 1st anniversary
News Valves, Actuators & Pump Control
The company specialises in the design and manufacture of slurry-related valves, and works closely with sister company, BMG.
Read more...
---
Actuator retrofit gives Indian airport critical performance data
Valves, Actuators & Pump Control
Since a reduction in downtime was of critical concern, the customer signed up to a service agreement as part of Rotork's Lifetime Management programme.
Read more...
---
Rotork actuators installed at Beijing's second international airport
Valves, Actuators & Pump Control
The pump room, oil tanks, oil station and landing field ground wells use the company's actuators to operate a variety of valve types.
Read more...
---
Festo campaign highlights process automation solutions
Festo South Africa Valves, Actuators & Pump Control
Festo aims to aid its process automation customers to thrive even during unpredictable periods, by continually analysing the value-creation chain and communicating with its customers to understand their needs.
Read more...
---
Silencer to help protect workers from gas process noise
Emerson Automation Solutions Valves, Actuators & Pump Control
Fisher WhisperTube modal attenuator provides noise reduction in compressible fluid service to improve worker safety, with no impact to process flow.
Read more...
---
New sustainable technologies to couple with renewable energy production
Neles South Africa Valves, Actuators & Pump Control
You may have noticed the buzz phrase, 'Power-to-X' in the press. It refers to hydrogen technology to store or convert surplus electricity, generated preferably from renewable energy sources.
Read more...
---
Automated solution for pump protection valve manufacturer
Valve & Automation Valves, Actuators & Pump Control
Over 50 drawings of various components served as the basis for the automation solution developed by EWM for pump protection valve manufacturer, Schroeder Valves. All of the leading specialist's components 
...
Read more...
---
The ultimate control valve
Valve & Automation Valves, Actuators & Pump Control Editor's Choice
Zwick has designed its TRI-SHARK range of Triple Eccentric Valves to be used in control or throttling applications as well as for pure on/off functionality.
Read more...
---