printer friendly version
Left-alignable extension modules for PLCnext Control devices
March 2022
PLCs, DCSs & Controllers
Experience shows that demands change over the duration of a project or during the lifecycle of an application. Therefore, the open ecosystem 'PLCnext Technology' by Phoenix Contact, in addition to being expandable via downloads of functions from the PLCnext Store, now also offers a plug-in solution: a left-alignable extension system that adds functions not contained in the standard performance spectrum of PLCnext Control devices.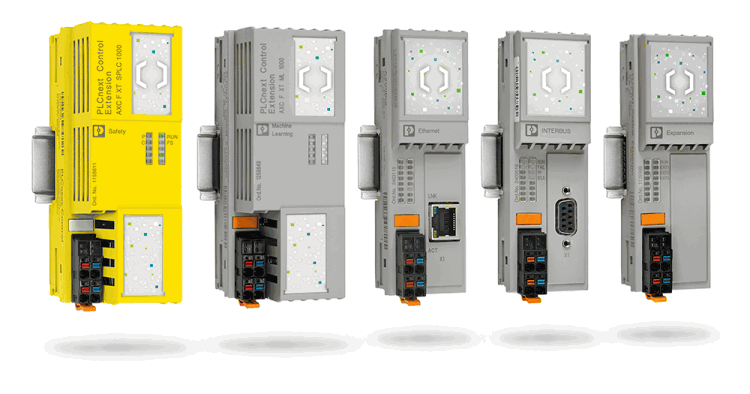 Specifically, the AXC F 2152 controller can be expanded by one extension module, and the AXC F 3152 controller by two. If the supported number of extension modules is not sufficient, the AXC F XT EXP extension module enables up to three extension modules to be operated on each controller.
The AXC F XT ETH 1TX extension module provides the functionality of an Ethernet interface. Having its own MAC address means that networks can be implemented so that they are physically completely separate from each other. As an Interbus master, one of several advantages of the AXC F XT IB module is that it allows for the continued use of existing systems in Interbus-based applications.
The AXC F XT PB module is a Profibus master, which exchanges data with up to 125 Profibus participants, both cyclically (DP V0) and acyclically (DP V1). The AXC F XT SPLC 1000 module functions as a safety-related controller up to SIL 3, to which a maximum of 32 PROFIsafe devices can be coupled. The AXC F XL ML 1000 extension module enables a PLCnext Control device of the AXC F 3152 type to be extended with a Coral Edge TPU for processing AI applications.
As the left-alignable modules communicate with the controller via PCIe, the standardised interface can also be used by third-party devices. The configuration of the extension modules is consistent despite the different functions. When a module is plugged in, the engineering verifies whether the proper firmware version was used and issues an informative error message if necessary. The extension modules therefore make the PLCnext Control device a suitable solution for practically any application.
Credit(s)
Further reading:
ABB white paper explores the future of DCS technology
ABB South Africa News PLCs, DCSs & Controllers
The company foresees a modular automation architecture that will evolve to address customer needs, becoming more open, interoperable and flexible.
Read more...
---
Introducing Commander S and Marshal
PLCs, DCSs & Controllers
Control Techniques is launching a new member to the Commander family of drives and a revolutionary app named Marshal. Commander S provides a solution for applications that require plug-and-play control convenience straight from the box, while Marshal revolutionises how the user interfaces with the drive.
Read more...
---
DIN-rail mounted DC/AC inverter
Phoenix Contact Electrical Power & Protection
Three devices can be connected in parallel to create a three-phase grid; they communicate with each other in real time, thereby synchronising the 120° phase shift.
Read more...
---
Managed Ethernet switches with IP67 protection
Phoenix Contact IT in Manufacturing
Managed switches for field installation with IP65/IP66/IP67 degrees of protection come in the form of the FL Switch 2600 and 2700 from Phoenix Contact.
Read more...
---
Configurator for circuit breaker system
Phoenix Contact Electrical Power & Protection
Once configuration is completed, all relevant data is provided as a download package containing system data sheets, technical data and figures.
Read more...
---
Reliable interface for the blind plugging of modular connections
Phoenix Contact Enclosures, Cabling & Connectors
The new docking frames of the Phoenix Contact Heavycon product family enable the time-saving installation and maintenance of push-in systems and other applications in which the interfaces cannot be seen.
Read more...
---
Manufacturer-independent device management and update service
Phoenix Contact PLCs, DCSs & Controllers
In the industrial environment, solutions for Device and Update Management (DaUM) often use a specific process called a vendor to distribute files to proprietary devices and install them based on the manufacturer. 
...
Read more...
---
Tool-free cabling with M12 push-lock connectors
Phoenix Contact Enclosures, Cabling & Connectors
Confined spaces and customised cable lengths are becoming increasingly common when it comes to the cabling of machines and systems. Whether for signal, data or power transmission, the Phoenix Contact 
...
Read more...
---
Space-saving power supplies
Phoenix Contact Electrical Power & Protection
With its new generation of 'Uno Power' power supplies, Phoenix Contact provides compact power supplies with a high power density. The new devices are space-saving and alignable without minimum clearances 
...
Read more...
---
Redundant PLC for maximum availability
Phoenix Contact PLCs, DCSs & Controllers
Integrating IO-Link-capable sensors and actuators is especially popular with suppliers of machines or skids for the food and beverage industry.
Read more...
---