printer friendly version
Modbus sensor guards against costly water damage
February 2022 Sensors & Transducers Flow Measurement & Control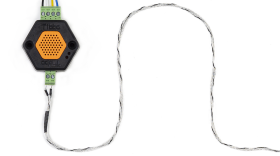 Bus Probe #05 (BP#05) is the newest member of Tibbo's RS-485 Modbus sensor family. BP#05 implements a cost-effective, low-power flood/leak detector that is ideally suited for building management systems (BMS) and building automation systems (BAS). Just like its siblings, it comes in a durable, stylish and compact housing. The sensor implements a Modbus RTU protocol over a half-duplex RS-485 interface.
BP#05 works with a leak detection cable that reliably detects the presence of water and water-dissolved liquids. Unlike self-contained sensors that only detect the presence of water in their immediate vicinity, this cable – which can be up to 30 m in length – allows for guarding a large area. For example, the cable can be run along windowsills to safeguard against even minor leaks.
For added reliability and safety, the sensor features a -40°C to +85°C operating temperature range, inductor-less isolation of the detection circuit from its power and RS-485 bus, hot-swap protection, and ±65 V fault and short-circuit protection for the RS-485 lines.
To simplify the configuration and maintenance of BP#05 and all other Tibbo bus probes, the Web485 board (WebUSB-to-RS-485) – coupled with the BP test web app – allows the user to upgrade BP firmware, set Modbus IDs, change the baud rate, and poll and graph a sensor's output – all from within a browser. This even works on Android smartphones, simplifying configuration and maintenance in the field.
For more information contact Andrew Hutton, RF Design, +27 21 555 8400, andrew@rfdesign.co.za, www.rfdesign.co.za
Credit(s)
Further reading:
2D/3D profile sensor for weld seam tracking
ASSTech Process Electronics + Instrumentation Sensors & Transducers
Supporting software can evaluate two- and three-dimensional data from smart cameras, vision systems, profile sensors and IPCs with profile sensors.
Read more...
---
Standard-compliant differential current transformer
Beckhoff Automation Sensors & Transducers
The SCT5564 can be used as a residual current monitor and can measure DC and AC residual currents with up to 100 kHz frequency in the 0 to 2 A range.
Read more...
---
Modbus probes gain support for parity options
RF Design Fieldbus & Industrial Networking
The marquee feature of firmware version 1.06 facilitates the use of odd, even, mark or space parity modes when communicating with bus probes.
Read more...
---
Wire-actuated encoder for crane arms and lifting platforms
Instrotech Sensors & Transducers
Siko has solved the challenges presented by such applications with the SG 30 and its very compact, yet robust, design.
Read more...
---
Ultrasonic distance sensor
ASSTech Process Electronics + Instrumentation Sensors & Transducers
Wenglor's new ultrasonic distance sensors combine low installation depth and easy integration of the sensor with tried and tested ultrasonic technology, setting new standards in terms of range and integration options.
Read more...
---
Grist for the mill
Turck Banner Editor's Choice Sensors & Transducers
To meet the requirements of Swiss company Bühler with regard to its MHSA grain huller, Turck certified its contactless Li linear position sensor for use in the Ex area. Thanks to its contactless operating principle, the robust sensors are both maintenance-free and wear-free. They offer an impressive performance due to their optimum reproducibility, resolution and linearity over a large temperature range.
Read more...
---
Ex-rated strain gauge transducer
Turck Banner Sensors & Transducers
Turck Banner's IMX12-SG for force measurement applications in hazardous areas achieves response times below 10 ms and can be used as a repeater or signal converter.
Read more...
---
Concentration measurement with process sensors
Sensors & Transducers
To run chemical reactions in an optimal range and to control product quality, online concentration measurement is required. This ensures a fast intervention in case of concentration variation during 
...
Read more...
---
Sensors for pulp and paper applications
Gail Norton Instrumentation Sensors & Transducers
Some of the toughest challenges for sensors are found in the pulp and paper industry. Here, high temperatures and a contaminated environment make it difficult for optical sensors to operate accurately 
...
Read more...
---
Universal code reader for optimal reliability
Pepperl+Fuchs Sensors & Transducers
Camera-based code readers have already proven their worth in reading detailed data for automated processes, with the adaptability to suit many tasks.
Read more...
---