printer friendly version
Tool-free cabling with M12 push-lock connectors
February 2022
Enclosures, Cabling & Connectors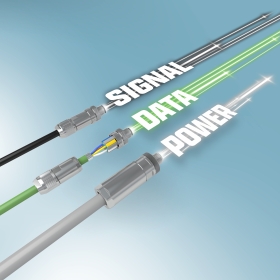 Confined spaces and customised cable lengths are becoming increasingly common when it comes to the cabling of machines and systems. Whether for signal, data or power transmission, the Phoenix Contact M12 push-lock connectors designed for assembly enable easy and reliable conductor connection.
There is no need for a screwdriver or an extra helping hand. Rigid and pre-treated conductors are conveniently wired without tools by means of direct insertion. Connecting litz wires or conductors with a large cross-section is a simple case of using the levers to open and close the clamping chambers of the connector. Connected conductors can also be released again in the same way.
The colour-coded and numerical identification of the contact holder levers ensures the correct assignment of conductors, so that connection errors are prevented. The long-term stable, vibration-resistant PE connection to all metal components provides protection against electric shock. Optional shielding enables interference-free transmission and reliable system operation.
Credit(s)
Further reading:
Connectors for the evolving world of test and measurement
Spectrum Concepts Enclosures, Cabling & Connectors
Instrumentation employed to test new products needs to become more advanced to keep up with the rapidly increasing technology in these products.
Read more...
---
Pluggable system solution for control cabinet-free automation
Beckhoff Automation Enclosures, Cabling & Connectors
Beckhoff's MX-System provides maximum efficiency for machine builders, control cabinet manufacturers and end-users.
Read more...
---
Cost-effective electrical termination solutions for the construction industry
Pratley Enclosures, Cabling & Connectors
It is important not to compromise on quality in favour of cost, especially for safety-critical termination parts like cable glands and junction boxes.
Read more...
---
Compact emergency stop button
Anglo Allied Engineering Enclosures, Cabling & Connectors
Bernstein has brought out a smaller version of its safety rope limit switch, adding an extra layer of safety to the operation of machines and conveyor belts, with greater space saving and versatility.
Read more...
---
DIN-rail mounted DC/AC inverter
Phoenix Contact Electrical Power & Protection
Three devices can be connected in parallel to create a three-phase grid; they communicate with each other in real time, thereby synchronising the 120° phase shift.
Read more...
---
Managed Ethernet switches with IP67 protection
Phoenix Contact IT in Manufacturing
Managed switches for field installation with IP65/IP66/IP67 degrees of protection come in the form of the FL Switch 2600 and 2700 from Phoenix Contact.
Read more...
---
Configurator for circuit breaker system
Phoenix Contact Electrical Power & Protection
Once configuration is completed, all relevant data is provided as a download package containing system data sheets, technical data and figures.
Read more...
---
Automation construction kit replaces the control cabinet
Beckhoff Automation Enclosures, Cabling & Connectors
Beckhoff's MX-System harnesses all the advantages of PC- and EtherCAT-based control technology at the same time.
Read more...
---
Reliable interface for the blind plugging of modular connections
Phoenix Contact Enclosures, Cabling & Connectors
The new docking frames of the Phoenix Contact Heavycon product family enable the time-saving installation and maintenance of push-in systems and other applications in which the interfaces cannot be seen.
Read more...
---
Left-alignable extension modules for PLCnext Control devices
Phoenix Contact PLCs, DCSs & Controllers
As the left-alignable modules communicate with the controller via PCIe, the standardised interface can also be used by third-party devices.
Read more...
---