printer friendly version
Server engine for increasing machine learning requirements
January 2022
IT in Manufacturing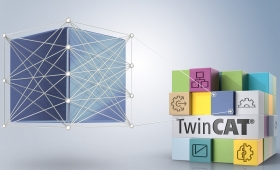 With TwinCAT Machine Learning Server as an additional inference engine, TwinCAT Machine Learning also meets the increasingly growing requirements of machine learning (ML) or deep learning for industrial applications. This is because ML models are becoming more and more complex, the execution speed is expected to increase and greater flexibility of inference engines is demanded with respect to ML models.
TwinCAT Machine Learning Server is a standard TwinCAT PLC library and a so-called near-real-time inference engine, i.e., in contrast to the two previous engines, it is not executed in hard real-time, but in a separate process on the IPC. In return, basically all AI models can be executed in the server engine and this with full support of the standardised exchange format Open Neural Network Exchange (ONNX). Furthermore, there are AI-optimised hardware options for this TwinCAT product that enable scalable performance.
The TwinCAT Machine Learning Server can operate in classic parallelisation on CPU kernels, either using the integrated GPU of the Beckhoff Industrial PCs or accessing dedicated GPUs, e.g., from NVIDIA. This provides an inference engine with maximum flexibility in terms of models and high performance in terms of hardware. Applications can be found in predictive and prescriptive models as well as in machine vision and robotics. Examples include image-based methods for sorting or evaluating products, for defect classification as well as defect or product localisation and for calculating gripping positions.
For more information contact Dane Potter, Beckhoff Automation, +27 79 493 2288, danep@beckhoff.com, www.beckhoff.co.za
Credit(s)
Further reading:
The most common cyber threats in the industrial environment
Rockwell Automation IT in Manufacturing
Rockwell Automation's cybersecurity portfolio strategic growth leader delves into this topic in a recent blog post.
Read more...
---
Deploying IT into the factory floor environment
Omniflex Remote Monitoring Specialists IT in Manufacturing
The ongoing debate on whether OT and IT should be integrated has never been more intense. Closing the gap between the two has many benefits, not least of which are efficiency and profitability managed in near real time.
Read more...
---
PACTware further refines user interface
VEGA Controls SA IT in Manufacturing
Optimising a user interface for multiple sensor equipment manufacturers is possible in such a way that industrial users can use it similarly to everyday smart devices.
Read more...
---
EPLAN Marketplace networks users and service providers
EPLAN Software & Services IT in Manufacturing
The free online platform is divided into engineering services, module manufacturing services and general consulting sectors.
Read more...
---
Condition monitoring software gets asset health boost
Emerson Automation Solutions IT in Manufacturing
The newest version of Emerson's AMS Machine Works adds support for embedded, automatic analytics at the edge using patented PeakVue technology.
Read more...
---
A robust cybersecurity strategy is critical
ABB South Africa IT in Manufacturing
Understanding and managing the risks associated with a cyberattack can seem a daunting prospect in the face of keeping a plant up and running.
Read more...
---
Is your manufacturing plant ready for IoT?
Editor's Choice Fieldbus & Industrial Networking IT in Manufacturing
Pockets of IoT exist in manufacturing plants today; the challenge is to fully digitalise the entire plant.
Read more...
---
Revolutionising space exploration
Siemens South Africa IT in Manufacturing
Sierra Space, a commercial space company at the forefront of creating and building the future of space transportation for low earth orbit commercialisation, has implemented the Siemens Xcelerator portfolio of software and services as the foundation of its next-generation digital engineering program.
Read more...
---
Compact drive technology mobilises high-tech CT scanner
Beckhoff Automation Editor's Choice Motion Control & Drives
PC- and EtherCAT-based technology from Beckhoff delivers the desired viewing angles and mm-precise alignment of the X-ray source to the patient.
Read more...
---
Impact of innovative technologies on the mining industry
Parker Hannifin - Sales Company South Africa Editor's Choice IT in Manufacturing
Mining operations must identify creative ways to handle the increased demand for minerals and resources as global economies become even more reliant on mineral sales. As a result, mine operators must 
...
Read more...
---