printer friendly version
SAIMC: Durban branch
January 2022
SAIMC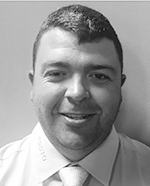 On 3 November the branch was treated to an informative presentation, given by Dewald Smit of Festo, using Zoom as the virtual medium. He provided a well-balanced comparison of the relative advantages and disadvantages of electric and pneumatic actuators, including their electrical supply and compressed air requirements. He first discussed compressed air systems in which considerable energy losses may be incurred if systems are not designed carefully, with many systems losing as much as 30% of their compressed air through leakages and further losses caused by pressure drops in the distribution pipes and fittings. Ways of optimising the pneumatic system were offered, including the use of boosters and the need to have measurements showing pressure profiles, before moving on to examine the total cost of ownership for electric and pneumatic drives.
Dewald demonstrated a program that can be used to study any type of application to determine whether pneumatic or electric actuation will be the best choice. It allowed for factors like the required cycle time, frequency of operation, Ex protection etc., to be input and a comparison made of the operational cost over time. Some interesting results, in some cases counter intuitive, were obtained that highlighted the importance of all factors to be considered when choosing this type of system at the design phase. A further aspect which was covered was the need to select the correct size of actuator, as they are frequently oversized and consequently waste energy.
A lively discussion followed before Dewald was thanked for his interesting presentation, which was the last for this year. It has been recorded and is available for people who were unable to attend.
Credit(s)
Further reading:
Obituary: Steven James Meyer
January 1957 - January 2022
Technews Publishing (SA Instrumentation & Control) News SAIMC
It is with deep sadness and shock that we announce the sudden death of SA Instrumentation & Control Editor, Steven Meyer. Steven joined Technews in October 2007 in the position of Deputy Editor. His 
...
Read more...
---
SAIMC: From the office of the CEO
SAIMC SAIMC
I trust that you all had a wonderful holiday season and are rested and ready to start another year of hectic activity. For some people, the holidays are the highlight of their year, while for others, 
...
Read more...
---
SAIMC: Johannesburg branch
SAIMC SAIMC
During another full month, the Johannesburg team had the pleasure of hosting the branch year-end function, as well as a technology evening presented by turboTRAIN. The year-end function was a spectacular 
...
Read more...
---
SAIMC: Cape Town branch
SAIMC SAIMC
The Cape Town branch management team would like to thank all members for their support in 2021 and wish everyone all the best for 2022. Presented by by Dhiren Naidoo, the last technical evening 
...
Read more...
---
SAIMC: From the office of the CEO
SAIMC SAIMC
Covid-19, vaccination and 5G are both culprits when it comes to the subject of rumours, false information and scare-mongering. I will not be talking about Covid as this is a highly controversial subject. 
...
Read more...
---
SAIMC: Durban branch
SAIMC SAIMC
The branch held its virtual technology meeting, as always, on the first Wednesday of October. Diogo Fidalgo from R. STAHL South Africa presented on the very interesting topic: HMI and camera solutions 
...
Read more...
---
SAIMC: Johannesburg branch
SAIMC SAIMC
The branch had the good fortune of hosting two technology events this month, but due to the Covid-19 virus threat and the current lockdown situation, the management team has decided to do virtual training 
...
Read more...
---
SAIMC: Vaal branch
SAIMC SAIMC
The branch hosted Kenneth M
c
Pherson from Turck Banner during the month of September, when he presented on the role that IO-Link can and probably will, play in the Industry 4.0 workplace.       Most 
...
Read more...
---
SAIMC: From the office of the CEO
SAIMC News
Last month I elaborated on the big question: What are assessors looking for? Today I would like to talk to you about the new CPD requirements. This is especially important to companies who will apply 
...
Read more...
---
SAIMC: Durban branch
SAIMC SAIMC
The September virtual technology evening was presented by Eric Carter of turboTRAIN, entitled 'Instrumentation fault finding'. He addressed the questions: Why is it problematic? and: What can be done 
...
Read more...
---