printer friendly version
Zest WEG minimises downtime at local mine
January 2022
Electrical Power & Protection
In a process that minimised disruption to the customer's plant, Zest WEG has supplied one of its locally manufactured MTW05 Medium Voltage (MV) switchboards to a gold producer in Gauteng.
According to Zest WEG executive, Bevan Richards, the choice was based on the panels' compact dimensions, safety features and internal arc classification. With a 17,5 kV voltage rating, basic insulation level (BIL) of 95 kV and a fault level rating of 31,5 kA, the switchboard also has a high internal arc classification of 31,5 kA BF ALR 1 sec.
"The changeout was facilitated by an extension of the substation to allow both the existing panel and our new MTW05 MV panel to be accommodated in the same room," adds Richards. "This allowed for our panel to be installed and energised, so that loads could be moved from the existing panel to the new one at opportune moments."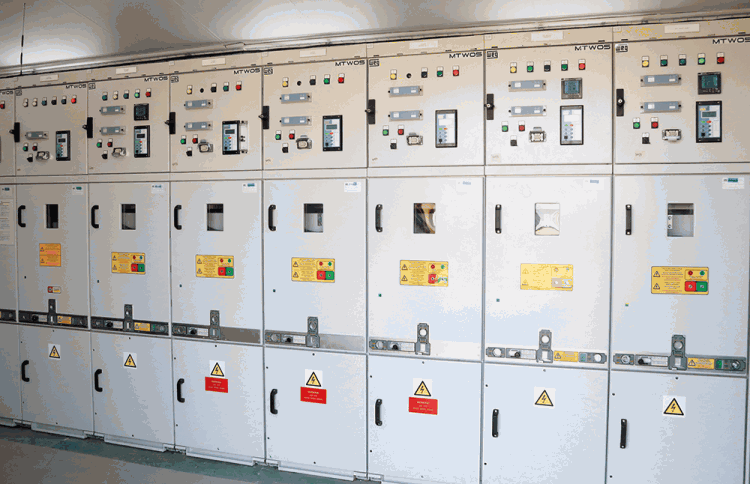 The customer was able to complete the termination of cables from the national utility, from the standby generator set and from numerous overhead feeder lines in this phased approach. "This avoided hours of downtime," Richards explains, "which would have cost the customer dearly in terms of lost production. The job was conducted after detailed engagement with mine management, to arrive at an optimal solution within the operational demands of the plant.
"The project consisted of numerous phases, including the addition of a MV power factor correction (PFC) system. With the plant planning a number of upgrades, the new state-of-the-art panel provides a safer solution that will accommodate all the required modifications and extensions going forward."
The order included the supply of a battery tripping unit, a cabinet for tools and equipment, a new distribution board, as well as the completion of internal control cabling. Zest WEG also supplied, installed and commissioned a fire suppression system inside the MV substation and PFC room
"Another element of our solution was to give the customer enhanced monitoring capacity, by fitting the incoming panel with a power quality meter with GPS and GPRS capability," concludes Richards. "This allows for the off-site monitoring and recording of power quality and energy consumption, so they can pick up any spikes in the grid supply that might expose the plant to damage in the long term and determine the cause of power outages."
Credit(s)
Further reading:
Compact and powerful energy monitoring unit
Opto Africa Holdings Electrical Power & Protection Fieldbus & Industrial Networking
The RIO EMU's slim form factor is ideal for 'just one more thing' retrofit jobs thanks to DIN-rail and panel-mount options.
Read more...
---
Vacuum circuit breaker with thermal monitoring
Schneider Electric South Africa Electrical Power & Protection
The EasyPacT EXE offers IoT sensors and digital connectivity for a simpler, more sustainable and safer experience for panel builders, facility managers and OEMs.
Read more...
---
Valmet automation system chosen for waste-to-energy plant
Valmet Automation News Electrical Power & Protection
The new plant in Warsaw, Poland, will process 305 000 tons of municipal solid waste per year to produce electricity and district heating
Read more...
---
Smart manufacturing will power the battery gigafactory of the future
Rockwell Automation Electrical Power & Protection
Electric vehicles' role in the decarbonisation of mobility requires gigafactories that can produce batteries in high volumes, at high speeds and with consistently high quality.
Read more...
---
Upskilling will be critical to alternative energy production projects
Electrical Power & Protection
One of the challenges for this sector is that jobs are typically project-based, which means they involve fixed-term contracts.
Read more...
---
Propelling green hydrogen toward large-scale African commercialisation
Electrical Power & Protection
RTS Africa Engineering, a founding member of the African Hydrogen Partnership, believes the industry is on the cusp of pricing diesel and petrol out of the market.
Read more...
---
Data logger for energy surveys, load studies
Comtest Electrical Power & Protection
In conjunction with Fluke's infrared cameras, the energy logger can enhance energy surveys by quickly identifying opportunities for energy savings, both electrically and thermally.
Read more...
---
DIN-rail mounted DC/AC inverter
Phoenix Contact Electrical Power & Protection
Three devices can be connected in parallel to create a three-phase grid; they communicate with each other in real time, thereby synchronising the 120° phase shift.
Read more...
---
Pyranometer for monitoring small-scale PV installation efficiency
GHM Messtechnik SA Electrical Power & Protection Maintenance, Test & Measurement, Calibration
The device's classification level under the ISO 9060:2018 standard guarantees accuracy, reliability, precision and compliance with reference standards.
Read more...
---
IP67 power supplies with IO-Link for field installation
Turck Banner Electrical Power & Protection
Turck Banner's compact PSU67 power supply units ensure energy-efficient, decentralised power supply in modular systems.
Read more...
---