printer friendly version
Sensors for pulp and paper applications
April 2022
Sensors & Transducers
Some of the toughest challenges for sensors are found in the pulp and paper industry. Here, high temperatures and a contaminated environment make it difficult for optical sensors to operate accurately and reliably. This is when Telco infrared sensors come into their own because of the five core values i.e. not affected by airborne contamination, alignment, vibration, extraneous light and water resistance better than IP67. Applications include edge control, loop control and paper break detection.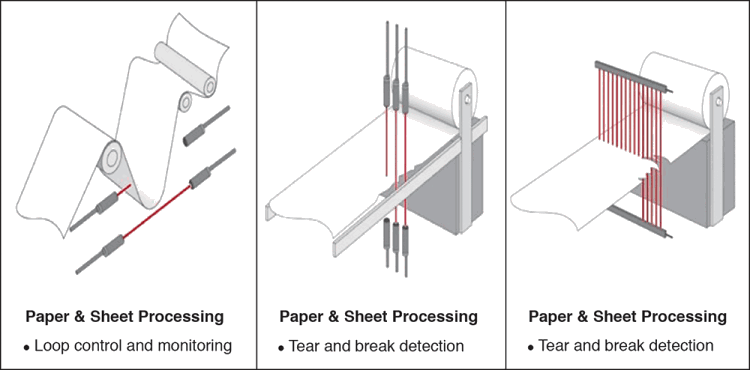 A two-channel amplifier consisting of two sets of light transmitters (LT) and two sets of light receivers (LR) are mounted on the same side of the roll, or on opposite sides, whatever suits the customer, to track the edge of the roll and the same mounting can be used for loop control.
A Telco diffuse proximity infrared sensor with an adjustable sensing range of 0–5 metres can be used in the application for paper break detection. The range is further extendable by using a reflector to achieve distances up to 12 metres. The sensors track and trace the reflector and are not hindered by steam, moisture or vibration. A simple adjustment of the potentiometer enables the devices to 'see through' the contamination with laser-sharp accuracy.
Credit(s)
Further reading:
Ultrasonic distance sensor
ASSTech Process Electronics + Instrumentation Sensors & Transducers
Wenglor's new ultrasonic distance sensors combine low installation depth and easy integration of the sensor with tried and tested ultrasonic technology, setting new standards in terms of range and integration options.
Read more...
---
Grist for the mill
Turck Banner Editor's Choice Sensors & Transducers
To meet the requirements of Swiss company Bühler with regard to its MHSA grain huller, Turck certified its contactless Li linear position sensor for use in the Ex area. Thanks to its contactless operating principle, the robust sensors are both maintenance-free and wear-free. They offer an impressive performance due to their optimum reproducibility, resolution and linearity over a large temperature range.
Read more...
---
Ex-rated strain gauge transducer
Turck Banner Sensors & Transducers
Turck Banner's IMX12-SG for force measurement applications in hazardous areas achieves response times below 10 ms and can be used as a repeater or signal converter.
Read more...
---
Concentration measurement with process sensors
Sensors & Transducers
To run chemical reactions in an optimal range and to control product quality, online concentration measurement is required. This ensures a fast intervention in case of concentration variation during 
...
Read more...
---
Universal code reader for optimal reliability
Pepperl+Fuchs Sensors & Transducers
Camera-based code readers have already proven their worth in reading detailed data for automated processes, with the adaptability to suit many tasks.
Read more...
---
Working hand in hand to meet automotive OEMs' strict requirements
Turck Banner Sensors & Transducers System Integration & Control Systems Design
The LASE Group, producer of machines and assembly cells for the automotive industry, places trust in its close collaboration with Turck Multiprox.
Read more...
---
2D vision sensor
ifm - South Africa Sensors & Transducers
Thanks to its integrated daylight filter, ifm's new Dualis is highly resistant to extraneous light and boasts powerful algorithms to meet demanding requirements.
Read more...
---
3D machine vision camera gives robots human eyesight
SICK Automation Southern Africa Sensors & Transducers
The camera integrates easily into existing systems using system integration software, and features easily configurable input and output functionality.
Read more...
---
Draw-wire mechanisms for encoders
ifm - South Africa Sensors & Transducers
Adverse effects on distance detection, for example those caused by dirt in the case of optical distance measurement, are mostly eliminated.
Read more...
---
Position sensor for hydraulic cylinders
Instrotech Sensors & Transducers
SIKO's SGH10 draw-wire encoder measures cylinder stroke precisely using Bowden cable sensor technology installed directly in the cylinder.
Read more...
---