printer friendly version
Unwired unleashes new possibilities
October 2021
Industrial Wireless
Wire runs are not always possible or ideal in industrial applications. In situations where it is hard to wire or reconfigure industrial operations, wireless LANs (WLANs) provide an ideal alternative to traditional wired Ethernet LANs. Indeed, recent advances in wireless technology have contributed to industrial WLANs becoming commonplace solutions in various applications, such as automotive, logistics and transportation systems. These usually require automated equipment that is constantly moving and difficult to wire. The growing adoption of industrial WLANs enables these systems to be connected for enhanced operational efficiency.
With so much potential waiting to be unlocked by cutting free from wires, it is no wonder the popularity of industrial WLAN applications has grown so rapidly in recent years. For instance, you can use WLAN technology to deploy automated forklifts in a smart warehouse or overhead transfer system to increase efficiency and productivity, making the best use of limited manpower. As endless as the possibilities may be, going wireless is not always a clear-cut choice. Even if you have decided on a wireless LAN, how do you choose the right solution for your industrial requirements?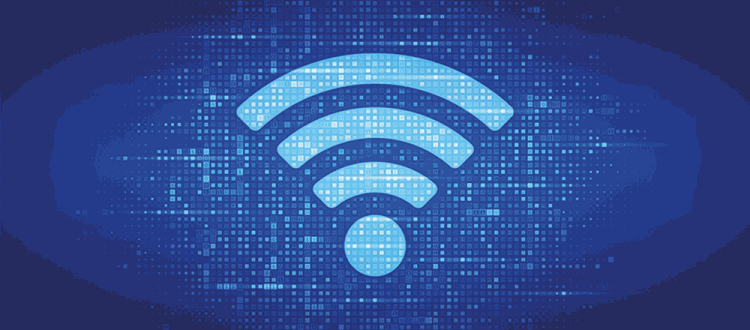 Key criteria for choosing industrial WLAN devices
Without a doubt, industrial wireless LANs can extend connectivity beyond traditional physical limits and boundaries, unleashing new possibilities. However, industrial engineers may hesitate to embrace wireless applications due to several different hurdles. How do you confirm that the network is indeed connected when wireless connections are invisible? How do you troubleshoot when these invisible connections go down?
Wi-Fi availability is the first priority
Industrial WLAN devices require specialised technology to establish and ensure reliable wireless networks. This is because wireless connection quality can be affected by many different issues, such as RF interference in an industrial environment, incorrect antenna configuration, signal strength over long distances, and so on. Failing to design the system to avoid such issues can result in unstable communications, or even permanently damage devices and cause a complete system shutdown.
In addition, constantly moving equipment requires extra attention to roaming requirements. For example, even if you have a strong wireless signal on your access point, moving devices to a different location may require a greater transmission signal, resulting in slower Wi-Fi connections or even network failures. Since slow or failed connections are unacceptable in industrial environments, consider advanced wireless roaming technologies that can achieve millisecond-level roaming to ensure reliable wireless connections.
Minimal effort on Wi-Fi settings
Whether you are implementing a wireless network for the first time or have numerous WLAN deployments under your belt, you always want to choose easy-to-use solutions. Once the networks are up and running, a software tool that can configure all your devices easily and find the best Wi-Fi channels to use in your environment can help keep your wireless connections stable and take the headache out of network administration.
Credit(s)
Further reading:
Gain more visibility into your power substation operations
RJ Connect Electrical Power & Protection
The key dilemma is that many RTUs, HMIs, Ethernet switches and intelligent electronic devices (IEDs) installed in substations are from different vendors.
Read more...
---
NIST finds wireless performance consistent across 5G mmWave bands
Industrial Wireless
The NIST system is unique in that antenna beams can be steered in any direction for precise angle-of-arrival estimates.
Read more...
---
Turning pollution into gold
RJ Connect Editor's Choice
Streamline Innovations' Valkyrie redox process leverages the convergence of IT and OT technology to create a sustainable, economical solution.
Read more...
---
Wireless fieldbus modules
SMC Corporation South Africa Industrial Wireless
The EX600-W is well suited for use with collaborative robotics for improved machine safety and quick connection of tool changers on robotic arms.
Read more...
---
New addition to the Times-7 A5020 antenna range
Osiris Technical Systems Industrial Wireless
The Times-7 A5020 range of UHF RFID antennas was recently expanded with the addition of a mid-range and a linear extreme antenna.
Read more...
---
Extend the life of your legacy devices
RJ Connect Fieldbus & Industrial Networking
If your serial-based machines or devices have been running for decades and helped your business grow, you might worry about how long you can still hold on to these assets. In this article, we highlight three major challenges you will face when enabling serial connectivity between your legacy devices and modern systems. We also provide expert tips to make your upgrade easy.
Read more...
---
Cloud-ready IIoT edge gateway
RJ Connect IT in Manufacturing
Moxa's gateways and long-lifecycle software provide secure and reliable IIoT solutions that can be rapidly developed and deployed in the field.
Read more...
---
Wireless addition to the Jumo automation system
ASSTech Process Electronics + Instrumentation Industrial Wireless
Up to 32 wireless Jumo Wtrans sensors can be connected via a wireless gateway for various purposes, including measuring temperature or pressure.
Read more...
---
Gateway carries IO-Link sensor data to the cloud
ifm - South Africa Industrial Wireless
ifm electronic's io-key can bring data from more than 10 000 industrial sensors from more than 200 manufacturers into the cloud.
Read more...
---
How to use edge computing in industrial IoT
Industrial Wireless
Edge computing is a cloud environment located closer to automation-enabled devices at the edge of the network rather than at the data centre. End-points are connected to the operational network and control 
...
Read more...
---