printer friendly version
Connected test tools
October 2021
Maintenance, Test & Measurement, Calibration
Maintenance teams make better, faster decisions by having real-time access to historical records of the machinery to be maintained, which can be shared with team members and supervisors. Yet historical data is usually only accessible back in the office, and team members are rarely in the same place at the same time. The Fluke Connect system solves these problems while increasing the safety of technicians working with energised equipment.
Fluke Connect is a set of tools and a smartphone app that let maintenance technicians capture, securely store and share data with their teams from the field. It helps them make better decisions faster by being able to view all temperature, mechanical, electrical and vibration measurements for each equipment asset, in one place.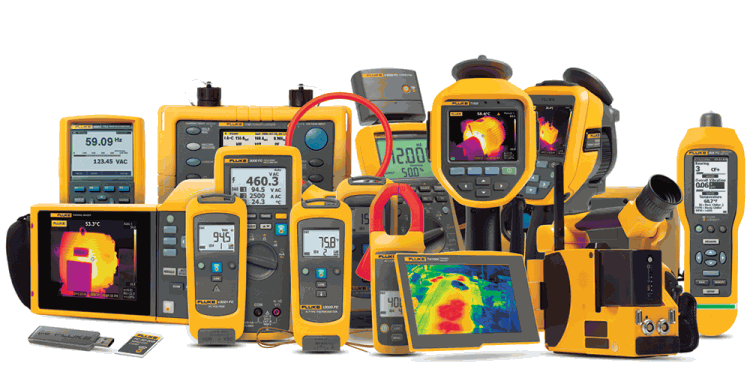 More than 20 Fluke tools connect wirelessly with the Fluke Connect app, including digital multimeters, infrared cameras, insulation testers, process meters and specific voltage, current and temperature models.
Technicians can add a comprehensive set of measurements and infrared images to Fluke Cloud storage from wherever they're working. The data is automatically stored, eliminating the need to write down measurements and letting others see what the technician sees from other locations.
Team collaboration is made easy with ShareLive video calls, which let technicians share measurements with other team members in real-time, and get approvals for repairs, or questions answered, without leaving the field.
The Fluke Connect app features EquipmentLog records, which let technicians assign measurements to specific equipment, creating a history of test measurement data that helps them identify problems and make better decisions. And TrendIt lets them instantly graph data and share findings, helping to identify trends and quickly make informed decisions.
Fluke Cloud secure data storage
Fluke Cloud storage infrastructure is one of the most flexible and secure cloud computing environments available. The Fluke Cloud storage service provider uses state-of-the-art electronic surveillance, multi-factor access control systems and 24/7 staffing at its data centres. The servers have built-in firewalls, encrypted data storage and secure access specifically designed to protect data. To watch the product video visit www.bit.ly/2SjPysg
For more information contact Comtest, +27 10 595 1821, sales@comtest.co.za, www.comtest.co.za
Credit(s)
Further reading:
Mediclinic bolsters gas leak detection with Fluke acoustic imager
Comtest Analytical Instrumentation & Environmental Monitoring
Preventing leaks in hospitals has positive implications for the environment, but a significant leak of N
2
O or O
2
in a hospital can represent a serious health hazard.
Read more...
---
The route to proactive maintenance
Comtest Editor's Choice Maintenance, Test & Measurement, Calibration
What were once complex tasks can now be accomplished by less experienced technicians with easy-to-use tools such as vibration screeners and thermal imagers.
Read more...
---
Stationary battery basics
Comtest Electrical Power & Protection
There is so much terminology related to stationary batteries and it is hard to know what everything means. This is the difference between jars and straps.
Read more...
---
Composition analysis by micro gas chromatography
Electrocomp Maintenance, Test & Measurement, Calibration
The DynamiQ-X gas analyser from Q-Micro is designed for continuous gas mixture monitoring in industrial process and factory automation applications.
Read more...
---
ABB's automatic paper testing delivers faster quality insights
ABB South Africa Maintenance, Test & Measurement, Calibration
Quality data from the L&W Autoline is collected in the mill's quality management system via integration with the 800xA DCS.
Read more...
---
Regular machine maintenance is key to operational efficiency
Maintenance, Test & Measurement, Calibration
Benefits include savings on costs, energy efficiency and spare parts, which can account for as much as half of the total maintenance costs.
Read more...
---
Using ultrasonic NDT to identify wear and corrosion
BAMR Maintenance, Test & Measurement, Calibration
Monitoring equipment for damage and potential flaws is vital in preventing loss of productivity and even injury or potential death of operators.
Read more...
---
Comtest and Fluke commemorate World Metrology Day
Comtest News
Metrology is all around us and involves everything we do daily –we may be unaware of it, but it affects almost every part of our daily lives.
Read more...
---
All-in-one documenting process calibrators
Comtest Maintenance, Test & Measurement, Calibration
The multifunction calibrators perform sourcing, simulation and measurement of pressure, temperature and electrical signals.
Read more...
---
Five reasons for force measurement
WIKA Instruments Editor's Choice Maintenance, Test & Measurement, Calibration
Wika takes a closer look at the measured variable of force and gives five reasons to show why force measurement is of particular importance.
Read more...
---