printer friendly version
Dairy expansion uses dry-type transformers
October 2021
Electrical Power & Protection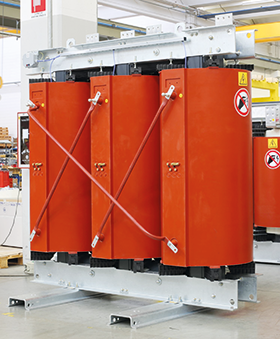 Trafo Power Solutions has assisted a large dairy producer in a recent expansion, supplying five dry-type distribution transformers to its facilities in a coastal region of South Africa.
"With an application in the food and beverage sector, it is important that any equipment in the plant meets the highest standards of cleanliness and safety," says David Claassen, managing director, Trafo Power Solutions. "This means no risk of oil leaks or harmful gases is tolerated, so the dry-type transformer option is ideal, with the added advantage of requiring very little maintenance."
The transformers are 2 MVA units, with 11 kVA input stepping down to 400 V. The warm and humid coastal environment demanded specialised enclosures coated with painting plan type C5 for demanding conditions.
"Our transformers are supplied into a wide variety of applications, so our design must often specify special materials and coatings to resist corrosion," says Claassen. "Where units must operate very close to seawater, for instance, we ensure a selected grade of stainless steel in our manufacturing process."
The project required Trafo Power Solutions to design, manufacture, test, deliver and install the five tonne units, as well as to assist with commissioning on site. "In some projects, we will take complete responsibility for the delivery, off-loading, rigging and positioning of transformers for installation," says Claassen. "Where customers have their own rigging team or arrangements, we still make it our business to be there at the time. These are specialised pieces of equipment and it is important to move them correctly to avoid any possible damage."
The transformers were fitted into three new substations constructed by the customer to power the extended dairy facility. Manufacturing of the transformers was undertaken by Trafo Power Solution's strategic partner TMC Transformers, a global leader in cast resin transformers, based in Italy. The completed units were shipped to Durban and then transported timeously to the customer's site in KwaZulu-Natal.
Dry-type transformers are air-cooled rather than oil-cooled, making them safe to use in enclosed and confined spaces, as the risk of fire or explosion is low. The absence of oil also makes them suitable for applications where high levels of hygiene or environmental protection are required.
For more information contact David Claassen, Trafo Power Solutions, +27 11 325 4007, david@trafo.co.za, www.trafo.co.za
Further reading:
LV switchboard with enhanced safety features
Schneider Electric South Africa Electrical Power & Protection
Schneider Electric's next-generation BlokSeT switchboard enhances safety, reliability and connectivity for innovative power distribution and motor control.
Read more...
---
Beware the fire starter
Schneider Electric South Africa Electrical Power & Protection
Smart sensing has come a long way, and now allows organisations to proactively focus on and mitigate potential electrical fires, providing a substantial improvement in resilience.
Read more...
---
Optimising a building's energy consumption through data analysis
Electrical Power & Protection
The Empire State Building is a well-known example of how retrofitting can reap significant benefits, and is now considered to be one of the world's most energy efficient buildings.
Read more...
---
Buckman and Energy Drive partner on sustainability efforts
Electrical Power & Protection
The partnership has delivered 4 million kWh in energy savings, which equates to 4,16 million kg of CO
2
eliminated, 5,5 million litres of water saved, and 2,74 million kg of coal and ash reduction.
Read more...
---
Failsafe networking of photovoltaic systems
Phoenix Contact Electrical Power & Protection
Zebotec's large free-standing systems come with their own challenges, but for its floating power stations on bodies of water, wireless Ethernet networking is the only sensible solution.
Read more...
---
Narrow power supply with high power density
Phoenix Contact Electrical Power & Protection
The devices are particularly suitable for urban infrastructure and in machine building, where they find their way into small systems with basic requirements.
Read more...
---
Stakeholder engagement mitigates renewable energy project delays
Electrical Power & Protection
The challenge lies in seeing that a low-carbon transition is not about replacing one dirty fuel with another, cleaner type, but about adjusting our entire way of life around that fuel.
Read more...
---
Phoenix Contact launches Energy Solution Partner programme
Phoenix Contact Electrical Power & Protection
The concept is a win-win for end-customers, Energy Solution Partners and Phoenix Contact alike.
Read more...
---
Hitachi and Petrofac join forces on offshore wind power
News Electrical Power & Protection
The collaboration builds on the complementary core technologies and expertise of both companies, and covers high-voltage DC and AC solutions.
Read more...
---
Trafo to highlight its flexibility at Electra Mining 2022
News Electrical Power & Protection
Given the varying nature of operating conditions from one mine to another, the company will use the event to demonstrate its ability to tailor solutions to specific site and customer needs.
Read more...
---