printer friendly version
Electronic transformers for special requirements
October 2021
Electrical Power & Protection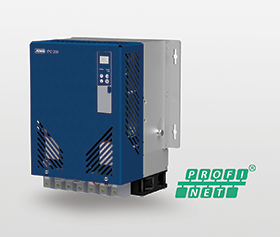 The Jumo IPC 300 electronic transformer, with amplitude control in the performance range of up to 40 kW, was developed for the control of heating loads that previously required an additional transformer for power control.
With the integrated amplitude control, the mains current and voltage of the Jumo IPC 300 are proportional to the required power of the heating element. The acquisition of additional compensation equipment is therefore no longer necessary. In addition, the power converter reduces malfunctions such as flicker or harmonics, which contributes to higher plant availability. Consistent energy demand decreases reactive power and reduces current peaks. In this way, energy costs are reduced.
The integrated resistance limitation protects against overheating in the upper temperature range and extends the service life of molybdenum disilicate heating elements. Low maintenance requirements combined with longer operating times reduce the operating costs.
An external current sensor monitors residual currents and detects housing shorts in the heating elements. Heating elements with large temperature coefficients change their heat output very strongly relative to their operating temperature. The power controller of the IPC 300 detects this and compensates for the error.
Other advantages of the IPC 300 include easy operation, configuration and start-up. The compact device has a plain text display and keypad. By using the USB interface, parameters can be easily transferred via the setup program. A voltage supply is not required. As a result, the transformer is the right solution for applications in mechanical and plant engineering, the process industry and furnace construction.
Credit(s)
Further reading:
LV switchboard with enhanced safety features
Schneider Electric South Africa Electrical Power & Protection
Schneider Electric's next-generation BlokSeT switchboard enhances safety, reliability and connectivity for innovative power distribution and motor control.
Read more...
---
Beware the fire starter
Schneider Electric South Africa Electrical Power & Protection
Smart sensing has come a long way, and now allows organisations to proactively focus on and mitigate potential electrical fires, providing a substantial improvement in resilience.
Read more...
---
Optimising a building's energy consumption through data analysis
Electrical Power & Protection
The Empire State Building is a well-known example of how retrofitting can reap significant benefits, and is now considered to be one of the world's most energy efficient buildings.
Read more...
---
Buckman and Energy Drive partner on sustainability efforts
Electrical Power & Protection
The partnership has delivered 4 million kWh in energy savings, which equates to 4,16 million kg of CO
2
eliminated, 5,5 million litres of water saved, and 2,74 million kg of coal and ash reduction.
Read more...
---
Failsafe networking of photovoltaic systems
Phoenix Contact Electrical Power & Protection
Zebotec's large free-standing systems come with their own challenges, but for its floating power stations on bodies of water, wireless Ethernet networking is the only sensible solution.
Read more...
---
Narrow power supply with high power density
Phoenix Contact Electrical Power & Protection
The devices are particularly suitable for urban infrastructure and in machine building, where they find their way into small systems with basic requirements.
Read more...
---
Stakeholder engagement mitigates renewable energy project delays
Electrical Power & Protection
The challenge lies in seeing that a low-carbon transition is not about replacing one dirty fuel with another, cleaner type, but about adjusting our entire way of life around that fuel.
Read more...
---
Long-range laser distance sensors
ASSTech Process Electronics + Instrumentation Sensors & Transducers
As a result of intensive R&D, these transit time sensors emit very short light pulses in the nanosecond range, with signals that are statistically evaluated to determine the distance to the object.
Read more...
---
Phoenix Contact launches Energy Solution Partner programme
Phoenix Contact Electrical Power & Protection
The concept is a win-win for end-customers, Energy Solution Partners and Phoenix Contact alike.
Read more...
---
Hitachi and Petrofac join forces on offshore wind power
News Electrical Power & Protection
The collaboration builds on the complementary core technologies and expertise of both companies, and covers high-voltage DC and AC solutions.
Read more...
---