printer friendly version
Specialist instrumentation for specialised applications
October 2021
Level Measurement & Control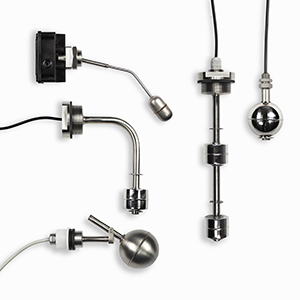 Over 30 years of experience in the design and development of high-quality instrumentation for process industries puts Val.co, part of the GHM Group, at the forefront to supply specialist liquid level, flow, pressure and temperature instrumentation to industrial sectors from agriculture to water treatment.
Val.co's ability to design instrumentation and supply prototypes at short notice is an integral part of the Val.co Centre of Competence operation. "Val.co is renowned for its focus on customer satisfaction and the supply of accurate, precision instrumentation," said Jan Grobler, managing director of GHM Messtechnik in South Africa. "We have already supplied level transmitters to the South African mining industry for oil level applications. I believe that many other process industries such as HVAC, petrochemical and oil and gas can also benefit from the performance of the Val.co instrumentation and its cost-effectiveness."
The company's Centre of Competence (CoC), based in Milan, was established to develop and design precise robust instrumentation that operates under the most demanding of conditions and carries approved certification for ATEX Exd-Exi a, EAC and RINA naval applications.
The CoC is geared towards using the latest technology to extend the expertise of sensors and electronics, thereby expanding the specialised instrumentation offering of industrial sensors across all applications.
Level sensors and switches
The Val.co range of continuous level sensors and switches offers float, conductive, capacitive and optical measurement technology in single and multi-unit configurations with up to six independent contacts. Level sensors with current or voltage output can be programmed for customer-specific applications.
"The range of level sensors can be applied across all industries where level measurement is a critical function," added Grobler. "In continuous operation, they are temperature resistant up to 1050°C. It is a quality range and competitively priced."
The level sensors supply accurate monitoring and control in water, oil, gas, solvents, beverages, solids, powders and granule applications. The range includes small float switches and limit level switches for side installation, as well as multipoint and double contact devices. These proven meters are constructed from brass, stainless steel and plastic (polypropylene, PVC, PVDF) and can be vertically or horizontally mounted.
For vertical installation, the level control, with the dimension and number of contacts required, is mounted vertically and secured by means of the process connection. The change in liquid level moves the float, which actuates the reed contact housed and sealed inside the guide rod, activating the signal corresponding to the set level.
In the case of horizontal mounting, the level control is installed on the wall of the tank at the height of the level to be monitored. In this way more levels can be monitored by the proper number of level switches. The level control can operate NC or NO contacts as required by the process.
Flow and pressure sensors and switches
Val.co's flow switches are based on a variety of technologies with magnetic output contacts. Visual indicators and signal conditioners are available for piston, membrane, bourdon tube and piezoresistive technologies. All instrumentation devices carry the CE product certification and CESI certification for explosion-proof performance.
"Val.co instrumentation gives the South African process sectors the latest in measuring and monitoring technologies, enabling these industries to embrace smart factory and Industry 4.0 advances," concluded Grobler. "If it is a specialised application that requires a high level of accuracy and precision, then we have the right instrumentation to suit all applications."
Credit(s)
Further reading:
Continuous non-contact level measurement with radar technology
KROHNE Level Measurement & Control
Online teaser: A narrow beam angle of 4° for tank internals and long nozzles is combined with accuracy down to ±2 mm, even in processes with fast-changing levels and low dielectrics.
Read more...
---
Plumb bob sensor for tanks and settling basins
Morton Controls Level Measurement & Control
Its precise sensitivity can be adjusted to slurries and solids in liquids, and can also be configured for use in corrosive media with increased resistance.
Read more...
---
Level measurement – now with Bluetooth
WIKA Instruments Level Measurement & Control
The instrument's description, TAG number, and 0% and 100% marks can be configured via an app on a smartphone or tablet.
Read more...
---
GHM Group announces new management team and shareholders
GHM Messtechnik SA News
The company has appointed Christian Unterberger as its new CEO and Jürgen Schneider to the position of CFO.
Read more...
---
Radar sensor keeps its cool
VEGA Controls SA Level Measurement & Control
The VEGAPULS C 21 delivers exact measuring results without effect from the medium, or the process and ambient conditions
Read more...
---
Versatile handheld indoor air quality meters
GHM Messtechnik SA Analytical Instrumentation & Environmental Monitoring
Both instruments are easy to handle and compact in design, and can be charged easily with a mobile phone cord.
Read more...
---
Load sensor for force measurement
Instrotech Level Measurement & Control Mass Measurement
The instrument provides a solution for non-intrusive level measurements of materials that are subject to uneven build-up, bridging or sidewall collection.
Read more...
---
Pyranometer for monitoring small-scale PV installation efficiency
GHM Messtechnik SA Electrical Power & Protection Maintenance, Test & Measurement, Calibration
The device's classification level under the ISO 9060:2018 standard guarantees accuracy, reliability, precision and compliance with reference standards.
Read more...
---
Diesel level sensing for rail engines
Instrotech Level Measurement & Control
Diesel fuel levels are measured, recorded and displayed, and kilowatt-hours are measured, using the Senix ToughSonic CHEM 10 ultrasonic sensor.
Read more...
---
Radar level sensor with IO-Link interface
ifm - South Africa Level Measurement & Control
Its non-contact radar measuring principle prevents malfunctions or failures of the sensor caused by the adhesion of viscous media or damage from agitators.
Read more...
---