printer friendly version
Pyrometer cooling up to 315°C
September 2021
Temperature Measurement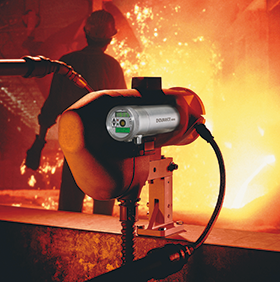 The ThermoJacket from Raytek and Fluke Process Instruments gives users the ability to use selected sensing heads in ambient temperatures up to 315°C. The ThermoJacket's rugged cast aluminium housing completely encloses the sensing head and provides water or air cooling and air purging. The Following pyrometer sensors are covered: MM sensors (TJ4M ThermoJacket), Thermalert TX sensors (TJ3M ThermoJacket), Thermalert 4.0 sensors (A-TJ-T40 ThermoJacket) and Endurance sensors (E-TJ1 ThermoJacket).
The table below shows water/air flow requirements at different temperature levels:
Key features of the ThermoJacket include:
• Cast aluminium housing withstands ambient temperatures up to 315°C.
• Combines air/water cooling and air purging in one unit.
• Sensing heads can be installed, adjusted, or removed while the ThermoJacket is in its mounted position.
Available accessories
Mounting flange: the mounting flange accessory can be used to mount the ThermoJacket to walls, existing ports, or flanges.
Adjustable mounting base: the base provides stable, permanent placement of the ThermoJacket, while allowing it to pivot 360° and position 90° forward.
Adjustable pipe adapter: the adjustable pipe adapter accessory can be permanently placed on a surface and aimed in any direction within a 45° radius.
Sighting tube: this is used in environ-mental conditions where reflected energy is a problem. The sighting tube is installed in conjunction with the mounting flange.
Blast gate: the blast gate is equipped with a window and a metal shutter. Use the blast gate accessory to protect the sensor and perform tasks without exposure to hot or explosive target areas. Closing the blast gate's metal shutter isolates the sensor from the hostile area, allowing maintenance, change of the sensor or sensor settings, or removal of the sensor or ThermoJacket.
Water and air flow regulators are also available.
For more information contact R&C; Instrumentation, +27 11 608 1551, info@randci.co.za, www.randci.co.za
Credit(s)
Further reading:
Reinforced polymer IR windows
R&C Instrumentation Electrical Power & Protection
By facilitating closed-panel inspections, the use of IR windows eliminates 99,9% of arc flash triggers and completely eliminates injuries caused by accidental human contact with energised equipment during infrared inspection. However, polymer reinforced IR windows are superior to CaF2 crystal windows.
Read more...
---
Air humidity/temperature sensor with IO-Link
Turck Banner Temperature Measurement
Turck Banner is offering cost-effective condition monitoring in the field and in IIoT applications with its first combined air humidity/temperature sensor; it is very easy to integrate thanks to the IO-Link interface.
Read more...
---
Temperature transmitters with hybrid digital/analog output
Morton Controls Temperature Measurement
Thanks to its flexible communication with plug-and-play simplicity, time and costs are saved during installation and commissioning.
Read more...
---
Temperature monitoring simplified
Omniflex Remote Monitoring Specialists Temperature Measurement
Up to 32 mLC8s are supported by the touchscreen HMI, so a system with 2560 temperature points can conceivably be constructed.
Read more...
---
Compact infrared camera for the metal industry
Instrotech Temperature Measurement
The camera's wide temperature measurement range of 450-1800°C satisfies practically all demands in the fields of metal production and processing.
Read more...
---
Imaging system for slowly rotating kiln shells
R&C Instrumentation Temperature Measurement
The Raytek CS400 system is able to synchronise thermal imaging at speeds as low as 2 revolutions per hour.
Read more...
---
Vibration pen for hazardous areas
R&C Instrumentation IS & Ex
Vibration and temperature are the most common parameters measured on process plants to predict equipment failure or process problems. As part of the extensive range of vibration measurement products and IS rated instruments from R&C Instrumentation, the TV712 series from Time now comes in IS versions for EX Hazardous areas such as coal mines and chemical plants.
Read more...
---
Tubeskin thermocouple assembly
WIKA Instruments Temperature Measurement
The proprietary thermal shield design of the Tefracto-Pad is a patent-pending WIKA innovation in several countries.
Read more...
---
Pyrometer for hazardous areas
R&C Instrumentation Temperature Measurement
The intrinsically safe version of Fluke's versatile Thermalert 4.0 is fully Ex certified for use in Zones 1 and 2 (gas) and Zones 21 and 22 (dust).
Read more...
---
High-temperature infrared thermometer
Comtest Temperature Measurement
The instrument ships with a USB 2.0 computer interface cable, FlukeView Forms documenting software and the standard Fluke 2-year warranty.
Read more...
---