printer friendly version
Clean and colourful
September 2021
Pressure Measurement & Control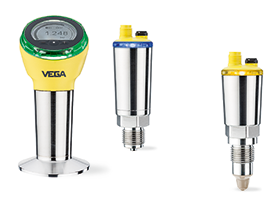 The special challenges faced by the food and pharmaceutical industries result from the wide diversity of their processes. Success depends on the consistency and continuity of the production processes – whether it be mixing, filling, evaporating or CIP and SIP cleaning.
With this in mind, VEGA has completed its measurement technology portfolio for hygiene-sensitive processes with two new compact instrument series comprising pressure sensors and level switches. The product families Vegabar and Vegapoint prove that automation can be simple yet highly efficient without compromising on dependability, hygiene, or accuracy. These measuring instruments are tailored to standard applications that do not tolerate compromises when it comes to quality. The standardised hygienic adapter system provides flexibility and helps keep installation work and parts inventory at reasonable levels. The process fittings can be selected as needed and adapted to local requirements.
Ready for cleaning
All surfaces that come into contact with the product are made of stainless steel and have optimal roughness values. All materials are approved and tested according to FDA and EC 1935/2004, as confirmed by independent laboratories and institutes. The designs of the instruments are certified according to the European EHEDG guidelines and the North American 3-A Sanitary Standards.
Vega sensors reliably withstand the complex CIP and SIP processes and ensure in every process step that all required media are continuously available in sufficient quantities.
Thanks to the all-round switching status display, all switching states can be visually discerned from any direction. The colour of the illuminated ring, which can be freely selected from over 256 colours, remains clearly visible even in daylight. The plant operator can see at a glance if the measuring process is running, if the sensor is switching or if there is a possible malfunction in the process.
Communication
There is a lot of sensor intelligence built right into the new compact series: The standard IO-Link protocol ensures universal and at the same time, simple communication. This means that the instruments have a standardised communication platform that enables seamless data transfer and simple integration of the system. With this tool, sensors can be installed, parameterised and if necessary, put back into operation faster and more cost-effectively. IO-Link transfers parameters automatically if an instrument must be exchanged.
The new Vegabar and Vegapoint instrument series can be easily read and configured via Bluetooth with a smartphone or tablet. Radio technology is making processes more flexible. Wireless communication provides better accessibility as it allows data display and diagnostics from up to 25 metres, thus saving time and avoiding potential danger. Especially in environments such as clean rooms, where physical access involves a lot of effort, setup and operation become considerably easier.
Combination as required
Vegabar pressure sensors with switching function are available in three versions: the compact series 10 and the series 20 and 30, each with or without a display. The instruments are available with either a metallic or a ceramic measuring cell.
Vegapoint sensors for point level detection are also available in three versions, two of them (10 and 20) are designed for liquids with a water content of at least 10%, the third (30) can also be used for bulk solids.
The new pressure sensors and level switches represent an important milestone for VEGA. Users not only get an entire range of level and pressure measurement technology from a single source, but also hygiene-optimised instrument designs that are extremely easy to install, along with a needs-based combination of reliability and flexibility in food and pharmaceutical processes.
Credit(s)
Further reading:
Pressure sensors for perfect coffee
Instrotech Pressure Measurement & Control
Rex-Royal has sourced pressure transducers from Keller's 21C series for its S300 model range of bean-to-cup coffee machines.
Read more...
---
Pressure transmitter for pharmaceuticals
WIKA Instruments Pressure Measurement & Control
WIKA designed a package of solutions based around the UPT-20, which met all the requirements of the API synthesis process via specific adaptations.
Read more...
---
Sensors train many eyes on FMCGs
VEGA Controls SA Editor's Choice Sensors & Transducers
Profit margins on consumer goods are small, which makes it all the more important for producers to have smooth, efficient operating processes.
Read more...
---
IO-Link transmitter for sanitary pressure monitoring
Morton Controls Pressure Measurement & Control
This temperature-compensated transmitter is ideal for sanitary pressure monitoring in a variety of applications in breweries, dairies and the beverage industry.
Read more...
---
Pressure sensors for hygienic applications
ifm - South Africa Editor's Choice Pressure Measurement & Control
ifm's new PI1xxx series offers measuring ranges from vacuum to 100 bar, communication via IO-Link 1.1, and resolution close to 20 000 steps.
Read more...
---
Radar sensor keeps its cool
VEGA Controls SA Level Measurement & Control
The VEGAPULS C 21 delivers exact measuring results without effect from the medium, or the process and ambient conditions
Read more...
---
Pressure transmitters for mobile machines
Pressure Measurement & Control
The thin-film measuring cell of the sensor is directly welded to the process connection and features high measuring accuracy and a short response time.
Read more...
---
3-point pressure calibration in 10 seconds
WIKA Instruments Pressure Measurement & Control
WIKA's CPC3050 comes in high-pressure and low-pressure versions with customisable ranges, a 10:1 range limit ratio and auto-ranging.
Read more...
---
Pressure transmitters for mobile machines
ifm - South Africa Pressure Measurement & Control
ifm electronic's PT/PU-type sensors offer high vibration and shock resistance, a high degree of protection, and very good EMC resistance.
Read more...
---
PACTware further refines user interface
VEGA Controls SA IT in Manufacturing
Optimising a user interface for multiple sensor equipment manufacturers is possible in such a way that industrial users can use it similarly to everyday smart devices.
Read more...
---