printer friendly version
Inertial spin filters save energy
Technews Industry Guide: Sustainable Manufacturing 2021
Motion Control & Drives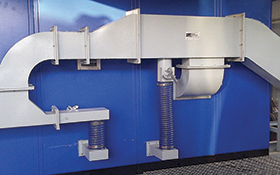 RTS Africa's inertial spin filters provide an effective, maintenance-free solution to dust problems in MCC rooms, transformer rooms, control rooms and the like. In fact, they can be used to provide dust-free air in virtually any space ventilation application. The filtration principle is based on highly efficient cyclone technology and dust filtration is 98% of particles 15 μm and larger. At 5 μm dust particle size, the modules will remove 80% of dust particles. (Note: 10 μm is 1/6 the diameter of an average human hair.) Even under heavy dust loads this represents an overall removal efficiency above 99% of dust loading by mass. For applications requiring even finer filtering – compressor intakes for instance – secondary filtration is required (typically 99% of 2 μm). In this situation simple secondary filters are cost-effective and, since they are only capturing very fine particles, they require very little attention, even in high dust-load applications.
However, when using RTS inertial spin filters to clean air for applications such as MCC rooms, variable speed drives, control rooms, etc., no secondary filtration is required. This eliminates the need for expensive, complex, high-maintenance bag houses.
Energy efficiency
Spin filters are also energy efficient. Practically, the only alternative is to equip control rooms and similar spaces with air conditioning. But since many installations of this nature are out in the open and exposed to the fierce African sun, attempting to solve this problem with air conditioning is capital intensive and energy hungry. Air conditioners also require regular maintenance, and in high-dust areas, the intake filters frequently get blocked and the system stops working. RTS inertial spin filters require only moderate electrical power to run the fans and will continue to supply dust-free air to the space over long periods of time without any maintenance.
The spin modules are made from high-density polypropylene and are extremely resistant to wear – modules supplied by RTS have been in service for over 30 years. The system is self-purging and consequently there is no filter element that can become blocked from dust overload.
As part of a complete service offering, the RTS engineering department is available to advise on the correct solution for any type of dust filtration problem.
For more information contact RTS Africa Engineering, +27 82 879 0734, info@rtsafrica.co.za, www.rtsafrica.co.za
Further reading:
BMG'S Nord IE5+ motor generation
October 2021, Bearing Man Group t/a BMG , Motion Control & Drives
BMG and German precision engineers, Getriebebau Nord, entered a partnership agreement in 1996 to assemble, distribute and support Nord Drive Systems throughout southern Africa.
Read more...
---
V-belts designed for food applications
September 2021, Bearing Man Group t/a BMG , Motion Control & Drives
BMG supplies a wide range of power transmission components, designed to enhance efficiency and safety in the food and beverage sector.
Read more...
---
Control automation excellence
September 2021, SEW-Eurodrive , Motion Control & Drives
Movi-C from SEW-EURODRIVE is a unique automation control system that sets a new benchmark in control automation, embracing Industry 4.0 technology.
Read more...
---
Efficient agriculture systems from BMG
Technews Industry Guide: Sustainable Manufacturing 2021, Bearing Man Group t/a BMG , Motion Control & Drives
BMG's Boer Slim/Smart-Farming agricultural team works closely with farmers throughout southern Africa, assisting them with the selection, installation and operation of new electromechanical systems. These 
...
Read more...
---
Drives for the chemical sector
July 2021, Bearing Man Group t/a BMG , Motion Control & Drives
BMG's range of Danfoss electronic, mechanical and intelligent mechatronic devices are designed to optimise automation processes and reduce energy consumption in many sectors, including the chemical industry.  
...
Read more...
---
The benefits of mobile robots and cobots
July 2021, Omron Electronics , Motion Control & Drives
Easily configurable production lines will in future consist of collaborative and flexible transport and transfer solutions, tailored to specific production environments.
Read more...
---
XTS transport system handles demanding packaging applications
July 2021, Beckhoff Automation , Motion Control & Drives
Beckhoff's intelligent XTS transport system sorts bottles while managing automatic format changeovers.
Read more...
---
Ana-Digi boosts energy efficiency at local mine
Technews Industry Guide: Sustainable Manufacturing 2021, Ana-Digi Systems , Motion Control & Drives
When a major player in the gold mining industry wanted to reduce the high cost of electricity required to run the shaft ventilation fans at a particular site, it approached Ana-Digi Systems for a solution.
Read more...
---
BMG's integrated geared motors for efficiency
June 2021, Bearing Man Group t/a BMG , Motion Control & Drives
An integrated geared unit that combines the recently launched Nord IE5+ synchronous motor and a single-stage helical gear unit offers optimum system efficiency.
Read more...
---
New motors extend the Sinamics S210 system
June 2021, Siemens Digital Industries , Motion Control & Drives
Siemens has added new servo motors to its proven Sinamics S210 single-cable servo drive system, thereby expanding its range of applications.
Read more...
---