printer friendly version
Energy from the power of the moon
Technews Industry Guide: Sustainable Manufacturing 2021
Electrical Power & Protection
The development of tidal power is supported by the global drive to transition from fossil fuels to more sustainable alternatives. It is intended to help reduce climate-damaging CO2 emissions, slow down global warming and thus build a more sustainable future for generations to come.
With the help of modern technology from SKF, another source of power from nature, besides sun and wind, will be tapped – that of the moon, which can be felt on earth in the tidal currents of the sea created by its gravitational pull. Strong currents arise where the ebb and flow of the tide squeeze between islands. These are particularly powerful off the Orkney Islands, which is why experiments with tidal current power plants have been carried out here for several years, specifically at the European Marine Energy Centre (EMEC). Today EMEC is Europe's leading test site for tidal and wave energy projects.
Orbital Marine Power, Scottish-based developer of the world's leading floating tidal turbine technology, has now launched its first commercial 2 MW unit, the Orbital O2, which will soon be installed at EMEC where it will become the world's most powerful operational tidal turbine.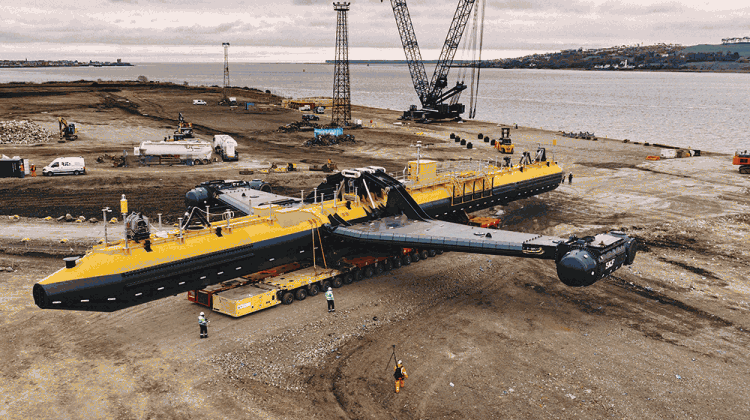 About 15 metres below the O2's 72 m superstructure, two fully integrated power trains from SKF are attached on two wing-like legs. Here the twin-bladed rotors rotate, each with a diameter of 21 metres, the largest ever on a single generating platform to date, driven by the tidal current. The electricity generated in the generators is conducted ashore via a subsea cable, where it can be fed directly into the grid, stored or processed into 'green hydrogen'.
SKF as a holistic system integrator
SKF delivered the fully integrated holistic power trains as 'plug and play' modules to Scotland. The 1 MW power trains, as used in the Scottish Orbital project, complement the generation of electricity from solar and wind power. The tides are reliable, the flow of electricity is predictable, and the energy density due to the working medium, seawater, is very high.
Within the Orbital O2 power trains, SKF's core competence is not only found in the main bearings, gearbox bearings and in the slewing bearings for pitching the rotor blades, but also in the seawater seals of the main shafts between the rotor hub and the nacelle housing. And SKF also provides condition monitoring for the entire system.
Ocean energy: tremendous potential
Experts see ocean energy devices that generate energy from wave or tidal power as an important pillar of the renewable energy transition. In its current offshore strategy, the EU Commission is aiming for 40 GW of ocean energy by 2050, generated from ocean energy devices, floating photovoltaic systems, and by using algae to produce biofuels.
Credit(s)
Further reading:
Inverters for PV generation plants
October 2021, Zest WEG , Electrical Power & Protection
As solar energy contributes increasingly to cleaner, renewable energy for a more sustainable world, WEG has introduced its complete ESW line of central inverter stations for photovoltaic power generation plants.
Read more...
---
Electronic transformers for special requirements
October 2021, ASSTech Process Electronics + Instrumentation , Electrical Power & Protection
The Jumo IPC 300 electronic transformer was developed for the control of heating loads that previously required an additional transformer for power control.
Read more...
---
SKF increases paper machine reliability
October 2021, SKF South Africa , Maintenance, Test & Measurement, Calibration
SKF's virtually maintenance-free rope sheave units offer a unique solution to the pulp and paper industry through improved machine reliability.
Read more...
---
Dairy expansion uses dry-type transformers
October 2021 , Electrical Power & Protection
Trafo Power Solutions has assisted a large dairy producer in a recent expansion, supplying five dry-type distribution transformers to its facilities in a coastal region of South Africa.
Read more...
---
Controlling power generation with TwinCAT software
October 2021, Beckhoff Automation , Electrical Power & Protection
Researchers are implementing innovative new control methods on Beckhoff embedded PCs running TwinCAT to validate their grid-forming control methods.
Read more...
---
Type 2 push-in surge protection
October 2021, Phoenix Contact , Electrical Power & Protection
The VAL-MS PT surge protective device from Phoenix Contact is its first type 2 protective device with push-in connection technology.
Read more...
---
Online monitoring of haul trucks
August 2021, SKF South Africa , Maintenance, Test & Measurement, Calibration
IMx-16 Multilog online monitoring systems on two mobile mining haul trucks at a leading copper mine in Zambia predict critical component failures and allow for planned predictive maintenance procedures to be carried out.
Read more...
---
Energy data acquisition made easy
August 2021, Phoenix Contact , Electrical Power & Protection
By developing the new components of the EMpro product family, Phoenix Contact has found a solution that satisfies most energy data gathering applications.
Read more...
---
Power supply for machine applications
August 2021, Vepac Electronics , Electrical Power & Protection
With vacuum encapsulated technology, MTM Power's focus is on encapsulated, robust, long-life, temperature-resistant and maintenance-free power supply modules.
Read more...
---
Supermarkets heat stores with surplus energy from refrigeration units
Technews Industry Guide: Sustainable Manufacturing 2021, Danfoss , Electrical Power & Protection
With climate change and the pressure for lower environmental impact, supermarkets are rapidly investing in green energy transition.
Read more...
---