printer friendly version
Hitachi ABB Power Grids is evolving to become Hitachi Energy
Technews Industry Guide: Sustainable Manufacturing 2021
News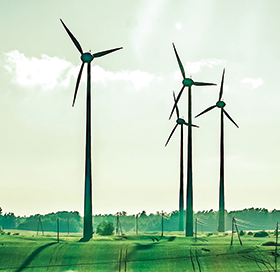 Hitachi ABB Power Grids has announced that it will be evolving to become Hitachi Energy from October. Headquartered in Zurich, Switzerland, the global market leader brings a rich heritage of pioneering breakthroughs which have helped to increase access to safe, secure and reliable electricity for more than a century. These range from innovations such as long-distance commercial HVDC technology, which enables countries to efficiently transmit large amounts of power with minimum losses over thousands of kilometres while reducing carbon footprint, to providing microgrids and energy storage solutions that, combined with state-of-the-art intelligent control systems, ensure reliable distributed power availability.
Today, combating climate change is of paramount importance and one of the most urgent challenges of our times. According to the IEA's 'Net Zero by 2050' report: the path to net zero emissions is narrow and staying on it requires increased investment in infrastructure, and specifically, an immediate and massive deployment of all available clean and efficient energy technologies. By 2030, the world economy is expected to be some 40% larger but consuming 7% less energy to be on track for net zero in 2050. By this time the energy sector will be dominated by renewables and electricity will account for almost 50% of the total global energy consumption – up from about 20% today. An equitable and sustainable energy transition is at the centre of this global challenge, where electricity will be the backbone of the entire energy system.
Hitachi ABB Power Grids places sustainability at the heart of its purpose: powering good for a sustainable energy future. The transition to the Hitachi Energy name reflects the rapidly evolving energy landscape and the opportunity to create economic, environmental and social value, and, with Hitachi enabling the business to position its pioneering and digital technologies to serve existing and future customers, going beyond the grid to open up opportunities in areas like sustainable mobility, smart life and data centres. By combining advanced digital solutions and services, such as Hitachi Lumada, with an energy platform that is built on unique domain expertise and experience, the business is serving customers and partners co-creating global solutions to solve the global challenge of an inclusive and equitable carbon-neutral future.
Further reading:
New chief marketing and communications officer joins Zutari
News
Leading consulting engineering and infrastructure advisory firm, Zutari, has appointed Zipporah Maubane as chief marketing and communications officer for Africa and the Middle East (AME).    The company 
...
Read more...
---
Women thrive at the coalface of BI's sales and customer service
Bearings International News
"Do not compare yourself to others. Work hard, as no job is beneath you. Soak up the knowledge available to you. Do not be discouraged or demotivated."
Read more...
---
More women to be capped at MUT's Women's Month graduation
News
All told, 990 women will graduate from the Faculty of Management Sciences, 308 from the Faculty of Natural Sciences, and 310 from the Faculty of Engineering.
Read more...
---
Hitachi Energy is championing its Diversity 360 approach
News
In recognition of Women's Month, the company highlighted the achievements of exceptional local female talent by profiling three leading women who form part of the company's South African operations.
Read more...
---
LTM garners prestigious global 'green energy' award
News
The company was awarded for the AEE Innovator of 2022 the Enhanced Smart Utility Management System (eSUMS), which helps clients reduce their utility costs and boost their climate change mitigation contribution.
Read more...
---
Attaining a sustainable legacy
Technews Publishing (SA Instrumentation & Control) Editor's Choice News
Through this quagmire of crises and uncertainties, the wheels of industry must continue to turn if we are to sustain our modern way of life, and those wheels are, either directly or indirectly, powered by electricity.
Read more...
---
From the editor's desk: Today's seed, tomorrow's shade
Technews Publishing (SA Instrumentation & Control) News
Today's captains of industry did not create the environmental problems we face, but they inherited this poisoned chalice and so it falls upon them to rinse it clean.
Read more...
---
From Industry 4.0 to Industry Green.0
Rockwell Automation Editor's Choice News
As sustainability becomes a business imperative for manufacturing organisations, they must incorporate sustainability goals into every step of the business lifecycle – because purpose and profit must go hand in hand.
Read more...
---
Strong order intake, record revenues for Atlas Copco
News
The demand for Atlas Copco's products and services remained high for the second quarter of 2022, and order volumes increased markedly in all business areas compared to the previous year.
Read more...
---
Zest WEG poised for African growth
Zest WEG Group Africa News
Zest WEG's drive on local manufacture and local sourcing is consistent with WEG's global approach of maximising local content and procurement wherever possible.
Read more...
---