printer friendly version
Bosch Rexroth electrifies subsea process automation
August 2021
News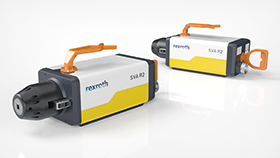 Bosch Rexroth has engineered a disruptive innovation for electrically actuating valves in the subsea process industry. Called the SVA R2 Subsea Valve Actuator, it can replace conventional hydraulic cylinders without taking up additional space. It has an integrated electric controller that offers precise motion control and due to condition monitoring and a safety spring, it satisfies Safety Integrity Level (SIL) 3 in accordance with IEC 61508 and IEC 61511.
The actuator minimises energy consumption and is geared toward delicate ecosystems, while installation and operating costs are reduced. When the SVA R2 is used in subsea factories at a depth of up to 4000 metres, hydraulic pipes or power units are no longer required. The power supply, which is already installed for sensors is adequate to ensure the reliable operation of the actuators. These functions, the operating life and actuator safety have been successfully tested in accordance with international standards.
Previously, process system operators relied mainly on hydraulic cylinders to open and close subsea valves with a quarter turn and a defined force. With offshore installations like oil and gas production, these cylinders are supplied by a central hydraulic power unit with hydraulic pipes several kilometres long. This uses a great deal of energy to compensate for the cumulated losses and cannot control the movement with precision.
Plant engineers and operators relied on hydraulic cylinders because they are the only components to offer field-proven safety systems with a mechanical spring in a compact design. Conventional electric actuators do not have a safety function like this due to the size and weight requirements. Other designs to ensure safety using subsea batteries cannot guarantee the reliable closing of valves over the required operating life of up to 25 years.
For the agile development of the SVA R2, the Bosch Rexroth team worked closely with suppliers and operators of offshore installations and international universities. The new module comprises a pressure-compensated container incorporating an electric drive, a motion control system and a safety device, which can replace the previously used hydraulic cylinders on a 1:1 basis. It requires only one cable for the power supply and communication. The SVA R2 is designed to actuate valves reliably with the power supply that is commonly used for subsea sensors. Switching to compact and safe electric actuators means that the hydraulic pipes several kilometres long and the associated power units and controllers are no longer required.
Further reading:
New chief marketing and communications officer joins Zutari
News
Leading consulting engineering and infrastructure advisory firm, Zutari, has appointed Zipporah Maubane as chief marketing and communications officer for Africa and the Middle East (AME).    The company 
...
Read more...
---
Women thrive at the coalface of BI's sales and customer service
Bearings International News
"Do not compare yourself to others. Work hard, as no job is beneath you. Soak up the knowledge available to you. Do not be discouraged or demotivated."
Read more...
---
More women to be capped at MUT's Women's Month graduation
News
All told, 990 women will graduate from the Faculty of Management Sciences, 308 from the Faculty of Natural Sciences, and 310 from the Faculty of Engineering.
Read more...
---
Hitachi Energy is championing its Diversity 360 approach
News
In recognition of Women's Month, the company highlighted the achievements of exceptional local female talent by profiling three leading women who form part of the company's South African operations.
Read more...
---
LTM garners prestigious global 'green energy' award
News
The company was awarded for the AEE Innovator of 2022 the Enhanced Smart Utility Management System (eSUMS), which helps clients reduce their utility costs and boost their climate change mitigation contribution.
Read more...
---
Attaining a sustainable legacy
Technews Publishing (SA Instrumentation & Control) Editor's Choice News
Through this quagmire of crises and uncertainties, the wheels of industry must continue to turn if we are to sustain our modern way of life, and those wheels are, either directly or indirectly, powered by electricity.
Read more...
---
From the editor's desk: Today's seed, tomorrow's shade
Technews Publishing (SA Instrumentation & Control) News
Today's captains of industry did not create the environmental problems we face, but they inherited this poisoned chalice and so it falls upon them to rinse it clean.
Read more...
---
From Industry 4.0 to Industry Green.0
Rockwell Automation Editor's Choice News
As sustainability becomes a business imperative for manufacturing organisations, they must incorporate sustainability goals into every step of the business lifecycle – because purpose and profit must go hand in hand.
Read more...
---
Strong order intake, record revenues for Atlas Copco
News
The demand for Atlas Copco's products and services remained high for the second quarter of 2022, and order volumes increased markedly in all business areas compared to the previous year.
Read more...
---
Zest WEG poised for African growth
Zest WEG Group Africa News
Zest WEG's drive on local manufacture and local sourcing is consistent with WEG's global approach of maximising local content and procurement wherever possible.
Read more...
---