printer friendly version
High output LED strip light
August 2021
Operator Interfaces, Switches & Relays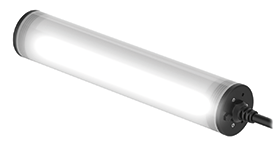 Increase worker productivity and ergonomics with bright, high-quality, uniform light. Turck Banner's WLS70 is a high-efficacy strip light used for industrial work areas. AC models can be daisy-chained to power multiple lights and adjust intensity via a 0-10 V control signal. DC models also offer dimmable intensity with PWM. The uniform output of the WLS70 reduces shadows, improves visibility, and gives workers the light they need to work efficiently and without making mistakes. Use the WLS70's 1350 lumens per foot with diffuse polycarbonate window to uniformly light target surfaces and show without hot spots. The bright, focused white light of the WLS70 improves worker productivity and has a low cost of ownership.
Quick and easy installation
WLS70 is simple to install with quick disconnect options. Its sturdy aluminium housing encased in a shatterproof, polycarbonate shell makes it ideal for harsh indoor and outdoor applications. The WLS70 is available in lengths of 300 mm, 600 mm, 900 mm, or 1200 mm.
Energy-efficient design
The WLS70 is exceptionally energy efficient for overall cost savings with over 140+ lumens/watt. Automatic temperature protection is built into the unit. If the WLS70 is used outside of the 50° ambient temperature specification, light output reduces and dims to manage heat and protect product lifetime. Dimming is good for saving energy and workplace ergonomics. This rugged work light features a water and dustproof IEC IP65-rated housing for use in challenging environments.
Applications include machine lighting, industrial automation systems, routine inspections and dairy/poultry production.
Credit(s)
Further reading:
RFID bus modules for Ex areas
Turck Banner IS & Ex
Turck's HF bus mode makes it possible to implement RFID applications with many read/write heads, quickly and at an affordable price.
Read more...
---
Flexible LED strip for illumination and signalling
ifm - South Africa Operator Interfaces, Switches & Relays
Triggering is via four digital inputs that can be used to produce the colours red, yellow, green, blue, cyan and purple, as well as pure white
Read more...
---
Grist for the mill
Turck Banner Editor's Choice Sensors & Transducers
To meet the requirements of Swiss company Bühler with regard to its MHSA grain huller, Turck certified its contactless Li linear position sensor for use in the Ex area. Thanks to its contactless operating principle, the robust sensors are both maintenance-free and wear-free. They offer an impressive performance due to their optimum reproducibility, resolution and linearity over a large temperature range.
Read more...
---
Ex-rated strain gauge transducer
Turck Banner Sensors & Transducers
Turck Banner's IMX12-SG for force measurement applications in hazardous areas achieves response times below 10 ms and can be used as a repeater or signal converter.
Read more...
---
Upgraded IIoT functionality for excom Ethernet I/O
Turck Banner Fieldbus & Industrial Networking
Firmware update adds functions to excom Ethernet gateways, such as webserver, HCiR and parallel access to HART devices.
Read more...
---
Working hand in hand to meet automotive OEMs' strict requirements
Turck Banner Sensors & Transducers System Integration & Control Systems Design
The LASE Group, producer of machines and assembly cells for the automotive industry, places trust in its close collaboration with Turck Multiprox.
Read more...
---
IP67 power supplies with IO-Link for field installation
Turck Banner Electrical Power & Protection
Turck Banner's compact PSU67 power supply units ensure energy-efficient, decentralised power supply in modular systems.
Read more...
---
Managed and unmanaged Ethernet switches
Turck Banner IT in Manufacturing
Three new IP67-rated switches have been released to expand Turck Banner's portfolio – two unmanaged variants and one managed switch.
Read more...
---
Four-channel I/O module with Ethernet interface
Turck Banner Fieldbus & Industrial Networking
With a temperature range from -40°C to +70°C and protection to IP65/IP67/IP69K, the new I/O module has a wide range of uses.
Read more...
---
Absolute encoder for construction and agricultural machinery
Instrotech Operator Interfaces, Switches & Relays
Siko's AH25S is cost-effective and flexible, and provides a balance between high resolution, extensive functionality, a sturdy housing design and a minimal construction form.
Read more...
---