printer friendly version
Level transmitter for hygienic applications
August 2021
Level Measurement & Control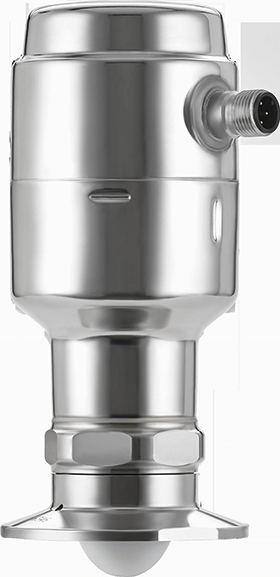 To meet the need for highly accurate and reliable level measurement in hygienic applications, Emerson has developed the Rosemount 1408H Level Transmitter, a non-contacting radar device designed specifically for the food and beverage industry. Dedicated features include a hygienic compact design, fast sweep technology, exceptional radar beam focusing and IO-Link communications, helping manufacturers to optimise the efficiency of their operations, reduce product losses and ensure food safety.
Non-contacting radar is an ideal level measurement technology for applications that require stringent hygienic facilities and equipment. It is virtually maintenance-free, which helps it to ensure long-term reliability, in sharp contrast to legacy technologies. It has a top-down installation that reduces the risk of product loss through leakage and it is unaffected by process conditions such as density, viscosity, temperature and pH. The compact and robust form of the Rosemount 1408H makes it a suitable solution for the small tanks and space-constrained skids commonly used in food and beverage production. The hygienic antenna is flush with the process connection that ensures the removal of process residue during clean-in-place and sterilise-in-place processes and is insensitive to condensation and build-up. The hygienically approved, IP69-rated device has a stainless-steel housing with minimal crevices, which facilitates cleaning.
The Rosemount 1408H uses 80 GHz frequency modulated continuous wave technology on a single electronic chip with embedded smart algorithms. This enables exceptional radar beam focusing, so that internal tank obstructions such as agitators can be avoided and greater measurement accuracy achieved. Fast sweep technology enables the new instrument to collect up to 40 times more information than legacy transmitters. This increases measurement accuracy, enabling manufacturers to reduce the amount of product lost through wastage and reduce production variations.
The IO-Link communication protocol makes it easy to integrate with any automation system. The transmitter provides conventional 4-20 mA switch outputs and digital high-speed communication. It features innovative technology and smart algorithms to ensure installation and commissioning are made easy, saving time and helping ensure trouble-free operation.
For more information contact Emerson Automation Solutions, +27 11 451 3700, emrsouthafrica@emerson.com, www.emerson.com
Credit(s)
Further reading:
Condition monitoring software gets asset health boost
Emerson Automation Solutions IT in Manufacturing
The newest version of Emerson's AMS Machine Works adds support for embedded, automatic analytics at the edge using patented PeakVue technology.
Read more...
---
Emerson's new edge solutions simplify IIoT projects
Emerson Automation Solutions IT in Manufacturing
PACSystems Edge Solutions are fit-for-purpose packages that reduce the time spent integrating, developing and validating IIoT projects.
Read more...
---
Load sensor for force measurement
Instrotech Level Measurement & Control Mass Measurement
The instrument provides a solution for non-intrusive level measurements of materials that are subject to uneven build-up, bridging or sidewall collection.
Read more...
---
Diesel level sensing for rail engines
Instrotech Level Measurement & Control
Diesel fuel levels are measured, recorded and displayed, and kilowatt-hours are measured, using the Senix ToughSonic CHEM 10 ultrasonic sensor.
Read more...
---
How smart pneumatics enhance machine safety
Emerson Automation Solutions Pneumatics & Hydraulics
The Industrial Internet of Things and the digital transformation it has empowered have already proven their many benefits. One that deserves a closer look is how smart pneumatic devices can improve machine 
...
Read more...
---
Radar level sensor with IO-Link interface
ifm - South Africa Level Measurement & Control
Its non-contact radar measuring principle prevents malfunctions or failures of the sensor caused by the adhesion of viscous media or damage from agitators.
Read more...
---
Why are rate of change alarms used?
Omniflex Remote Monitoring Specialists Level Measurement & Control
Often the domain of control and safety software, rate of change alarms can be implemented in hardware to benefit from an additional layer of protection to systems or processes.
Read more...
---
Improving efficiency and reliability of CIP and SIP systems
Emerson Automation Solutions Flow Measurement & Control
By using clean-in-place and steam-in-place systems, food and beverage manufacturers can improve product quality, minimise recalls and protect personnel.
Read more...
---
Vibronics, Liquiphants, and human brainpower set free
Endress+Hauser South Africa Level Measurement & Control
Why are field device manufacturers continually developing new technologies? On the one hand, these technologies make work outside in the field easier. Fewer qualified personnel are needed and the technologies 
...
Read more...
---
"Oops! I forgot to check" – How a simple switch can prevent critical system failure
Hydrasales Level Measurement & Control
Daily checks of hydraulic systems, or checks at the time of employee shift changes, are good practices that should be part of a successful maintenance programme.
Read more...
---