printer friendly version
Tailored technology meets responsive design with the new Festo website
April 2021
Editor's Choice
Festo South Africa, a renowned leading automation company for over 45 years, has recently launched its new website www.festo.co.za, which demonstrates its continued commitment to customer service delivery and simplifying its customer's lives. With its responsive design, intelligence and adaptability, it is no surprise that the new site is named FOX (Festo Online Experience). The company's wide range of products, services and accompanying tools are now accessible more easily, quickly, and efficiently than before.
The company has rebuilt the website to live up to its innovative, cost-effective, and reliable automation solution standards. With the new website, Festo is taking the opportunity to strengthen and modernise how it presents its products and solutions to improve the online customer experience.
Key features of the new platform
New and improved online shop
To better serve thousands of customers all over Africa, Festo also developed a new and improved online shop. This shop aims to solve the need for a quick and hassle-free ordering system. Boasting over 30 000 products, you'll have an abundance of options to choose from. However, that's not all! From search and ordering to delivery, customers will immediately see the difference between the old and new e-shops. Intelligent and intuitive features are some of the functionalities that have been added to customer accounts. The online shop simplifies the ordering process for customers in several ways:
Shopping cart
The shopping cart offers quick information about price and availability, and delivery dates. It provides an option to save or share a shopping cart with a third party and an opportunity to request an official quotation.
Proof of delivery and invoices
A proof of delivery document is crucial, so Festo has added an option to download the proof of delivery document and invoice for quick reference.
Quick order
Do you know the exact product that you would like to purchase from Festo? If yes, the new quick order feature is for customers like you. All that is required from customers is to enter the Festo product number.
Order history
The order history feature offers customers a convenient way to keep track of all current and past orders, as well as their status in the order process. Repeat orders can be placed effortlessly by using the re-order function to quickly transfer all items from a previous order to your cart.
Better performance with fewer clicks
With the site's smart features, FOX gives automation designers quicker access to the company's latest design tools. Its users receive information and educational support at every crossroad on the company's new product category pages. This is provided through product pictures, animations, product videos, technical documentation, product support information and manuals.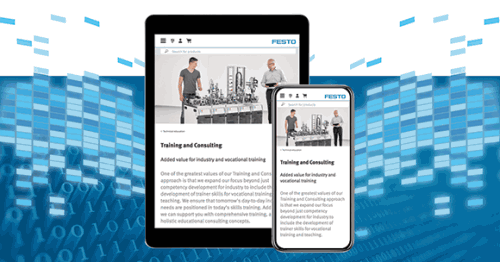 CAD designs
With one click, customers can create CAD assemblies quickly and accurately with the Festo Design Tool 3D. This tool provides an ordering code which customers can use to order the assembly directly, either pre-assembled or as individual components.
Configurator tool
With intelligent configurators such as HGO (Handling Guide Online), and YJKP (servo press kit), customers will be able to design a complete handling system for their machines within a few minutes with immediate access to the CAD drawing to incorporate in their design. Thus, saving customers time and money in the design process of their machines. Coupled with an easy ordering process and instant pricing, customers have complete convenience and access to all their required information.
Circuit diagram software
With FluidDraw, users can create pneumatic, hydraulic and electric circuit diagrams plus the relevant parts lists in an instant. The intelligent software solution permits the user-friendly creation of clear structures, even with complex systems. Third-party libraries allow users to add their own symbols to their drawing layouts. Standard templates give users a professional layout and design for their drawing packs. The software supports all stages, from the initial idea through to planning and designing the system and machine.
Be better equipped to manage emergencies and avoid downtime
The Festo website is designed to keep users ahead of emergencies or downtime through analysis, diagnostic tools and on-demand solutions. This customer-centric, intuitive and responsive website helps users take care of their machines effectively and efficiently, whether they are at their desk or on the shop floor, thanks to the following features:
Spare parts for Festo products
Customers can quickly find the right spare parts by using the part number, ordering code, type, product key, or the scanned data matrix code. They will then see all the spare parts in the smart spare parts catalogue, and place the part they need in the shopping basket.
Easy self-help video tutorials
The YouTube channel, Festo South Africa, offers practical and intuitive step-by-step instructions on frequently requested topics such as repairs, configuration, commissioning and modifications. The videos also contain helpful information about which tools the website visitors need, how to use them, and how much time you should expect to spend as well as illustrated comparisons that point out typical sources of error.
Repair service from Festo
Repairs are particularly recommended for high-value components and modules that have not yet reached the end of their service life. Festo takes care of this for customers – quickly, reliably and professionally. Festo offers a wide range of repair services such as inspection, economic feasibility analysis and more.
Its not just the website that is changing
Festo has re-designed the structure of its sales teams to better serve customer needs. With its full complement of dedicated employees, the new structure better aligns the sales teams to focus on primary business units and key industry segments. The new website and its recent structural changes will afford Festo an opportunity to provide Africa with cutting-edge and unrivalled automation services.
Festo believes that the new website with its intuitive features will result in a level of service and functionality unparalleled in the South African market, ensuring that the company remains a leader in innovation. Furthermore, new innovations will be uploaded to the site as soon as they become available. This ensures that customers always have access to the latest offerings. Visit the Festo website on www.festo.co.za to view the vast range of products, solutions and services.
Credit(s)
Further reading:
Pressure sensors for hygienic applications
ifm - South Africa Editor's Choice Pressure Measurement & Control
ifm's new PI1xxx series offers measuring ranges from vacuum to 100 bar, communication via IO-Link 1.1, and resolution close to 20 000 steps.
Read more...
---
Beckhoff upgrade is music to Vienna State Opera's ears
Beckhoff Automation Editor's Choice
The sound system that had been in continuous use for over 20 years could no longer keep up with the sound standards set by modern systems.
Read more...
---
Loop Signatures 12: Digital controllers – Part 4: The I term
Michael Brown Control Engineering Editor's Choice System Integration & Control Systems Design
Generally, as PLCs sometimes do not handle PIDs well, I always do some tests on them to check on the operation of their control loops.
Read more...
---
Festo unveils world's first pneumatic cobot
Festo South Africa Editor's Choice
The innovation aims to begin a new era in human-robot collaboration, at a price point that suits even small and medium-sized companies.
Read more...
---
Risk assessments accelerate Booyco PDS adoption
Editor's Choice System Integration & Control Systems Design
As mines systematically assess the risks related to their trackless mining machinery, they increasingly see the value in proximity detection systems.
Read more...
---
Turning pollution into gold
RJ Connect Editor's Choice
Streamline Innovations' Valkyrie redox process leverages the convergence of IT and OT technology to create a sustainable, economical solution.
Read more...
---
Enhancing worker safety with mobile solutions
Pepperl+Fuchs Editor's Choice
Smartphones and tablets enable companies to improve not only their productivity, but also the safety of their employees.
Read more...
---
Is your manufacturing plant ready for IoT?
Editor's Choice Fieldbus & Industrial Networking IT in Manufacturing
Pockets of IoT exist in manufacturing plants today; the challenge is to fully digitalise the entire plant.
Read more...
---
Control loop: Case History 182 - A temperature cascade control loop that didn't work
Michael Brown Control Engineering Editor's Choice System Integration & Control Systems Design
The problems encountered in a heater outlet temperature control in a petrochemical refinery were causing considerable difficulties for the operators. Here is another wonderful example of the power of cascade control, even with a really bad control element.
Read more...
---
Five reasons for force measurement
WIKA Instruments Editor's Choice Maintenance, Test & Measurement, Calibration
Wika takes a closer look at the measured variable of force and gives five reasons to show why force measurement is of particular importance.
Read more...
---