printer friendly version
3D machine vision for automated logistics
April 2021
Sensors & Transducers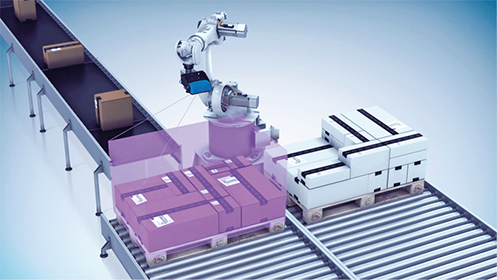 SICK Automation and Neadvance collaborated to engineer the ideal automation solution for a motor manufacturer in the Czech Republic. The manufacturer needed to implement an automated step in its receiving department to facilitate robotic picking of palletised items and their subsequent transfer to conveyors.
The central element of the solution is the use of articulated robots combined with the SICK Visionary-T 3D camera. The manufacturer's robot had to be automated to the point where it could independently and consistently recognise the positon of individual parcels and packaging units on a delivered pallet and reliably grip them for transfer. The Visionary-T CX with 3D snapshot technology was selected. Its streaming camera is able to supply the robot controller with three-dimensional images in the form of 3D point clouds.
The device uses 3D time-of-flight technology to generate the images. This technology, based on light being emitted from a built-in light source, measures tiny time differences in the reflection from an object's surface back to the camera. The time differences help calculate the distance to the reflective surface and, using special Neadvance-developed algorithms, convert them into a three-dimensional representation. The camera's high frame rate allows this process to be done up to fifty times a second.
Another advantage of this technology is the powerful active lighting system integrated into the camera. It illuminates the surroundings, enabling the camera to detect objects with very low reflection properties and operate in complete darkness.
Into action
Within the manufacturer's goods receiving system, the Visionary-T CX is attached to the articulated joint of the robot, continuously moving with it and acting as an 'eye'. In its daily operations the Visionary-T CX delivers the 3D point clouds and, using the Neadvance algorithms based on 3D shape analysis, determines the exact position of crates and cardboard boxes. The robot then moves its gripping device to the corresponding coordinates, picks the item and places it on a conveyor. To grasp the next crate, the process is repeated.
The solution has proved its reliability and efficiency to such an extent that the OEM is planning to implement it in its other plants. The project's general contractor and system integrator were so impressed with the Visionary-T CX 3D snapshot technology and time-of-flight principle that they will be integrating it as standard in similar processes.
Credit(s)
Further reading:
2D/3D profile sensor for weld seam tracking
ASSTech Process Electronics + Instrumentation Sensors & Transducers
Supporting software can evaluate two- and three-dimensional data from smart cameras, vision systems, profile sensors and IPCs with profile sensors.
Read more...
---
Standard-compliant differential current transformer
Beckhoff Automation Sensors & Transducers
The SCT5564 can be used as a residual current monitor and can measure DC and AC residual currents with up to 100 kHz frequency in the 0 to 2 A range.
Read more...
---
Wire-actuated encoder for crane arms and lifting platforms
Instrotech Sensors & Transducers
Siko has solved the challenges presented by such applications with the SG 30 and its very compact, yet robust, design.
Read more...
---
Ultrasonic distance sensor
ASSTech Process Electronics + Instrumentation Sensors & Transducers
Wenglor's new ultrasonic distance sensors combine low installation depth and easy integration of the sensor with tried and tested ultrasonic technology, setting new standards in terms of range and integration options.
Read more...
---
Grist for the mill
Turck Banner Editor's Choice Sensors & Transducers
To meet the requirements of Swiss company Bühler with regard to its MHSA grain huller, Turck certified its contactless Li linear position sensor for use in the Ex area. Thanks to its contactless operating principle, the robust sensors are both maintenance-free and wear-free. They offer an impressive performance due to their optimum reproducibility, resolution and linearity over a large temperature range.
Read more...
---
Ex-rated strain gauge transducer
Turck Banner Sensors & Transducers
Turck Banner's IMX12-SG for force measurement applications in hazardous areas achieves response times below 10 ms and can be used as a repeater or signal converter.
Read more...
---
Concentration measurement with process sensors
Sensors & Transducers
To run chemical reactions in an optimal range and to control product quality, online concentration measurement is required. This ensures a fast intervention in case of concentration variation during 
...
Read more...
---
Sensors for pulp and paper applications
Gail Norton Instrumentation Sensors & Transducers
Some of the toughest challenges for sensors are found in the pulp and paper industry. Here, high temperatures and a contaminated environment make it difficult for optical sensors to operate accurately 
...
Read more...
---
Universal code reader for optimal reliability
Pepperl+Fuchs Sensors & Transducers
Camera-based code readers have already proven their worth in reading detailed data for automated processes, with the adaptability to suit many tasks.
Read more...
---
Working hand in hand to meet automotive OEMs' strict requirements
Turck Banner Sensors & Transducers System Integration & Control Systems Design
The LASE Group, producer of machines and assembly cells for the automotive industry, places trust in its close collaboration with Turck Multiprox.
Read more...
---