printer friendly version
SAIMC: From the office of the CEO
March 2021
SAIMC
In my last letter, I committed to talking to you about the various outcomes for which applicants would need to provide evidence in order to qualify with ECSA for certification in mechatronics.
But before I do that, I would like to give you some feedback on the recent AGM. The board remains unchanged:
• Vinesh Maharaj: chairman.
• Non-executive directors: Oratile Sematle and Annemarie van Coller.
• Non-statutory director: Marc Van Pelt.
• Executive director: Johan Maartens.
We would also like to welcome the following chairs to the executive committee: on the Supplier Advisory Council, Andrew Reynolds, GM of Beckhoff Automation, will be filling the shoes of Frikkie Streicher, who played such an important role in this crucial leg of the SAIMC organisation. The Supplier Advisory Council plays a critical role when it comes to education, exhibitions and interfacing with government. We wish Andrew everything of the best and are privileged to have such a dynamic individual leading this important part of the SAIMC.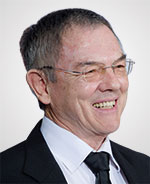 Johan Maartens.
Then, I would also like to introduce the chair of the Education and Training Advisory Council, Professor Ben van Wyk, executive dean of the Faculty of Engineering, the Built Environment and Technology of the Nelson Mandela University. He was the only person representing an education institution who challenged the SAIMC during the Automation Breakfast, where we stated the issues facing our industry because of education not providing the 'products' that industry would like to 'buy'. He is therefore the ideal individual, in one of the most advanced universities when it comes to automation (including mechatronics), to take the SAIMC forward in the education and training field.
Now, back to the mechatronics qualification, where the complete list of outcomes is available on both the SAIMC and ECSA websites (https://www.saimc.co.za and https://www.ecsa.co.za). The list below is a selection of the more important ones required for ECSA registration in the area of mechatronics:
• Outcome 1 – define, investigate and analyse well-defined engineering problems. Applicants are expected to have exposure to the technical investigation of equipment, plant and product failure. The intent is for the applicant to be able to investigate and analyse well-defined engineering problems.
• Outcome 2 – design or develop solutions to well-defined engineering problems. Research and development constitute the first stages of development for a potential new service, process or product, or to improve existing services, processes and products. Applicants must be capable in these areas.
• Outcome 3 – jurisdiction: specific knowledge and practices. Applicants must demonstrate a thorough understanding of the specific knowledge areas and engineering practices in the career path in which they are operating. This outcome normally causes confusion, but consists of showing the theory behind implementing a solution; identifying and applying applicable technical standards; and data genealogy.
• Outcome 9 – exercise sound judgment. Judgment in decision making involves taking diverse, wide-ranging risk factors into account; evaluating consequences in a range of contexts; and understanding the needs of a wide range of interested and affected parties. Applicants must have relevant experience.
And that concludes the new registration requirements for mechatronics. If any members are interested in being trained as assessors, please contact me at your earliest convenience.
Yours in automation, Johan Maartens
Credit(s)
Further reading:
SAIMC: Cape Town branch
April 2021, SAIMC , SAIMC
We had an interesting presentation last month given by Allan Pead from Microsoft on the open source platform from Microsoft Azure Sphere – a secure IoT platform.       Allan is currently an Xamarin 
...
Read more...
---
SAIMC: Johannesburg branch
April 2021, SAIMC , SAIMC
The technology evening was once again hosted virtually and this time it was the turn of Albert Louw from ifm electronic, presenting on the topic: Systems for mobile machinery. One could ask the question, 
...
Read more...
---
SAIMC: Durban branch
April 2021, SAIMC , SAIMC
Members and visitors were treated to a Zoom presentation that had the understated title: Introduction to ultrasonic flow measurement, by Marco Lopes of NIC KZN. Marco was ably backed up by Howard Lister, 
...
Read more...
---
SAIMC: Durban branch
March 2021, SAIMC , SAIMC
The branch held its first virtual technology meeting of the year on 10 February, where John de Castro (a long-time friend of the Durban SAIMC) gave us some insight into his experiences working abroad. 
...
Read more...
---
SAIMC: Vaal branch
March 2021, SAIMC , SAIMC
Vaal University of Technology: new qualifications and phasing out of others
Since 1994 the South African education sector has gone through many transformative and structural changes. These have focused 
...
Read more...
---
SAIMC: Johannesburg branch
March 2021, SAIMC , SAIMC
As 2021 begins, we at the Johannesburg branch are looking forward to the year as there has been a great response to our available technology evenings, which are completely full. The branch has decided 
...
Read more...
---
SAIMC: From the office of the CEO
April 2021, SAIMC , SAIMC
The skills shortage is always a topical subject. It is also complex because the diverse nature of our economy leads to many different points of view. So, in my next few correspondences, I'd like to share 
...
Read more...
---
SAIMC: Cape Town branch
February 2021, SAIMC , SAIMC
What an interesting year 2020 was and we are looking forward to an exciting 2021. The branch recently held its annual AGM and elected new branch management team. This event was a hybrid meeting where 
...
Read more...
---
SAIMC: Vaal branch
February 2021, SAIMC , SAIMC
The branch held its AGM on 13 January, where various topics were discussed, including:   
• Continuation of the online technical evenings in 2021 with the possibility of face-to-face meetings subject to 
...
Read more...
---
SAIMC: Durban Branch
February 2021 , SAIMC
The branch held its annual general meeting via Zoom on 27 January. Secretary, John Owen-Ellis, welcomed everybody and gave a brief review of 2020 which, with the death of branch general manager Hennie 
...
Read more...
---