printer friendly version
The Internet of Things is changing logistics
March 2021
Level Measurement & Control
A focus on application engineering allows Trafo Power Solutions to supply customised dry-type transformers for a range of sectors including renewable energy.
"We begin at the proposal stage by engaging closely with the customer about the exact application and electrical load," says David Claassen, managing director of Trafo Power Solutions. "This means that every project gets its own transformer design, so that it is fit for purpose."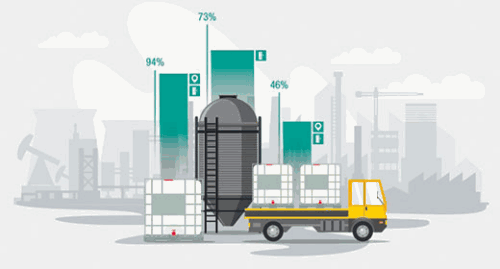 In the case of renewable energy applications, for example, there are some very specific demands that need to be accommodated. A solar power generating plant presents a situation in which a transformer will be energised from 0% to 100% on a daily basis.
"This leads to wide fluctuations in temperature inside the transformer which, in turn, causes the resin around the windings to expand and contract considerably," says Claassen. The windings in dry-type transformers are insulated in a cast resin or epoxy material, rather than oil, and rely on air movement for cooling.
"Such fluctuations could result in the resin cracking, so the design must specify the appropriate class of insulation to cope with these conditions. We can design our windings for either Class F or Class H insulation. In addition, the mixture of the resin is specially formulated to accommodate the duty cycle specific to renewable energy applications."
The standard design – using Class F – can deal with temperatures up to 155°C. For many of Trafo Power Solutions' low-voltage and high-voltage installations around Africa, the design includes a resin mix to Class H specifications. This gives it the capacity to withstand temperatures of up to 180°C.
Another aspect that needs to be considered for renewable energy applications is the non-linear load that inverters add to the mix. The transformers need to be designed with a K-factor much higher than used for standard distribution type loads, as well as the addition of an electrostatic shield between the primary and secondary windings to eliminate potentially damaging leakage currents.
Claassen notes that dry-type transformers are being increasingly specified for demanding applications such as renewable energy plants, instead of conventional oil transformers.
"With an oil-cooled unit, the temperature fluctuation arising from these rapid and regular energising and de-energising cycles brings its own challenges," he adds. "In particular, it causes more gases to be emitted within the transformer tank, which leads to a variety of problems."
The cast resin material used in Trafo's dry-type transformers meets the specifications of the International Electrotechnical Commission (IEC) for fire class F1. The units therefore present minimal fire risk, allowing them to be used indoors safely, and without environmental protection like bund walls for potential oil spills.
Claassen says dry-type distribution transformers are fast becoming a more suitable alternative to oil transformers, especially in the distribution power range between 50 kVA and 10 MVA, although Trafo Power Solutions is able to supply dry-type transformers up to a power rating of 25 MVA
For more information contact David Claassen, Trafo Power Solutions, +27 11 325 4007, david@trafo.co.za, www.trafo.co.za
Further reading:
Specialist instrumentation for specialised applications
October 2021, GHM Messtechnik SA , Level Measurement & Control
Over 30 years of experience puts Val.co at the forefront to supply specialist liquid level, flow, pressure and temperature instrumentation.
Read more...
---
Radar transmitter ensures efficiency at Australian mine
October 2021, VEGA Controls SA , Level Measurement & Control
To eliminate supply bottlenecks at an Australian iron ore mine, the processes were better coordinated with VEGAPULS 69 playing an important role.
Read more...
---
High-reliability float switch
September 2021, ASSTech Process Electronics + Instrumentation , Level Measurement & Control
ASSTech has added a new simple-to-mount horizontal design of float switch to its Jumo range.
Read more...
---
Multi-application radar level transmitters
September 2021, Instrotech , Level Measurement & Control
Instrotech now offers Kobold's NGR, a robust, maintenance-free level sensor that uses TDR (time domain reflectometry) technology.
Read more...
---
Level transmitter for hygienic applications
August 2021, Emerson Automation Solutions , Level Measurement & Control
The Rosemount 1408H Level Transmitter with IO-Link provides accurate, non-contacting measurement to help optimise operations and ensure food safety.
Read more...
---
Ready for use anywhere
August 2021, Endress+Hauser South Africa , Level Measurement & Control
The first 2-wire loop-powered compact transmitter enters the market.
Read more...
---
Make level sensor checks redundant
August 2021, DRH Components , Level Measurement & Control
The Roto-Bin-Dicator PRO is a simple paddlewheel device that monitors the level of dry bulk material.
Read more...
---
Level switches master viscous substances
July 2021, VEGA Controls SA , Level Measurement & Control
VEGA has developed the new front-flush level switch, Vegapoint 24, especially for use with sticky, viscous or abrasive products.
Read more...
---
Level sensors shorten the distance from the field to supermarket shelves
August 2021, VEGA Controls SA , Level Measurement & Control
VEGAPULS C 11 ensures fast processing of carrots and onions with reliable measured values.
Read more...
---
New horizontal float switch
June 2021, ASSTech Process Electronics + Instrumentation , Level Measurement & Control
The R40 LSH now includes devices for point level measurement with features such as floats and reed contacts.
Read more...
---