printer friendly version
Wireless controller for smarter factories
March 2021
PLCs, DCSs & Controllers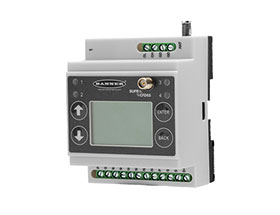 With three times faster processing speed and eight times more memory than previous models of the DXM controller, the new DXM700 provides expanded ScriptBasic programming capabilities and faster script processing that allows for more complex solutions to solve even more applications in the factory.
Become a smarter factory
DXM wireless controllers are designed to facilitate Ethernet connectivity as well as enabling IIoT applications. As smart factories become more prevalent, IIoT technologies are in high demand to connect manufacturing assets to the Internet.
The DXM700 can be used for various IIoT applications such as remote monitoring, predictive maintenance or process optimisation. It is compatible with Turck Banner sensors and Connected Data Solutions software to create complete end-to-end IIoT solutions.
Get actionable data when and where you need it
The DXM700 also offers advanced features for flexibility in communicating, logging and using data from the factory floor. For example, it includes communication protocols like Modbus RTU, Modbus TCP and EtherNet/IP to enable communication between PLCs, HMIs and other local hosts. Alerts, alarms or data log files can be sent via secure email so that operators do not miss important notifications.
A removable SD card can be used for on-board data logging and the easy-to-follow interactive programmable user interface includes an LCD screen and LED indicators. A cellular modem provides cellular Internet connectivity and four sourcing outputs are available for local triggers.
The DXM700 can be used in numerous factory automation and IIoT applications including pick-to-light assembly, kitting or order fulfilment, remote monitoring and predictive maintenance.
The new wireless controller also takes up less space on a DIN rail due to its compact 70 mm width. Despite the smaller footprint, it still includes most of the features and the same reliable performance as the rest of the DXM series.
Credit(s)
Further reading:
Powerful controller for high safety requirements
Phoenix Contact PLCs, DCSs & Controllers
Thanks to its 8-core processor, high-level language and open-source software such as Docker or even Matlab Simulink can run simultaneously with the control program.
Read more...
---
New user-friendly modular controller
Allpronix PLCs, DCSs & Controllers
Novus has released its N20K48 controller family. This new concept is based on a compact, powerful core controller plus a growing family of micromodules that enable it to meet a wide range of application requirements.
Read more...
---
LED strips enhance efficient pick-to-light C-parts management
Turck Banner Editor's Choice Operator Interfaces, Switches & Relays
KEB Automation used Turck's WLS15 strip lights to refine its assistance system for C-parts management into an efficient and failsafe pick-to-light solution.
Read more...
---
Firmware update enhances RFID interfaces for IIoT
Turck Banner Industrial Wireless
A free firmware update makes Turck Banner's IP67 RFID interfaces fit for barrier-free communication in IIoT applications, such as for simple product identification and tracking.
Read more...
---
Condition monitoring sensor with IO-Link
Turck Banner Sensors & Transducers
Continuously records humidity and temperature in production and storage areas, and outputs the values via IO-Link or as a switching signal.
Read more...
---
Air humidity/temperature sensor with IO-Link
Turck Banner Temperature Measurement
Turck Banner is offering cost-effective condition monitoring in the field and in IIoT applications with its first combined air humidity/temperature sensor; it is very easy to integrate thanks to the IO-Link interface.
Read more...
---
IO-Link portfolio for decentralised automation
Turck Banner Fieldbus & Industrial Networking
Turck Banner is expanding its extensive IO-Link portfolio with a robust IO-Link master with an M12 power supply, a compact IO-Link master in IP20, and an I/O-Hub with an additional power supply. This enables power hungry equipment such as grippers to be fed with up to 4 A of power.
Read more...
---
RFID Read/Write Head for Ex Zone 1/21
Turck Banner IS & Ex
Turck Banner is expanding its Industry 4.0 portfolio into explosion-protected areas and is thus underlining its commitment to being a supplier of end-to-end IIoT solutions in the process industry.
Read more...
---
RFID bus modules for Ex areas
Turck Banner IS & Ex
Turck's HF bus mode makes it possible to implement RFID applications with many read/write heads, quickly and at an affordable price.
Read more...
---
ABB white paper explores the future of DCS technology
ABB South Africa News PLCs, DCSs & Controllers
The company foresees a modular automation architecture that will evolve to address customer needs, becoming more open, interoperable and flexible.
Read more...
---