printer friendly version
Emerson receives 2021 breakthrough award for Analytics Platform of the Year
January 2021
News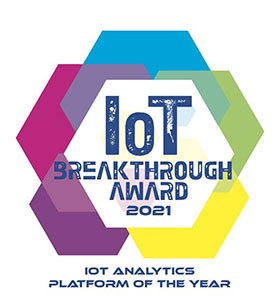 Emerson has received the "IoT Analytics Platform of the Year" award for its Plantweb Optics Analytics software. The honour, part of the 5th annual IoT Breakthrough Awards, recognises Emerson's analytics software that uses artificial intelligence and machine learning to improve reliability, safety and sustainability while optimising production for industrial manufacturers.
"Industrial manufacturers generate vast amounts of data, but few companies are really gaining the insights needed to optimise their operations," said Stuart Harris, group president for Emerson's digital transformation business. "With Plantweb Optics Analytics, we are providing manufacturers with advanced analytics capabilities that are easy to deploy and quickly deliver results. This IoT Breakthrough Award recognizes our industry-leading technology, expertise and focus on value creation for our customers."
New technologies present a wealth of opportunities for manufacturers today. In fact, analytics has the potential to deliver more than $4 trillion of growth in industrial manufacturing, according to McKinsey. Emerson's Plantweb Optics Analytics is a powerful IIoT analytics software that collects and interprets operational data to provide real-time visibility into equipment health and operational performance. With embedded domain knowledge, Plantweb Optics Analytics can improve performance at all levels across an enterprise, from simple equipment to complex assets, process units and entire production plants. Plantweb Optics is part of Emerson's award-winning Plantweb digital ecosystem of transformational technologies, software and services.
Emerson's Plantweb Optics Analytics software draws from a combination of data-driven models and principles-driven analytics to identify, predict and prevent more than 80% of common equipment failures, leveraging machine learning, predictive modeling and artificial intelligence to provide insight that impacts business performance. The company also recently introduced augmented reality (AR) technology for Plantweb Optics, enabling workers with enhanced access to critical information and expert guidance as well as empowering remote collaboration to maintain operations and prevent downtime.
The IoT Breakthrough Awards program recognizes innovators, leaders and visionaries from around the globe in a range of IoT categories, including Industrial IoT, Enterprise IoT, Consumer IoT, Connected Home and more. This year's program attracted more than 3850 nominations from companies all over the world.
"With Plantweb Optics Analytics, organizations have a 'breakthrough' platform that helps them improve key performance areas such as reliability, safety, production optimization and energy management – the biggest profit levers for a manufacturer's operations," said James Johnson, managing director at IoT Breakthrough. "Emerson's IoT innovation breaks through the IoT analytics category this year and we are thrilled to be able to name Emerson a 2021 IoT Breakthrough Award winner."
Credit(s)
Further reading:
New chief marketing and communications officer joins Zutari
News
Leading consulting engineering and infrastructure advisory firm, Zutari, has appointed Zipporah Maubane as chief marketing and communications officer for Africa and the Middle East (AME).    The company 
...
Read more...
---
Women thrive at the coalface of BI's sales and customer service
Bearings International News
"Do not compare yourself to others. Work hard, as no job is beneath you. Soak up the knowledge available to you. Do not be discouraged or demotivated."
Read more...
---
More women to be capped at MUT's Women's Month graduation
News
All told, 990 women will graduate from the Faculty of Management Sciences, 308 from the Faculty of Natural Sciences, and 310 from the Faculty of Engineering.
Read more...
---
Hitachi Energy is championing its Diversity 360 approach
News
In recognition of Women's Month, the company highlighted the achievements of exceptional local female talent by profiling three leading women who form part of the company's South African operations.
Read more...
---
LTM garners prestigious global 'green energy' award
News
The company was awarded for the AEE Innovator of 2022 the Enhanced Smart Utility Management System (eSUMS), which helps clients reduce their utility costs and boost their climate change mitigation contribution.
Read more...
---
Attaining a sustainable legacy
Technews Publishing (SA Instrumentation & Control) Editor's Choice News
Through this quagmire of crises and uncertainties, the wheels of industry must continue to turn if we are to sustain our modern way of life, and those wheels are, either directly or indirectly, powered by electricity.
Read more...
---
From the editor's desk: Today's seed, tomorrow's shade
Technews Publishing (SA Instrumentation & Control) News
Today's captains of industry did not create the environmental problems we face, but they inherited this poisoned chalice and so it falls upon them to rinse it clean.
Read more...
---
From Industry 4.0 to Industry Green.0
Rockwell Automation Editor's Choice News
As sustainability becomes a business imperative for manufacturing organisations, they must incorporate sustainability goals into every step of the business lifecycle – because purpose and profit must go hand in hand.
Read more...
---
Strong order intake, record revenues for Atlas Copco
News
The demand for Atlas Copco's products and services remained high for the second quarter of 2022, and order volumes increased markedly in all business areas compared to the previous year.
Read more...
---
Zest WEG poised for African growth
Zest WEG Group Africa News
Zest WEG's drive on local manufacture and local sourcing is consistent with WEG's global approach of maximising local content and procurement wherever possible.
Read more...
---