printer friendly version
Gimatic expands product range with launch of vacuum product offering
January 2021
Pneumatics & Hydraulics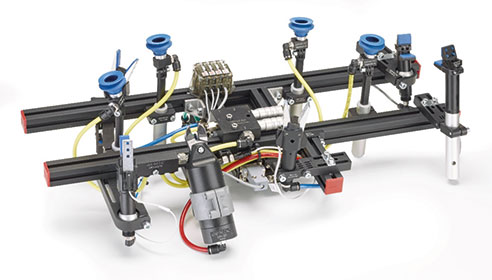 Suction cups, vacuum pumps, sensors, and related accessories allow Gimatic's customers to handle different objects in various industrial sectors with low energy consumption and reduced downtime. Gimatic is a business within Barnes Group's Automation strategic business unit.
The Gimatic VG range of suction cups consists of about 900 products and includes high-quality materials such as double-hardness polyurethane, silicone (available in the FDA-compliant version for direct handling of unpackaged food), hydrogenated nitrile butadiene rubber (HNBR), and nitrile butadiene rubber (NBR). These synthetic rubbers are free of paint-wetting impairment substances (PWIS), making them ideal in applications where any contamination of the material must be avoided. Thanks to suction cup models suitable for the most demanding applications, the design guarantees a secure grip on uneven surfaces such as those of snacks and packaged bars. Gimatic suction cups are divided into 18 product families, each with specific characteristics that make them suitable for the packaging, food, pharma, plastic, metal sheet, wood, glass, and automotive sectors.
The EJ range of cartridges and vacuum pumps consists of approximately 150 different items divided into 8 product families. Gimatic cartridges are available in 3 sizes, each offered in 3 different versions. They are extremely efficient, compact, and lightweight and allow integration onboard the machine – right where the vacuum is required – thus maximizing the gripping system's performance and reducing its energy consumption. Gimatic vacuum pumps include manifolds in aluminum or POM and are capable of integrating additional functions such as the automatic release of the object being handled without additional solenoid valves. In addition to suspensions, ball joints, and vacuum actuators, the range of vacuum products includes release systems, vacuum switches of different types that can be easily integrated on Gimatic vacuum pumps, and accessories such as vacuum filters.
For more information contact Ray Williams, Gimatic South Africa, +27 78 741 5186, r.williams@gimatic.com, www.gimatic.com
Further reading:
Festo at the heart of absolute automation
July 2021, Festo South Africa , Pneumatics & Hydraulics
Festo is renowned as one of the leading pneumatic automation suppliers. Over the years, the company has also set the pace in both Process and Electric Automation. This is backed by its proven record of 
...
Read more...
---
Parker's High Performance Flange system
July 2021, Parker Hannifin - Sales Company South Africa , Pneumatics & Hydraulics
Parker Hannifin has announced that its mechanical flange system for machines and plants with working pressures of up to 420 bar has gained DNV GL approval for marine applications.
Read more...
---
Compressed air purity analyser
July 2021, Artic Driers International , Pneumatics & Hydraulics
Compressed air treatment using filters and dryers is an effective barrier to airline contamination. Until recently, auditing the compressed air quality in a system was difficult, but clients and professional 
...
Read more...
---
Use compressed air efficiently
Technews Industry Guide: Sustainable Manufacturing 2021, Artic Driers , Pneumatics & Hydraulics
To attain sustainability, one of the areas that needs great attention is compressed air efficiency within the plant.
Read more...
---
BMG's Hydraforce valves and solutions
April 2021, Bearing Man Group t/a BMG , Pneumatics & Hydraulics
BMG, distributors of the Hydraforce range of proportional valves in southern Africa, works closely with Hydraforce engineers and customers in diverse industries to design and manufacture customised hydraulic 
...
Read more...
---
Highly flexible pick and place with digitised pneumatics from Festo
February 2021, Festo South Africa , Pneumatics & Hydraulics
Motion Apps are revolutionising pneumatics by increasing flexibility, energy efficiency and accelerating production processes.
Read more...
---
An easier way to connect
February 2021, Hydrasales , Pneumatics & Hydraulics
Quick-release hydraulic couplings on agricultural equipment have enabled Faster Couplings to provide innovative solutions to meet this sector's needs.
Read more...
---
Protect machines with soft-start valves
February 2021, SMC Corporation South Africa , Pneumatics & Hydraulics
A slow increase in air pressure into a machine at startup helps facilitate a soft start of all downstream components.
Read more...
---
Fibertex offers advanced solutions in filtration for a cleaner environment
November 2020 , Pneumatics & Hydraulics
Fibertex Nonwovens, a leading manufacturer of a comprehensive range of nonwovens and performance-based materials used in diverse industries, has developed advanced filtration solutions that contribute to a cleaner environment.
Read more...
---
Monitoring oil with the power of connectivity
November 2020, Hydrasales , Pneumatics & Hydraulics
The latest innovation in the MP Filtri range of condition monitoring products helps system engineers with the digitalisation of their monitoring processes. It identifies contaminants early in the service 
...
Read more...
---