printer friendly version
Delivering modern SIS for wellhead applications
January 2021
IS & Ex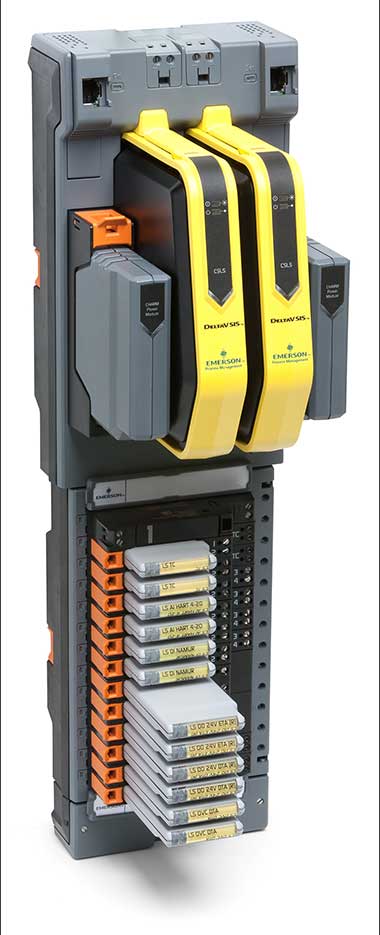 In the oil and gas industry, wellhead applications span many areas from closed-loop control and monitoring, to safety shutdown functions. Due to size and budget factors, designers often try to combine all three functions in one box. While this approach might save on cost, it carries an inherent risk as hardware and software are shared across applications. The conundrum is that a failure in the control function will likely also affect the safety function, therefore affecting safety functionality.
Operations at a well site can be described as follows:
• Control function: the control function is responsible for maintaining the well's target production by regulating the choke valve. Other auxiliary control functions such as chemical injection and hydraulic pump control are also used to maintain the production within the well.
• Monitoring function: some process variables monitored may require that an action be taken to keep the well running within desired limits, thus preventing the well shutdown and a halt in production.
• Safety: these are the critical safety functions normally carried out by safety systems designed to the IEC 61508:2010 international safety standards and providing risk reduction capability up to SIL3.
Keeping the safety and non-safety functions separate while achieving seamless integration
In Emerson's DeltaV SIS with Electronic Marshalling Platform, the safety function is allocated into the safety hardware. This hardware is designed to the IEC 61508 standard, achieves the targeted SIL performance (usually SIL3), and is approved by third-party certification bodies TUV and Exida. This layer is physically and logically independent from the non-safety functions. With DeltaV SIS platform the I/O related to the Safety Instrumented Functions (SIFs) with targeted SIL (SIL1 -SIL3) can be wired to the SIL3 CHARMs Smart Logic Solver (CSLS) where the safety functions are carried out separately from the non-safety functions.
The non-safety functions, on the other hand, can still be handled by the DeltaV SIS, but in a separate yet integrated manner. The non-safety I/O can be wired to the non-safety hardware and executed in a separate controller. These non-safety controllers and I/O are seamlessly integrated within DeltaV SIS with zero data mapping or integration configuration requirements.
With this modern Safety Instrumented Systems (SIS) approach, seamless integration can be achieved without compromising the segregation between functions required to meet international safety standards IEC 61508 and IEC 61511.
Credit(s)
Further reading:
RFID bus modules for Ex areas
Turck Banner IS & Ex
Turck's HF bus mode makes it possible to implement RFID applications with many read/write heads, quickly and at an affordable price.
Read more...
---
Sensor technology for explosion-protected areas
Pepperl+Fuchs IS & Ex
To enable customers to use Pepperl+Fuchs sensors in explosion-protected areas, the company has made sensors suitable for use in Zones 1 or 21, and Zones 2 or 22.
Read more...
---
Condition monitoring software gets asset health boost
Emerson Automation Solutions IT in Manufacturing
The newest version of Emerson's AMS Machine Works adds support for embedded, automatic analytics at the edge using patented PeakVue technology.
Read more...
---
Vibration pen for hazardous areas
R&C Instrumentation IS & Ex
Vibration and temperature are the most common parameters measured on process plants to predict equipment failure or process problems. As part of the extensive range of vibration measurement products and IS rated instruments from R&C Instrumentation, the TV712 series from Time now comes in IS versions for EX Hazardous areas such as coal mines and chemical plants.
Read more...
---
Emerson's new edge solutions simplify IIoT projects
Emerson Automation Solutions IT in Manufacturing
PACSystems Edge Solutions are fit-for-purpose packages that reduce the time spent integrating, developing and validating IIoT projects.
Read more...
---
How smart pneumatics enhance machine safety
Emerson Automation Solutions Pneumatics & Hydraulics
The Industrial Internet of Things and the digital transformation it has empowered have already proven their many benefits. One that deserves a closer look is how smart pneumatic devices can improve machine 
...
Read more...
---
Improving efficiency and reliability of CIP and SIP systems
Emerson Automation Solutions Flow Measurement & Control
By using clean-in-place and steam-in-place systems, food and beverage manufacturers can improve product quality, minimise recalls and protect personnel.
Read more...
---
Training courses for hazardous areas
Extech Safety Systems IS & Ex
Extech Safety Systems has announced a partnership with Trainor to offer online training courses for hazardous areas.
Read more...
---
Silencer to help protect workers from gas process noise
Emerson Automation Solutions Valves, Actuators & Pump Control
Fisher WhisperTube modal attenuator provides noise reduction in compressible fluid service to improve worker safety, with no impact to process flow.
Read more...
---
Emerson's virtual training courses 2022
Emerson Automation Solutions News
Emerson has made its 2022 Virtual Training Calendar available with a variety of courses available in Emerson's Digital Classroom. Emerson's refreshed and expanded its virtual training offerings that 
...
Read more...
---