printer friendly version
Optimum flow restriction at low cost
January 2021
Flow Measurement & Control
Kobold REG flow restrictors maintain constant quantities of liquids in pipework systems. These rate regulators are ideally suited for the simple restriction to a pre-set throughput value of water, or liquids similar to water. The flow restrictors ensure equilibrium, particularly in systems with many users and resulting pressure fluctuations caused by random flow conditions. This ensures that the desired throughput is not exceeded. Constant flow is achieved by two stainless steel diaphragms that are cross-mounted and riveted together.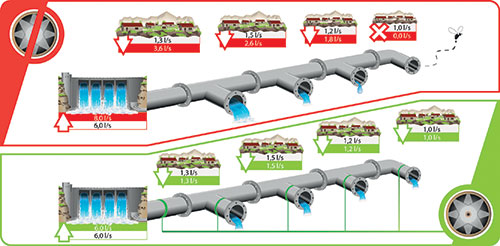 The gap between the spring-loaded stainless steel plate and seal face is continuously varied as the differential pressure changes. As the differential pressure decreases the gap widens, and it closes as the pressure increases, thus maintaining a constant flow volume through the device.
Optimised water distribution is one example of application possibilities for REG, and specifically the regulated supply of fresh water to remote settlements. Initially, core settlements consume too much water, so that bottlenecks can occur at the remote end of the pipeline. Direct installation of REG completely eliminates the problem. The REG system offers advantages such as tamper-proof application, being maintenance-free for life, and it is a low-cost unit, requiring no auxiliary power.
Pump protection is another ideal application of REG, wherever a constant flow rate is needed despite pressure fluctuations: for example, switching on or off water consumers. In cooling circuits, REG offers lifelong protection against overheating at idle, water hammer and cavitation.
Industrial areas are another area in which the regulator finds good application, as virtually every industry needs water. REG's high-quality stainless steel design is completely maintenance free, independent from auxiliary power and totally tamper proof, making it suitable for diverse industrial requirements, including district heating systems, cooling circuits, filtration processes, spray moisture applications, dosing applications, agricultural irrigation, firefighting and fire protection services, emergency shower systems (hazardous areas) and water treatment.
Credit(s)
Further reading:
Pressure sensors for perfect coffee
Instrotech Pressure Measurement & Control
Rex-Royal has sourced pressure transducers from Keller's 21C series for its S300 model range of bean-to-cup coffee machines.
Read more...
---
Pulse totaliser counter
Instrotech Flow Measurement & Control
The electronic unit shows flow rate, resettable daily and total counter (mass units can also be set), and all customised program settings remain saved, even after a battery exchange.
Read more...
---
Permanently precise flow measurement
Morton Controls Flow Measurement & Control
Proven and tested in practice, the small size of the FMQ's measuring body and electronics enable simple, vibration-insensitive integration into almost all applications.
Read more...
---
Ultrasonic sensors enable automatic stacking turf harvester
Instrotech Sensors & Transducers
The AutoStack, and now the AutoStack II, use an automated Ultra Steer system to guide the harvester with precision while the operator watches over all aspects of the harvesting process.
Read more...
---
Mass flow controllers and meters
Electrocomp Flow Measurement & Control
Unlike most other devices on the market, these devices do not suffer from drift and do not require in-service recalibration.
Read more...
---
Magnetic-inductive flow meter for phosphate precipitation
Instrotech Flow Measurement & Control
With a 4-20 mA signal or optional pulse output, the MIK allows for immediate response to the latest process conditions.
Read more...
---
Compact infrared camera for the metal industry
Instrotech Temperature Measurement
The camera's wide temperature measurement range of 450-1800°C satisfies practically all demands in the fields of metal production and processing.
Read more...
---
Inline process viscometer for polymer and oil monitoring
SECO Process Instrumentation Flow Measurement & Control
This hermetically sealed unit is assembled entirely from 316L stainless steel and includes built-in fluid temperature measurement.
Read more...
---
Wall-mount ultrasonic flow meters
Royce Water Systems Flow Measurement & Control
High measurement accuracy and minimal interference due to its advanced error correction technology are among the flow meter's benefits.
Read more...
---
Wire-actuated encoder for crane arms and lifting platforms
Instrotech Sensors & Transducers
Siko has solved the challenges presented by such applications with the SG 30 and its very compact, yet robust, design.
Read more...
---