printer friendly version
Advanced new Festo valve portfolio gains immense popularity in industrial automation
November 2020
Editor's Choice
Valves are one of the critical components for pneumatic applications employed in a wide variety of industries. These valves come in different types and have various designs, physical properties, features, and applications. The main objective of these valves remains the same: to control the flow of compressed air by changing the direction of flow. They are key components in the industrial automation space.
The latest Festo Namur valves VSNC, solenoid valve VUVS and solenoid valve VUVG are no different. Since their debut, the valves have gained significant popularity across various industries. "Their quality, reliability, unique features and performance have provided customers all over Africa with peace of mind," says Kershia Beharie, head of market management at Festo South Africa. "Our valves are used in industry to carry out processes efficiently."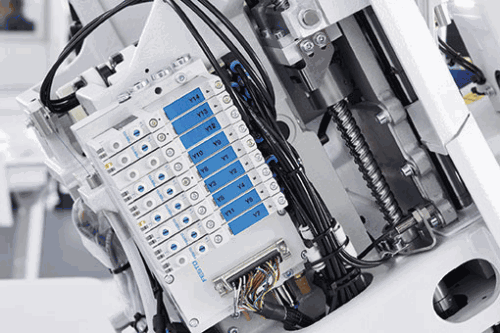 Festo VUVG used in an Eyelet Buttonholer to make buttonholes in seconds.
For machines to work effectively, industry professionals need to find perfect valve solutions. Finding the perfect valve can be a daunting task. In this article, Kershia Beharie talks to SA Instrumentation and Control about choosing the right valves for machine applications from the popular Festo range.
Valve series for a wide range of applications
Compact or sturdy, depending on the application, the new solenoid valves VUVG and VUVS are the ideal solutions for pneumatic automation technology. The two valves are the latest additions to the VG range of compact valves and the VS range of sturdy valves. Both valves are attractively priced and are made for mass applications. With focused features that meet the key requirements of solenoid valves, the compact VUVG and the sturdy VUVS are suitable for 80% of all compact or heavy-duty pneumatic applications.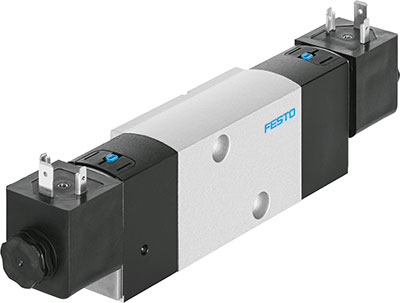 Namur Valve VSNC.
Space saving solenoid valve VUVG
The VUVG is designed as a compact valve. It is the ideal individual pneumatic valve for countless applications, including small parts assembly, electronics, the food and packaging industries, as well as for special machine construction. This pneumatic valve is made for tight installation spaces and control panels.
Electrically and pneumatically actuated, the solenoid valve VUVG can be used as both an individual valve and a valve terminal. One of the unique characteristics of this valve is its optimised footprint with an excellent size/performance ratio. Made from lightweight aluminium, the VUVG saves space in the system and reduces weight. Its 10 bar technology ensures accelerated cycle times, smaller cylinder sizes and a higher energy density. The patented cartridge principle makes the solenoid valve VUVG extremely durable and very reliable. The clever E-box design allows for easy replacement and conversion from one electrical connection technology to another.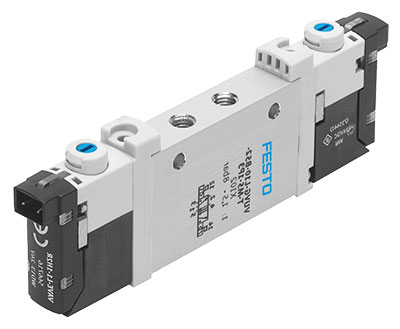 Solenoid Valve VUVG.
This compact valve is suitable for applications where installation space, weight, flow rate and mounting considerations are important. It meets many demanding user requirements thanks to the high level of flexibility offered by the modular system.
Robust solenoid valve VUVS
The economically priced sturdy solenoid valve VUVS is an industry-standard individual valve that can be used for almost any application. It fulfils all the demands made on modern valves for universal use: favourable price, easy installation and assembly, numerous standard functions and attractive design.
Sturdiness, protection to IP65/67, vacuum functions and the high flow rate of up to 2000 l/min make it suitable for almost every industry segment, for example heavy engineering, foundries, opencast mining or the timber industry. This valve can be used for up to 16 valve positions in a fixed grid. It has a universal structure and is easy to operate. The wide range of accessories such as manifold rails and cover plates makes the VUVS flexible in use. The hollow tube enables solenoid coils for different operating voltages to be mounted, which reduces stock holding requirements.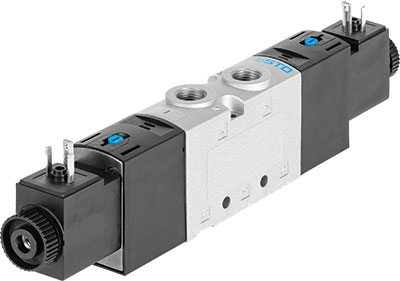 Solenoid Valve VUVS.
Top of the range robust solenoid valve VSNC
The standard NAMUR valve VSNC efficiently and reliably controls the pilot air for a wide range of applications in the liquids, bulk goods or gases, chemical, pharmaceutical, water technology and food production industries. This is made possible by a broad choice of valve functions and an extended temperature range of -20°C to 60°C.
This new pilot valve can be easily adapted for use with either a single- or a double-acting actuator for even greater flexibility. Simply turning the seal around 180° converts a 5/2-way valve into a 3/2-way valve. In the case of the 3/2-way function, exhaust air is fed via the seal into the spring chamber of the actuator. This protects the spring chamber from contaminated ambient air and guarantees a longer service life for the pneumatic actuator.
The design of the VSNC allows these coils, even with different types of protection, to be mounted on a robust stainless steel armature tube, allowing versatile applications. This modularity ensures that Festo can react quickly in processing customer orders.
Finding the right valve for machine applications is critical in industrial automation. In addition to controlling the flow of compressed air, the right valve prevents media cross-contamination and minimises external factors that could interfere with the process. This improves the performance and life span of machines. "To reap these benefits, it is essential to partner with a company such as Festo, a knowledgeable supplier that understands the requirements of today's advanced machines, has a reputation for providing reliable valves and can address the growing industry demands," concludes Beharie.
Credit(s)
Further reading:
Pressure sensors for hygienic applications
ifm - South Africa Editor's Choice Pressure Measurement & Control
ifm's new PI1xxx series offers measuring ranges from vacuum to 100 bar, communication via IO-Link 1.1, and resolution close to 20 000 steps.
Read more...
---
Beckhoff upgrade is music to Vienna State Opera's ears
Beckhoff Automation Editor's Choice
The sound system that had been in continuous use for over 20 years could no longer keep up with the sound standards set by modern systems.
Read more...
---
Loop Signatures 12: Digital controllers – Part 4: The I term
Michael Brown Control Engineering Editor's Choice System Integration & Control Systems Design
Generally, as PLCs sometimes do not handle PIDs well, I always do some tests on them to check on the operation of their control loops.
Read more...
---
Festo unveils world's first pneumatic cobot
Festo South Africa Editor's Choice
The innovation aims to begin a new era in human-robot collaboration, at a price point that suits even small and medium-sized companies.
Read more...
---
Risk assessments accelerate Booyco PDS adoption
Editor's Choice System Integration & Control Systems Design
As mines systematically assess the risks related to their trackless mining machinery, they increasingly see the value in proximity detection systems.
Read more...
---
Turning pollution into gold
RJ Connect Editor's Choice
Streamline Innovations' Valkyrie redox process leverages the convergence of IT and OT technology to create a sustainable, economical solution.
Read more...
---
Enhancing worker safety with mobile solutions
Pepperl+Fuchs Editor's Choice
Smartphones and tablets enable companies to improve not only their productivity, but also the safety of their employees.
Read more...
---
Is your manufacturing plant ready for IoT?
Editor's Choice Fieldbus & Industrial Networking IT in Manufacturing
Pockets of IoT exist in manufacturing plants today; the challenge is to fully digitalise the entire plant.
Read more...
---
Control loop: Case History 182 - A temperature cascade control loop that didn't work
Michael Brown Control Engineering Editor's Choice System Integration & Control Systems Design
The problems encountered in a heater outlet temperature control in a petrochemical refinery were causing considerable difficulties for the operators. Here is another wonderful example of the power of cascade control, even with a really bad control element.
Read more...
---
Five reasons for force measurement
WIKA Instruments Editor's Choice Maintenance, Test & Measurement, Calibration
Wika takes a closer look at the measured variable of force and gives five reasons to show why force measurement is of particular importance.
Read more...
---