printer friendly version
Safe operation of CNG stations
October 2020
Flow Measurement & Control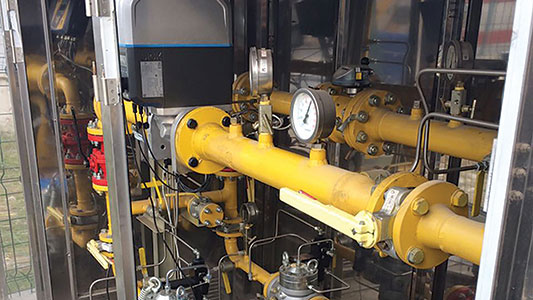 SICK Automation's Flowsic500 gas meter, used in State Oil Company of Azerbaijan Republic's (SOCAR) transfer and measurement stations, has proven to meet stringent compressed natural gas (CNG) production protocols.
To produce, transport and store CNG, natural gas needs to be compressed to very high pressures. Due to this, high demands are often placed in terms of the purity of the natural gas and the safety and quality of all technical systems in relation to CNG.
Delivering the required safety and reliability for continuous and blockage-free gas supply, the Flowsic500 surpasses most conventional rotary turbine meters, offering the ideal solution for SOCAR's transfer and measurement stations.
The Flowsic500 compact ultrasonic gas meter enables extremely accurate natural gas distribution measurement. Thanks to its lack of moving parts, it is rugged, reliable and maintenance-free, allowing a significant reduction in operating costs. It is overload proof, accurate and is monitored by an intelligent diagnostics system. Recalibration is easy as it is simply a matter of exchanging the cartridge. The meter can easily be integrated into existing measuring stations and it operates either in a self-sufficient energy configuration, or in failsafe network operation with battery backup. It complies with all pertinent standards and directives.
Other factors in favour of the new instrument include robustness, low maintenance requirements and compact space requirements, as no inflow or outflow zones are required. Lastly, DN80 devices are used, which deliver reliable and safe measurements even under dynamic flow conditions.
CNG in the global market
Among municipal and public service providers around the world, CNG is growing in popularity. Recognised as a commercially viable and more eco-friendly solution, CNG lowers costs, reduces emissions, and decreases noise pollution by up to 30%.
Particularly in countries and regions where expansion of renewable energies and storage technologies is not as economically viable, CNG use in communal sectors is a fast and inexpensive solution for reducing emissions.
In cooperation with local energy providers from around the world, SICK has successfully implemented several CNG projects in recent years.
Credit(s)
Further reading:
Pulse totaliser counter
Instrotech Flow Measurement & Control
The electronic unit shows flow rate, resettable daily and total counter (mass units can also be set), and all customised program settings remain saved, even after a battery exchange.
Read more...
---
Permanently precise flow measurement
Morton Controls Flow Measurement & Control
Proven and tested in practice, the small size of the FMQ's measuring body and electronics enable simple, vibration-insensitive integration into almost all applications.
Read more...
---
Mass flow controllers and meters
Electrocomp Flow Measurement & Control
Unlike most other devices on the market, these devices do not suffer from drift and do not require in-service recalibration.
Read more...
---
Magnetic-inductive flow meter for phosphate precipitation
Instrotech Flow Measurement & Control
With a 4-20 mA signal or optional pulse output, the MIK allows for immediate response to the latest process conditions.
Read more...
---
Inline process viscometer for polymer and oil monitoring
SECO Process Instrumentation Flow Measurement & Control
This hermetically sealed unit is assembled entirely from 316L stainless steel and includes built-in fluid temperature measurement.
Read more...
---
Wall-mount ultrasonic flow meters
Royce Water Systems Flow Measurement & Control
High measurement accuracy and minimal interference due to its advanced error correction technology are among the flow meter's benefits.
Read more...
---
Flow meters and switches for very slow flows
Instrotech Flow Measurement & Control
Kobold's KSV meters are shock resistant, small, lightweight and simple to install for measuring liquid or air flow with full-scale accuracy within +/-6%.
Read more...
---
Indian airport's fuel station retrofitted with Rotork actuators
Flow Measurement & Control
A reduction of downtime was of critical concern to the customer, which can be assisted by an holistic asset management programme such as Lifetime Management.
Read more...
---
Flow control for wastewater treatment
Flow Measurement & Control
Going beyond simple open/close functions, the Rotork actuators can move the valves and gates to exact positions to provide complete control of flow in the process.
Read more...
---
Flow measurement of abrasive slurries in hydrocyclone feedlines
KROHNE Flow Measurement & Control
Dedicated flowmeters for cyclone classification help miners improve throughput while keeping maintenance costs low.
Read more...
---