printer friendly version
Case History 143: Report after optimisation exercise – Part 4.
August 2015
System Integration & Control Systems Design
This is the fourth article taken from a report which was prepared for various departments in a process company after some optimisation work was performed for them. (The other three articles were published in preceding issues.)
Once again, the first example in this article is of a success story. The loop in question is the control of an important temperature. The operators were controlling it as well as they could, but mostly in manual, as it did not seem to be able to hold the temperature at set-point in automatic. There were frequent load disturbances and the temperature jumped around badly.
Example 1: for once the valve was not the culprit
Open and closed loop tests were performed on the loop, and it was found for once that the control valve was not the culprit, but was in fact operating very well. The problem lay with the tuning. The original tuning had a proportional gain of 1 and an integral of 12 minutes per repeat. This is tuning typically for a relatively slow temperature process, but this temperature did in fact have quite fast dynamics.
A new tuning with a proportional gain of 1,5 and an integral of 2 minutes per repeat was then inserted into the controller. (This tune has good robustness, i.e. safety factor.)
The 'before' and 'after' performance of the control is shown in Figure 1. This recording is taken from the plant's trend recording system, and unfortunately is not of great quality, but it does show the remarkable improvement in control variance. By the way, the scale of the temperature is zoomed up quite considerably. On a scale of 0-100% the temperature would be drawing a straight line.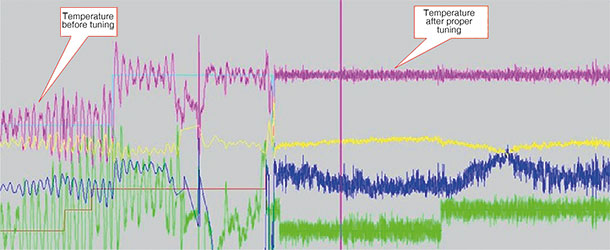 Figure 1.
This is a typical case of poor original tuning. Temperature controls, being relatively slow, are notoriously difficult to tune by the normal 'trial and error' method used in 98% of all tuning. It shows the importance of using a good tuning package.
Example 2: flow loops are important
The second example is dramatic and of a huge problem that shows just how important flow loops can be. This is the control of combustion air flow in a boiler system. The flow of air is controlled by means of a damper. Figure 2 shows an open loop test on this system.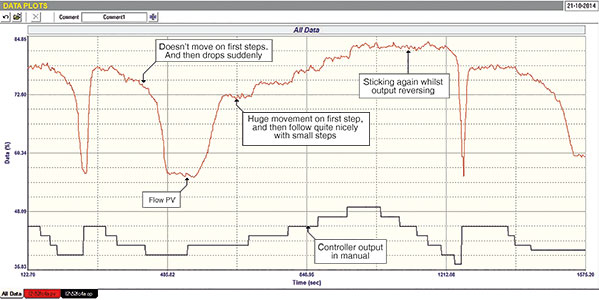 Figure 2.
The damper is very bad and there is no way that any, even reasonable, control can be obtained. The damper has stiction, particularly on closing, and the controller output moves through 12% after which the damper bangs down. There is little repeatability and it is essential that this be sorted out before any reasonable boiler firing control can be achieved. This is a vitally important control.
The cycling caused by this control is affecting all the other loops and causes cycling even on the steam temperature, which is controlled by a sophisticated cascaded desuperheater control system. It is impossible to just tune the loop. The damper needs repairing or replacing before any decent control can be obtained.
Example 3: important pressure control
The last example, also of a problem loop, is that of an important pressure control. This control modulates the feed to a large distillation column.
It is very important to keep the feeds to distillation columns as steady as possible, as fluctuating feed creates all sorts of instability in the processes, which the controls downstream cannot deal with effectively.
In this case there was a large problem with the pressure control valve as can be seen in Figure 3, which shows an open loop test. (The valve had been serviced recently, and it is a common complaint in plants, that valves coming back from service often display more problems after the service than they did before!)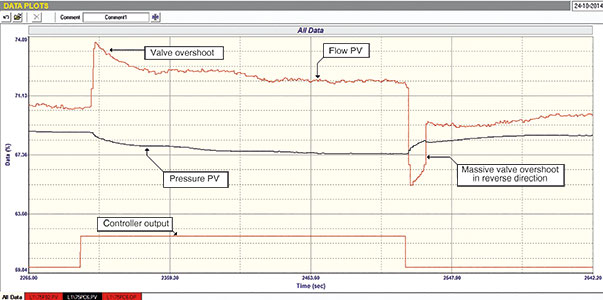 Figure 3.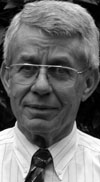 The test shows a big overshoot on opening, and a massive overshoot on closing, which was causing control problems. This is probably due to excessive stiction in the valve and poor tuning of the positioner. Luckily the pressure was quite slow, which still allowed relatively good control of the feed to the column.
This is another example of the power of feedback control. With all the valve problems encountered in about 70% of control loops worldwide, it would be impossible to run plants without the use of feedback control.
Michael Brown is a specialist in control loop optimisation with many years of experience in process control instrumentation. His main activities are consulting, and teaching practical control loop analysis and optimisation. He gives training courses which can be held in clients' plants, where students can have the added benefit of practising on live loops. His work takes him to plants all over South Africa and also to other countries. He can be contacted at Michael Brown Control Engineering cc, +27 (0)82 440 7790, michael.brown@mweb.co.za, www.controlloop.co.za
Credit(s)
Further reading:
Case History 179: Some unusual measurement and control problems
September 2021, Michael Brown Control Engineering , Editor's Choice
The example given in this article illustrates some mistakes made by the system integrators and control engineers at a metals extraction plant that used a well-known make of PLC and scada for its controls.
Read more...
---
Open automation helps optimise cutting machine concept
September 2021, Beckhoff Automation , System Integration & Control Systems Design
Industrial PC technology and EtherCAT elevate Trumpf 3D laser cutting systems.
Read more...
---
Futureproof industrial networks with technology from Pepperl+Fuchs
September 2021, Pepperl+Fuchs , System Integration & Control Systems Design
Preventing unplanned process interruptions, maintaining an overview and ensuring security are key requirements in modern cloud-based applications.
Read more...
---
Siemens, Dow and MxD develop automation test bed
September 2021 , System Integration & Control Systems Design
Siemens is collaborating with Dow to showcase the future of automation with a process industry test bed at MxD, a state-of-the-art advanced manufacturing institute and innovation centre in Chicago. This 
...
Read more...
---
Loop Signatures 8: Final control elements – Part 4: the infamous stick-slip cycle
August 2021, Michael Brown Control Engineering , Editor's Choice
An inherent phenomenon occurring in most control valves that few people are aware of is 'stick-slip'.
Read more...
---
Changeover in pharma production
August 2021, Instrotech , System Integration & Control Systems Design
Instrotech, through its principal, Siko, increases the efficiency and production quality of machines by offering intelligent positioning systems for machine manufacturers and end users in the pharmaceutical industry.
Read more...
---
Robotics and the potential to realise the lights-out factory dream
Technews Industry Guide: Sustainable Manufacturing 2021, Omron Electronics , System Integration & Control Systems Design
The phrase 'lights-out factory' is generally presented as something for manufacturers to aspire to. But is the concept, which essentially means manufacturing without humans, a realistic goal?
Read more...
---
WLS15 Pro series strip light
July 2021, Turck Banner , System Integration & Control Systems Design
Turck Banner's new WLS15 Pro comes in Pro Editor, IO-Link, or Pick-IQ compatible models.
Read more...
---
Water resource sustainability management
July 2021, Yokogawa South Africa , System Integration & Control Systems Design
One way Yokogawa is successfully pursuing its sustainability goals is through its service to the global water industry.
Read more...
---
Case History 178: An over-filtered hydrogen flow loop
July 2021, Michael Brown Control Engineering , Editor's Choice
A good example that shows how lack of knowledge of the practicalities of control can result in terrible control characteristics.
Read more...
---