printer friendly version
Improved production capacity and efficiency
30 September 2020 System Integration & Control Systems Design
BOLÇİ Bolu Chocolate (Bolci) was formed in 1992. It now has over 300 employees and produces over 800 different products. The company produces over 200 tons of chocolate items each month in a factory that covers an area of 20 000 square metres, half of which is the production area, warehouses and various other departments.
In order to meet its growth targets, Bolci needed to to improve its production efficiency and quality control. Omron and Innovas joined forces to commission a line of three Omron robots in the packaging section of the factory's production line, with the aim of enhancing production quality.
The challenge
Bolci currently exports to 13 countries, but wants to increase this number each year. It also wants to build its production capacity and efficiency, minimise production errors, and improve its infrastructure. Prior to introducing the Omron robots, the chocolates were placed manually into dividers in the packaging area. However, the company faces seasonal variations in demand and at special occasions in the year. As a result, sales could increase on a daily basis and the production needs to be adjusted accordingly.
Innovas was employed as the system integrator for the project. Before the robots were commissioned, Innovas performed an analysis of the filling time for the different dividers that would be used when the line of robots was being commissioned. It also carried out feasibility studies on issues such as whether robots would be a suitable solution for picking and placing the chocolates. Innovas looked at the production capacity required and the range of products to be used. Based on the results, the company developed the robot application in conjunction with Omron.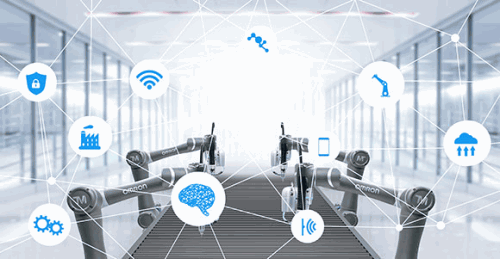 Choosing a solution
Innovas looked for a compact solution for this project and wanted to be able to supply everything from a single channel. It had used Omron products for many different applications over the years, and knew they would meet the needs of this very special project. Omron also has considerable experience in pick and place applications for chocolate and food products.
When Omron was asked to recommend a suitable robot, it first made an assessment of the needs. The type of products on the production line could vary very quickly and Bolci needed different types to be arranged rapidly in the same style of box. Omron suggested the four-arm Quattro robot, which is compact and has a unique kinematic structure. Innovas selected the robot because of its speed and flexibility as well as its ability to cope with the variety of products in the box. Omron also recommended its PackXpert programme, which uses a wizard-based user interface and meets the needs of applications in the packaging sector.
Innovas installed three Omron Quattro robots for Bolci. These are now used to pick and place the chocolates into the dividers, which has saved time considerably. The three robots work in sync with each other as part of an integrated system that includes visual inspection, safety and the robotic systems. Because chocolate is a delicate material, it is important that its shape doesn't deteriorate during the process. This requires accurate positioning and a very precise handling of the product.
The solution in practice
One person places the dividers on the conveyor and the other feeds chocolates through the 12 feed channels. There is also a final visual check on the output of chocolates before they are sent to packaging.
The chocolates are brought to the robots by conveyors. They can be at different angles, but the camera systems check them and the robots capture the products with a vacuum system, based on the position and product information determined by the camera. In the packaging area, the three robots place the chocolates into boxes and dividers. Bolci has about 40 boxes of different sizes and types. On a screen, the operator chooses the boxes to be filled and the appropriate mechanical adjustments are made. The system has four different chocolate feeding entry points for each robot. Up to 12 different chocolates can be stacked in four boxes at the same time.
The new robots have resulted in a 40% increase in production capacity. They have also enabled Bolci to give shorter deadlines to its customers. The robots have helped to reach the required production quality standards by minimising production errors and by enabling the company to provide quality products to its customers.
Credit(s)
Further reading:
Omron launches new laser sensor
Omron Electronics Sensors & Transducers
New sensing technology detects difficult targets and reduces the need for complex installation design.
Read more...
---
TwinCAT for test rig automation
Beckhoff Automation System Integration & Control Systems Design
Flexibility and high performance in control program generation for endurance testing.
Read more...
---
ABB moves toward zero-carbon mines
ABB South Africa System Integration & Control Systems Design
ABB has launched ABB Ability eMine, a portfolio of solutions that will help accelerate the move toward a zero-carbon mine.
Read more...
---
Legacy alarm upgrade for Uganda's power generator
Omniflex Remote Monitoring Specialists System Integration & Control Systems Design
In a digital age, where we rely so heavily on computer-based equipment, do we still need bulky, hard-wired annunciator panels?
Read more...
---
EtherCAT saves space in wind turbines
Beckhoff Automation System Integration & Control Systems Design
At this year's Husum Wind during September, Beckhoff demonstrated its many years of know-how and its broad product range for the wind power industry.
Read more...
---
Smart production line configuration
Iritron System Integration & Control Systems Design
In the discrete manufacturing environment, a tool change or the reconfiguration of a production line is a major cause of production loss.
Read more...
---
Get full value from factory floor data with data sciences
Omron Electronics IT in Manufacturing
Valuable information needs to be extracted from the data and presented to the right audience, at the right time and in the right way.
Read more...
---
Migration from factory automation to process engineering
Pepperl+Fuchs System Integration & Control Systems Design
Pepperl+Fuchs has developed a range of high-tech sensors that have proven themselves in discrete applications. With added explosion protection, they are also suitable for process engineering in zones 1/21 and 2/22.
Read more...
---
Totally Integrated Automation – added value in three dimensions
Siemens Digital Industries Editor's Choice System Integration & Control Systems Design
Discover everything that's in TIA, the leading automation concept from Siemens, and how it all works together to create a unique product for machine builders and industrial enterprises.
Read more...
---
Smart water system management
Saryx Engineering Group System Integration & Control Systems Design
The Saryx Engineering Group is leveraging digital technologies to manage water storage, flow, usage and treatment more efficiently.
Read more...
---