printer friendly version
Matrikon Moore - extensive offering and tailored solutions bring repeat business
December 2010
System Integration & Control Systems Design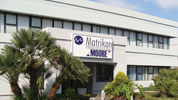 A well established systems integrator brand in South Africa since 1985, Moore grew its market offering further five years ago when international integrated industrial intelligence specialists, Matrikon, awarded it the exclusive rights to sell and install Matrikon products in southern Africa. After changing its name to Matrikon Moore and adopting the optimisation capabilities and reputation synonymous with Matrikon, the joint venture rapidly made inroads into new business areas whilst continuing to service its well-established base of blue chip clients.
Business development manager, Sandra Stone, explains that there are three major brands under the Matrikon Moore banner – Siemens (process instrumentation), Moore and Matrikon (systems optimisation). "This gives the company extensive hardware, software and engineering capabilities, with a product range that spans 13 different vertical markets."
The company has four branches – Secunda, Vanderbijlpark, Midrand and Houston (Texas) – from which a team of 60 engineers tackle both broad-based application and specialist projects. "We employ a number of niche market senior engineers to complement a highly experienced team with multifunctional experience in a large variety of industries and applications," Stone adds.
"Most of our engineers are trained and experienced in the electrical field, however, we do also have a number of chemical engineers on board to complement these capabilities and who provide valuable input on the projects we undertake for the petrochemical, chemical and oil and gas industries," she explains. "We offer turnkey project management and system integration. Our specialised services and process instrumentation allows us to keep expanding our engineering and support capabilities so that we continue to meet the needs of our clients."
Matrikon Moore believes in tailoring customised solutions to specific customer specifications, and becomes involved in projects from the pre-factory acceptance tests through the selection of products and systems to their installation, commissioning and finally the implementation of customised maintenance and support programmes. "Matrikon Moore is actually one of only 13 companies worldwide that is authorised to run Siemens safety systems, a fact that we are justifiably proud of," Stone notes. "Another strength is our ability to minimise client investment in plant resources. We are able to achieve substantial cost savings by applying the knowledge, experience and expertise inherent in the intellectual property of our engineering team. This optimises the installation, configuration, validation, start up and maintenance of any process automation system that we implement.
"In addition to our project management and engineering implementation services, Matrikon Moore is also a value added reseller of a comprehensive range of process instruments for pressure, temperature, flow and level measurement. Pneumatic valve positioners, process controllers, process recorders and process protection devices complete the package."
The company provides complete software solutions and professional services to market leaders in the oil and gas, power, petrochemical, mining, pulp and paper, chemical and food processing industries. These include the compressor controls recently completed exclusively for Sasol; the recent awarding of the company's seventh FPSO tender; completion of the Mondo Subsea contract; the Espedato OS upgrade; and the Anglo Platinum varied RBM converter.
"Services are provided by a dedicated project team, which ensures that plant personnel work with a support staff familiar with the plant's policies, procedures and expectations. Over our 12 year relationship with Anglo Platinum, we have installed more than 16 000 I/O points. This is indicative of the faith they have in our capabilities. It is also reflected in our long-term, ongoing relationship with both Polyfin and Sasol Synfuels," Stone concludes.
Credit(s)
Further reading:
WLS15 Pro series strip light
July 2021, Turck Banner , System Integration & Control Systems Design
Turck Banner's new WLS15 Pro comes in Pro Editor, IO-Link, or Pick-IQ compatible models.
Read more...
---
Water resource sustainability management
July 2021, Yokogawa South Africa , System Integration & Control Systems Design
One way Yokogawa is successfully pursuing its sustainability goals is through its service to the global water industry.
Read more...
---
SCiBOTRON's quality culture the key to success
May 2020 , System Integration & Control Systems Design
The company was founded on lean principles and quickly grew into a QSE (Qualifying Small Enterprise). Ricardo Paddy, managing director and founding member, attributes one of the reasons for the company's 
...
Read more...
---
Visualisation using vision-specific controls
June 2021, Beckhoff Automation , System Integration & Control Systems Design
TwinCAT Vision combined with TwinCAT HMI.
Read more...
---
Modularity boosts performance
June 2021, SEW-Eurodrive , System Integration & Control Systems Design
Integrated technologies automate, upgrade and streamline existing production processes, while still allowing for future technology to be incorporated.
Read more...
---
Changing negative attitudes towards alarms
June 2021, Omniflex Remote Monitoring Specialists , System Integration & Control Systems Design
Why technology is only as good as the people using it.
Read more...
---
Smart traffic management for Syntell
April 2021 , System Integration & Control Systems Design
Syntell is a leading South African technology company. One of its key projects is the running and management of one third of Johannesburg's traffic lights. Syntell's system is a full traffic management 
...
Read more...
---
PCS Global implements 5-phase control system upgrade at Kiara Health
May 2021, PCS Global , System Integration & Control Systems Design
Kiara Health is the first African company equipped with a fully-scaled server deployment in the AWS Cloud, as well as the first South African company to implement the AVEVA Flex Model.
Read more...
---
Managing thermal functions with heat exchangers
February 2021, Danfoss , System Integration & Control Systems Design
The various heat exchanger options typically have different operating requirements, as well as preferable refrigerants per application.
Read more...
---
Compressed air savings in egg carton production
February 2021, Beckhoff Automation , System Integration & Control Systems Design
Using open PC and EtherCAT-based automation technology, iZ Systems developed a compact standard controller that enables remote monitoring and optimisation of compressed air systems.
Read more...
---