printer friendly version
AI module improves industrial production
December 2019
System Integration & Control Systems Design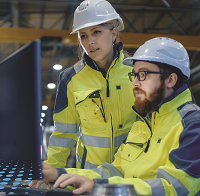 Industrial workers can now use the data from their equipment more easily to predict production issues and improve processes with their existing automation and control skill set. The new FactoryTalk Analytics LogixAI module, formerly known as Project Sherlock, uses artificial intelligence (AI) to detect production anomalies and alert workers so they can investigate or intervene, as necessary.
Many existing analytics technologies require deep expertise in both data science and industrial processes. This add-on module for ControlLogix controllers reduces that burden by doing the job of a data scientist. It fits directly into a control chassis and streams controller data over the backplane to build predictive models. It can continuously monitor a production operation, detecting anomalies against its derived understanding.
"The FactoryTalk Analytics LogixAI module makes predictive analytics more accessible to help more workers make better production decisions," said Christo Buys, business manager control systems, Rockwell Automation. "The module learns your ControlLogix application and tells operators and technicians when things are changing in unexpected ways. This can help them get ahead of product quality issues and protect process integrity."
The module can, for example, help operators spot performance deviations in equipment like mixers that could affect product quality or lead to downtime. It can also be used as a virtual sensor. Instead of workers taking a reading, like the humidity of a packaged food product, the module can analyse variables from line assets like sprayers, dryers and burners to predict a measurement, virtually.
Workers can then be notified of problems by configuring alarms on a human machine interface (HMI) or dashboard. Future features of the module will go further, helping workers focus their problem-solving or automate the optimisation of a process.
The FactoryTalk Analytics LogixAI module is the newest addition to the FactoryTalk Analytics portfolio from Rockwell Automation. The portfolio includes FactoryTalk Analytics for Devices, which learns about an automation system's structure to tell workers about problems with individual devices. The LogixAI module expands on this by learning about an automation system's application and helping identify anomalies with its overall function.
Both products work individually, but each will benefit the other in future iterations. The FactoryTalk Analytics platform aggregates multiple sources of data, so workers can discover new insights. FactoryTalk Analytics for Devices and the LogixAI module will both be data sources for the platform going forward.
For more information contact Christo Buys, Rockwell Automation Sub-Saharan Africa, +27 11 654 9700, cbuys@ra.rockwell.com, www.rockwellautomation.com
Credit(s)
Further reading:
PC-based control decorates plastic lids and containers
December 2019, Beckhoff Automation , System Integration & Control Systems Design
In-mold labelling (IML) is ideally suited to meet today's customer requirements in the plastics industry, especially in the packaging segment.
Read more...
---
Project-based learning challenges the modern engineering student
December 2019, Test Dynamics , System Integration & Control Systems Design
Projects that inherently challenge students to use innovative design thinking often involve interacting with an unknown process or device. Students are encouraged to understand the unknown through theory, 
...
Read more...
---
FieldEcho: the future of integrated IO-Link technology
December 2019, SICK Automation Southern Africa , System Integration & Control Systems Design
Integrated IO-Link technology that enables full data accessibility and transparency across all platforms is here with the FieldEcho from SICK Automation. IO-Link is an increasingly used manufacturer-independent 
...
Read more...
---
Lonza selects Rockwell Automation for digital transformation of pharmaceutical operations
December 2019, Rockwell Automation , News
Lonza has selected Rockwell Automation for the turnkey implementation of the strategic vision to bring the digital factory to nine facilities that manufacture drug capsules. The Swiss-based company, founded 
...
Read more...
---
DRH ensures clients remain at the forefront of bulk measurement with Bindicator range
December 2019 , System Integration & Control Systems Design
DRH Components was started in Durban in 2015 when Rob Hare and Kay Goutham retired from CHI Control (now Eaton), after four decades of service. The company has offices in Durban and Pretoria. Venture 
...
Read more...
---
All-rounders EHL handles projects from conceptualisation to completion
December 2019, EHL Consulting Engineers , System Integration & Control Systems Design
EHL is an engineering, procurement and construction management (EPCM), and engineering, procurement and construction services (EPCS) company that began operating in 1980. Manager of automation at EHL, 
...
Read more...
---
Oven control by Hybrid Automation
December 2019, Hybrid Automation , System Integration & Control Systems Design
Hybrid Automation was approached by one of its clients, a leading South African FMCG company, to provide an automated solution for an existing plant in the factory. Being a popular confectionary manufacturer, 
...
Read more...
---
A good combination for the primaries and metals industry
November 2019, Endress+Hauser , System Integration & Control Systems Design
Endress+Hauser?s measurement devices for flow, level, pressure, temperature and liquid analysis.
Read more...
---
Four key factors to consider when choosing devices for the control cabinet
November 2019, RJ Connect , System Integration & Control Systems Design
Drawing from over 30 years of experience in providing reliable products for industrial control cabinets, Moxa has identified the following four key considerations for choosing the best control cabinet 
...
Read more...
---
Saryx helps Transnet achieve ROI through scada modernisation
November 2019, Saryx Engineering Group , System Integration & Control Systems Design
Saryx Engineering has set the bar high in terms of scada modernisation and standardisation. So much so that the company won 'Best Control & Information Implementation' in recognition of a project with 
...
Read more...
---