printer friendly version
AWE: Telemetry solutions from wildlife to industrial applications
October 2016
System Integration & Control Systems Design
What started as an after-hours business tracking wildlife has today expanded into an operation that provides telemetry solutions for a wide spectrum of applications. In 2003, wildlife management specialist Jason Tarr, together with engineers Jock Donaldson and Justin Joubert, founded AWE Telemetry Systems (AWE).
The trio saw an opportunity to improve on existing wildlife tracking technology by leveraging a combination of UHF radio, GSM and the Iridium satellite network. Tarr points out that Iridium offers global coverage with data transmission being easily achieved between two points, anywhere across the globe. This is the ideal solution for wildlife tracking since GSM is not always available, especially in the remote areas where the animals often roam. Similarly, while UHF has its advantages, the transmission distance is limited.
AWE becomes a fulltime business
In 2011, the team realised that the scope for the technology was very large and that the endeavour required their attention on a fulltime basis. Tarr, Donaldson and Joubert resigned from their respective jobs and began expanding their expertise and knowledge into other realms such as fleet management.
Based in Clubview, Centurion, AWE provides a holistic service that extends from development at a PCB level all the way through to the user interfaces. All products are manufactured in-house, sourcing local components wherever possible. A large benefit for customers is that AWE can easily customise its technology. The company provides complete integration of standard inputs on instrumentation to its telemetry systems in order to monitor a wide range of elements.
From its ISO 9001:2015 accredited manufacturing facilities, AWE has produced, amongst others, the AWE Star Controller, a telemetry gateway that acts as a bidirectional hub relaying data to and from remote transceivers. Customised solutions include a number of animal tracking systems, Curafin Management Company's owner-driver fleet management system, as well as a water flow, level and pressure solution for a leading South African instrumentation and control company.
Onsite training is provided for customers, and the company's management regularly attend training courses on components and programming in terms of the latest electronic technology offerings from both a software and hardware perspective.
The emphasis is on the delivery of excellence in customer service and component quality. Based on AWE's experience with developing equipment for the arduous environment in which wildlife tracking takes place, all products are geared around durability, reliability and longevity. The result is a vast customer footprint in Africa, Asia, the Middle East, Europe and North America.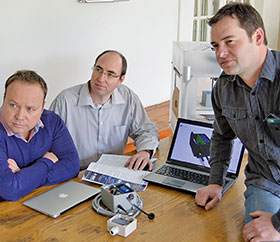 (Left to right) The AWE team Jason Tarr, Jock Donaldson and Justin Joubert.
Growth through diversification
AWE has been busy with a diverse number of projects in recent years. In conjunction with the CSIR, the company has completed a proof of concept on a combined UHF/satellite telemetry solution used in an anti-poaching project. The system is used to track anti-poaching dogs as they train and when they go out into the field on missions. Its ability to integrate into SanPark's Cmore real-time analytics platform also proved advantageous.
Earlier this year AWE conducted a pilot project at a pharmaceutical manufacturing company, which measured the temperature and relative humidity in three of the company's 220 metal-lined rooms. Three wireless, portable UHF-based remote data transceivers fitted with temperature and humidity sensors sent data to a single GSM-enabled Star Controller within the facility. Data was then relayed to the cloud every five minutes via the GSM network and finally to AWE's online scada. UHF radio proved to be an elegant solution in this instance because the rooms within the facility had limited cellular reception. The beauty of this project was that no retrofitting was required, since the system is wireless, thereby saving time and money, and eliminating any hassle factor.
In addition, AWE took Poynting Antennas' GOmeter signal strength indicator from prototype stage to full production, which will be used by the installers of digital terrestrial TV sets throughout Africa.
The company aim is to further develop its capabilities in the industrial control field. Tarr says that they see massive scope to improve on the quantity and quality of data being pushed to the cloud. "Any data sent to the cloud needs to be useful, so we have made it our mission to make data delivery more meaningful and to thereby improve the return on investment for customers. As part of our overall vision, we will expand our capabilities through an investment in qualified and knowledgeable people," he concludes.
For more information contact Jason Tarr, AWE Telemetry Systems, +27 (0)73 171 2539, jason@awetelemetry.com, www.awetelemetry.com
Further reading:
PC-based control decorates plastic lids and containers
December 2019, Beckhoff Automation , System Integration & Control Systems Design
In-mold labelling (IML) is ideally suited to meet today's customer requirements in the plastics industry, especially in the packaging segment.
Read more...
---
Project-based learning challenges the modern engineering student
December 2019, Test Dynamics , System Integration & Control Systems Design
Projects that inherently challenge students to use innovative design thinking often involve interacting with an unknown process or device. Students are encouraged to understand the unknown through theory, 
...
Read more...
---
FieldEcho: the future of integrated IO-Link technology
December 2019, SICK Automation Southern Africa , System Integration & Control Systems Design
Integrated IO-Link technology that enables full data accessibility and transparency across all platforms is here with the FieldEcho from SICK Automation. IO-Link is an increasingly used manufacturer-independent 
...
Read more...
---
AI module improves industrial production
December 2019, Rockwell Automation , System Integration & Control Systems Design
Industrial workers can now use the data from their equipment more easily to predict production issues and improve processes with their existing automation and control skill set. The new FactoryTalk Analytics 
...
Read more...
---
DRH ensures clients remain at the forefront of bulk measurement with Bindicator range
December 2019 , System Integration & Control Systems Design
DRH Components was started in Durban in 2015 when Rob Hare and Kay Goutham retired from CHI Control (now Eaton), after four decades of service. The company has offices in Durban and Pretoria. Venture 
...
Read more...
---
All-rounders EHL handles projects from conceptualisation to completion
December 2019, EHL Consulting Engineers , System Integration & Control Systems Design
EHL is an engineering, procurement and construction management (EPCM), and engineering, procurement and construction services (EPCS) company that began operating in 1980. Manager of automation at EHL, 
...
Read more...
---
Oven control by Hybrid Automation
December 2019, Hybrid Automation , System Integration & Control Systems Design
Hybrid Automation was approached by one of its clients, a leading South African FMCG company, to provide an automated solution for an existing plant in the factory. Being a popular confectionary manufacturer, 
...
Read more...
---
A good combination for the primaries and metals industry
November 2019, Endress+Hauser , System Integration & Control Systems Design
Endress+Hauser?s measurement devices for flow, level, pressure, temperature and liquid analysis.
Read more...
---
Four key factors to consider when choosing devices for the control cabinet
November 2019, RJ Connect , System Integration & Control Systems Design
Drawing from over 30 years of experience in providing reliable products for industrial control cabinets, Moxa has identified the following four key considerations for choosing the best control cabinet 
...
Read more...
---
Saryx helps Transnet achieve ROI through scada modernisation
November 2019, Saryx Engineering Group , System Integration & Control Systems Design
Saryx Engineering has set the bar high in terms of scada modernisation and standardisation. So much so that the company won 'Best Control & Information Implementation' in recognition of a project with 
...
Read more...
---