printer friendly version
LBA leverages extensive experience base to provide turnkey solutions
March 2016
System Integration & Control Systems Design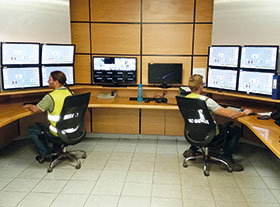 Le Roux, Bouttell & Associates (LBA) was formed in July 2006 by Dave Le Roux and Leon Bouttell to fill a gap in the mining sector for detailed project engineering. Based in its own building in the heart of the commercial centre of Bryanston, the company has a wealth of amassed experience and knowledge in the control arena.
The company, which employs 10 electrical engineers, three technicians and three administrative staff, provides a turnkey project service from conceptualisation, through design and commissioning, to maintenance.
Director, Dave Le Roux, points out that the company has completed a number of high-profile projects, including medium voltage design and engineering, electrical reticulation, transformers and switchgear, motor control centre (MCC) design and procurement, cabling and installation design, instrumentation specification and procurement, control systems (PLC and scada) design, programming and commissioning, project management and project feasibility studies.
Le Roux says that the company's growth is founded on the huge amount of experience inherent in its team, together with its reputation in the marketplace for producing sophisticated and intricate designs, its solid project management and commissioning capabilities, and the customised software systems it provides. The company outsources specialist work as and when required in terms of the design component and on the majority of the installation component.
The company's team is currently Adroit-certified and plans are underway to acquire further relevant certifications from LBA's suppliers. Training is provided to customers, based on their specific requirements, at both the LBAA offices and at customer sites. Le Roux comments that emphasis is placed on the control systems design aspect, whereby the customer's operators are offered full training to the point where they have complete confidence in the system supplied.
In addition, in instances where product specific training is required, LBAA sends both customer operators and its own technical team to suppliers like Siemens, Schneider Electric, Adroit, ABB and Allen Bradley, for more intensive training.
In keeping with its turnkey offering, the company's involvement continues after handover of a project. Various maintenance contracts are available, including on a purely callout basis as well as pre-arranged maintenance contracts, which are more time-sensitive and with a greater degree of involvement from the technicians.
Projects are undertaken in South Africa, southern Africa and even in countries like Canada, where LBA was responsible for the control centre in a water purification plant. Southern African projects include a desalination plant in Namibia, a coal plant in Mozambique and a copper mine in Zambia. In all instances, the professional component is provided by LBA's South African team and local labour is sourced in each country.
Major markets currently serviced by LBA include converting mine drainage water to potable water through reverse osmosis: washing, handling and conveying plants for coal mines; complete handling of manganese plants; desalination plants; and renewable energy applications such as solar energy for water pump stations, which is extremely useful in rural areas. Le Roux says that all of these projects are remotely controlled from LBA's offices.
Future plans include further diversification into other markets such as petrochemical and the food and beverage sectors. Le Roux says that while the company has completed a number of smaller projects in these market sectors, the goal is to become more involved in larger, more complex projects.
For more information contact Dave Le Roux, Le Roux, Bouttell & Associates, +27 (0)11 514 0909, dave@lbaa.co.za, www.lbaa.co.za
Credit(s)
Further reading:
SCiBOTRON's quality culture the key to success
May 2020 , System Integration & Control Systems Design
The company was founded on lean principles and quickly grew into a QSE (Qualifying Small Enterprise). Ricardo Paddy, managing director and founding member, attributes one of the reasons for the company's 
...
Read more...
---
Omniflex enables mine water quality
October 2020, Omniflex Remote Monitoring Specialists , System Integration & Control Systems Design
Water licences carry a 'Burdon of Proof' that the licence holder will not harm the environment or the water system through its activities. This covers the use of water from the system and the responsible 
...
Read more...
---
Safe and efficient water and wastewater treatment
October 2020, Endress+Hauser South Africa , System Integration & Control Systems Design
Depending on the application and the industry, water needs to have different properties to ensure the quality of finished products and the overall safety of production.
Read more...
---
PC-based control monitors road tunnel with flexible scalability
October 2020, Beckhoff Automation , System Integration & Control Systems Design
With more than 200 industrial PCs in operation, the Kaisermühlen Tunnel in Vienna shows that scalable PC-based control technology from Beckhoff is an optimum automation platform in this environment.
Read more...
---
PC-based control reduces complexity in folio applications
October 2020, Beckhoff Automation , System Integration & Control Systems Design
BW Papersystems relied on PC-based control for the development of the eCon folio-size sheeter, which greatly reduced complexity and costs compared to the legacy system it replaced.
Read more...
---
Improved production capacity and efficiency
September 2020, Omron Electronics , System Integration & Control Systems Design
BOLÇİ Bolu Chocolate (Bolci) was formed in 1992. It now has over 300 employees and produces over 800 different products. The company produces over 200 tons of chocolate items each month in a factory that 
...
Read more...
---
EtherCAT I/O for conveyor control
September 2020, Beckhoff Automation , System Integration & Control Systems Design
Integrated compact motor controller reduces cabling effort and increases diagnostic capabilities for roller conveyor systems.
Read more...
---
Robots could solve the social distancing problem
September 2020 , System Integration & Control Systems Design
While South Africa has seen a significant uptake in robotic technology, there are signs it will grow in the years to come as businesses make provision for these types of advancements.
Read more...
---
Fully automated CIP system upgrade at a food factory
September 2020, Hybrid Automation , System Integration & Control Systems Design
Hybrid automation was recently approached to upgrade the CIP system at a food production plant based on the East Rand of Johannesburg.
Read more...
---
Machine upgrade at Rostberg
August 2020, Ana-Digi Systems , System Integration & Control Systems Design
Ana-Digi Systems designs and delivers a state-of-the-art, reliable machine upgrade to match its client's requirements of easy setup and low maintenance.
Read more...
---