printer friendly version
PSY provides energy savings with ABB control system
October 2015
System Integration & Control Systems Design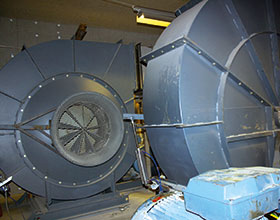 Out with vane control and in with VSD control
There are millions of motors in office and industry use today. In fact, according to ABB, more than 65% of industrial electrical energy is consumed by motors.
It is therefore an area where PSY International works closely with clients to provide long term, reliable and quality engineering solutions. One such client in the industrial manufacturing industry requested PSY to find a solution that would provide them with electrical energy efficiency and lower maintenance costs from their manufacturing operations.
After quick inspection, PSY identified an area where significant energy savings could be achieved through the use of variable speed drives. VSDs are one of the primary devices used to control fan rotational speed. By installing them in the fan system, the frequency and voltage of the power supplied to the AC motor could be controlled and it would adjust the speed to match process requirements.
The inefficient system
During the final stage of a particular manufacturing process, insulation materials are fed on a conveyor where two large 315 kW fans blow air and pressurise the product. The air flow through these fans was void of an air inlet vane control system and the vanes were mechanically regulated while the motor ran at full speed. This mechanical method of control required the vanes to open and close proportionally to the required process pressure. The methodology was extremely inefficient, but widely used as component costs are relatively inexpensive.
The benefits of the upgrade
The client's need for a more energy efficient system was clear: the rapidly rising energy prices affected production through increased costs. They were fortunately able to grasp the opportunities offered by PSY to improve electrical energy efficiency in their most costly division. The decision making process was the result of the client's ability to grasp the importance of an upgrade and was aided by the increase in European companies supplying efficient systems to the market.
PSY's Paul Young says that the justification and decision making needed to come from various divisions for the upgrade to take place. The end result had to benefit all areas. "Naturally, for the owners and shareholders, electrical energy saving has a high priority."
Upgrade implementation
The upgrade implementation was carried out by removing the existing Star-Delta switchgear controls from the panel. The new ABB ACS550 inverters were installed and cabling run to the existing motors. These ABB inverters were then integrated into an upgraded ABB control system. The controls regulate the air flow by adjusting the vane position so that the energy consumption is kept to a minimum and matched to the speed and load conditions.
Young explains, "Prior to the upgrade, fans would run at full speed with the vanes closed, using 50% electrical energy (2 x 315 kW/2). Once the upgrade had been completed; during the unproductive times, the fan would be at a standstill with zero electrical energy required."
On completion, acceptance testing was carried out by checking the process product at the final stage. The upgrade provided the client with more than electrical energy savings. In addition, it provided the extra production flexibility, mechanical longevity, and the latest control equipment with support and backup.
Young concludes: "As an additional benefit, repairs and maintenance costs are lowered as the VSDs provide soft starting of the motors, which saves wear and tear on mechanical parts like drive belts and bearings.
"While pumps and fans are energy guzzlers, they also have great energy saving potential. Targeting these applications within factories is a great start for any energy saving programme. The savings achieved result in the investment to install the drives being recovered in as few as 8 to 12 months."
For more information contact PSY International, +27 (0)11 782 5449, paul@psy-intl.com, www.psy-intl.com
Further reading:
WLS15 Pro series strip light
July 2021, Turck Banner , System Integration & Control Systems Design
Turck Banner's new WLS15 Pro comes in Pro Editor, IO-Link, or Pick-IQ compatible models.
Read more...
---
Water resource sustainability management
July 2021, Yokogawa South Africa , System Integration & Control Systems Design
One way Yokogawa is successfully pursuing its sustainability goals is through its service to the global water industry.
Read more...
---
SCiBOTRON's quality culture the key to success
May 2020 , System Integration & Control Systems Design
The company was founded on lean principles and quickly grew into a QSE (Qualifying Small Enterprise). Ricardo Paddy, managing director and founding member, attributes one of the reasons for the company's 
...
Read more...
---
Visualisation using vision-specific controls
June 2021, Beckhoff Automation , System Integration & Control Systems Design
TwinCAT Vision combined with TwinCAT HMI.
Read more...
---
Modularity boosts performance
June 2021, SEW-Eurodrive , System Integration & Control Systems Design
Integrated technologies automate, upgrade and streamline existing production processes, while still allowing for future technology to be incorporated.
Read more...
---
Changing negative attitudes towards alarms
June 2021, Omniflex Remote Monitoring Specialists , System Integration & Control Systems Design
Why technology is only as good as the people using it.
Read more...
---
Smart traffic management for Syntell
April 2021 , System Integration & Control Systems Design
Syntell is a leading South African technology company. One of its key projects is the running and management of one third of Johannesburg's traffic lights. Syntell's system is a full traffic management 
...
Read more...
---
PCS Global implements 5-phase control system upgrade at Kiara Health
May 2021, PCS Global , System Integration & Control Systems Design
Kiara Health is the first African company equipped with a fully-scaled server deployment in the AWS Cloud, as well as the first South African company to implement the AVEVA Flex Model.
Read more...
---
Managing thermal functions with heat exchangers
February 2021, Danfoss , System Integration & Control Systems Design
The various heat exchanger options typically have different operating requirements, as well as preferable refrigerants per application.
Read more...
---
Compressed air savings in egg carton production
February 2021, Beckhoff Automation , System Integration & Control Systems Design
Using open PC and EtherCAT-based automation technology, iZ Systems developed a compact standard controller that enables remote monitoring and optimisation of compressed air systems.
Read more...
---