printer friendly version
Architects integrating industry – Ai2SA
October 2015
System Integration & Control Systems Design
"The stakes for the project manager have never been higher," says Ai2SA's Petrus Klopper. "Many companies are either going through a rapid growth phase in terms of executing capital projects, or they are nearing the end of the life of existing legacy equipment and are experiencing challenges within the C&I environment. At Ai2SA we provide solutions to such clients 'in need', as often they do not have the required C&I expertise to provide support within the organisation in this regard."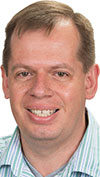 Petrus Klopper.
Specialising in consulting engineering, Ai2SA attributes its success to its service offerings of TAS (turnaround strategy) management and FEL (front end loading).
"TAS is a process used for 'corporate' renewal specifically within the C&I field with a focus on engineering," explains Klopper. "It is used to turn around a struggling company or division. TAS begins with a detailed audit of the company followed by detailed recommendations and restructuring. We offer TAS services to companies within C&I such as mines, food and beverage and system integrators. Typically we make use of SwotII analysis and other audit methods to analyse the company. Then our findings are presented to managers along with recommendations and solutions. The solutions are finalised and then executed by the chief operating officer or equivalent and the strategy and its implementation is monitored by us to ensure success is achieved, or strategy optimised. The benefits of TAS are immense as it helps failing companies become lucrative again."
FEL is the approach used whereby clients come to understand their current situation (compared to where they should be) in terms of installed base, opportunities, threats and legislation requirements. This creates an environment conducive to optimal control system related decisions for either a new (greenfields) installation or a modernisation (brownfield) project. It places heavy emphasis on getting everything right at the very beginning of a project – the front end.
The FEL process consists of three steps
1. Conceptual
This phase determines whether the project is to be undertaken and initiated by changes (i.e. legislation and technology along with site risks/opportunities). Ai2 fulfils this role in C&I related fields by undertaking feasibility studies, thoroughly examining the current state of the market/industry/site, deter­mining needs, identifying opportunities and performing high level risk assessments. The benefits of utilising FEL 1 are that it prevents unnecessary/unfeasible projects from starting, identifies opportunities and ensures legal compliance. Duration is typically 4-6 weeks depending on the scope.
2. Basic
Once the project is deemed feasible, the pre-project planning enters Phase 2. In this phase, the basic groundwork is established. Ai2 fulfils this role in C&I by scoping and completing basic high level general arrangement designs. Engineering services include process flow diagrams and C&I philosophies. The benefits of FEL 2 are that it provides an overview of what can be expected in terms of time and cost during the implementation phase. Duration is typically 2-3 months depending on scope.
3. Detail
If executed correctly, Phase 3 ensures execution of the project without unforeseen problems, within budget and up to the desired quality standard. Ai2 offers mostly engineering related services in this phase such as P&IDs, detailed functional specifications and hardware/software standards and specifications. The benefits of FEL 3 are that it reduces project execution and implementation time through detailed planning, designs and bills of material. Duration is typically 3-6 months depending on scope.
Klopper explains that if started sooner rather than later, FEL can realise significant savings as projects are kept within time and budget while delivering quality solutions that meet all the safety and other requirements. "The challenge is to quantify the level of effort to deliver results and then to be afforded sufficient time to perform the service. FEL especially requires that more work is done prior to implementation and does not work well when limited time is allowed to add value. In terms of project management, unfortunately a lot of companies do not understand the value add in terms of stake holder management and communications.
Ai2SA takes the approach that a work break down structure must be drawn up reflecting scope, activities and envisaged time frames for all the key deliverables specified. Progress is then tracked weekly against the plan making use of CCPM (critical chain project management) methods.
"While we all know that times are tough economically, FEL related project management services are very effective in projects where budgets are constrained," concludes Klopper. "Some of our proudest achievements involve turnaround strategies. Here we have witnessed people implementing our recommendations ranging from large plant I/O standardisation to cost cutting initiatives, to restructuring for growth. It is always heart-warming to see people achieving success through implementing the proposals that are always designed together.
For more information contact Petrus Klopper, Ai2SA, +27 (0)82 559 7437, petrus.klopper@ai2sa.co.za, www.ai2sa.co.za
Credit(s)
Further reading:
WLS15 Pro series strip light
July 2021, Turck Banner , System Integration & Control Systems Design
Turck Banner's new WLS15 Pro comes in Pro Editor, IO-Link, or Pick-IQ compatible models.
Read more...
---
Water resource sustainability management
July 2021, Yokogawa South Africa , System Integration & Control Systems Design
One way Yokogawa is successfully pursuing its sustainability goals is through its service to the global water industry.
Read more...
---
SCiBOTRON's quality culture the key to success
May 2020 , System Integration & Control Systems Design
The company was founded on lean principles and quickly grew into a QSE (Qualifying Small Enterprise). Ricardo Paddy, managing director and founding member, attributes one of the reasons for the company's 
...
Read more...
---
Visualisation using vision-specific controls
June 2021, Beckhoff Automation , System Integration & Control Systems Design
TwinCAT Vision combined with TwinCAT HMI.
Read more...
---
Modularity boosts performance
June 2021, SEW-Eurodrive , System Integration & Control Systems Design
Integrated technologies automate, upgrade and streamline existing production processes, while still allowing for future technology to be incorporated.
Read more...
---
Changing negative attitudes towards alarms
June 2021, Omniflex Remote Monitoring Specialists , System Integration & Control Systems Design
Why technology is only as good as the people using it.
Read more...
---
Smart traffic management for Syntell
April 2021 , System Integration & Control Systems Design
Syntell is a leading South African technology company. One of its key projects is the running and management of one third of Johannesburg's traffic lights. Syntell's system is a full traffic management 
...
Read more...
---
PCS Global implements 5-phase control system upgrade at Kiara Health
May 2021, PCS Global , System Integration & Control Systems Design
Kiara Health is the first African company equipped with a fully-scaled server deployment in the AWS Cloud, as well as the first South African company to implement the AVEVA Flex Model.
Read more...
---
Managing thermal functions with heat exchangers
February 2021, Danfoss , System Integration & Control Systems Design
The various heat exchanger options typically have different operating requirements, as well as preferable refrigerants per application.
Read more...
---
Compressed air savings in egg carton production
February 2021, Beckhoff Automation , System Integration & Control Systems Design
Using open PC and EtherCAT-based automation technology, iZ Systems developed a compact standard controller that enables remote monitoring and optimisation of compressed air systems.
Read more...
---