printer friendly version
Afrilek: Engineering high controller availability at the train loading station of a manganese plant
December 2014
System Integration & Control Systems Design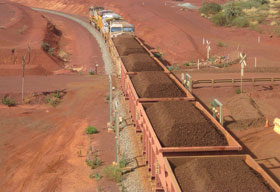 This client's core business is the mining and exporting of manganese ore by means of a truck and shovel open cast pit operation and materials handling and train loading systems. Afrilek was approached to implement a greenfield project that required high levels of controller availability at the train loading section.
The entire solution concept and system design was undertaken in-house by Afrilek, with technical input from the respective hardware and software suppliers. The scope of work included engineering, procurement and commissioning of the complete plant control system and instrumentation in terms of the corporate (optimisation/ERP) layer, operational (scada) layer, control (PLC) layer, field (I/O and device) layer, along with overall communication and integrated safety.
Afrilek chose the latest hardware technologies to ensure future upgrade and expansion compatibility. A standard control system library provides operator visual uniformity and future upgrade compatibility. Seamless integration to motor drives and intelligent switchgear is provided with add-on control system libraries and SIL2 rated safety is achieved as per customer requirements. Combined use of existing and new fieldbus network technologies ensures current and future system stability and the effective energy management will result in future financial gain for stakeholders.
Implementation
The collection and recording of electricity, fuel and water consumption data, together with the visualisation of the energy/resource flow, is a key aspect to attain higher energy efficiency and effective resource management. Siemens resource management component, B.Data, has been integrated with the PCS 7 control system to acquire all resource information directly from the monitoring and control devices at the I/O and level. Access to this data is made available to third-party MIS systems via the OPC protocol, which is available in the additional Simatic Open PCS 7 component.
The scada architecture comprises engineering workstation, redundant server pair, Historian and multiple operator stations. Three area-specific PLCs (one Simatic CPU 416-5 H system and two CPU 410-5 single systems) have been allocated to control the entire plant. The controllers acquire device status directly from the field devices and send commands to the field in order to control the plant according to status. This is achieved via the software that is programmed to control not only the starting and stopping of the plant, but also the safety functions needed to achieve a safe state for the protection of personnel and equipment.
I/O modules distributed in the field are connected to the sensors and actuators to provide the bus signals to the controllers. Intelligent switchgear, consisting of simocodes and drives, are used to control and protect the motors in the field.
Integration between the various control system levels is achieved via the control bus – an industrial Ethernet platform that interfaces the controller to the scada level, and the fieldbus which interfaces the I/O and device levels to the controllers. The fieldbus utilises both Profibus and Profinet architectures.
Safety
Safety is implemented at different levels within the system. At the field level, safety devices such as pull-ropes and emergency stops are physically wired to special safety modules that are incorporated in the control level. The status of the safety devices is sent from the safety modules to the failsafe controller via the fieldbus. The failsafe controller contains the safety software programmed into the controller. The switchgear has intelligent failsafe hardware that can detect the safety telegram and de-energise the conveyor motor when required.
Project progress was tracked and measured based on outlined tasks and deliverables which form part of the implementation. These tasks and deliverables were assigned deadline dates based on complexity and other factors. Milestone dates were set out to be used by both the client and the contractors for measuring progress.
The initial timeline has been adjusted on numerous occasions due to process requirement design changes. The project has been ongoing for almost three years and the latest targeted completion date is mid-2015. Afrilek will provide post-commissioning support on-site for an agreed period and thereafter via remote telephonic assistance.
For more information contact Su-Anne Willemse, Afrilek, +27 (0)11 372 9340, su-anne@afrilek.com, www.afrilek.com
Credit(s)
Further reading:
Changeover in pharma production
August 2021, Instrotech , System Integration & Control Systems Design
Instrotech, through its principal, Siko, increases the efficiency and production quality of machines by offering intelligent positioning systems for machine manufacturers and end users in the pharmaceutical industry.
Read more...
---
WLS15 Pro series strip light
July 2021, Turck Banner , System Integration & Control Systems Design
Turck Banner's new WLS15 Pro comes in Pro Editor, IO-Link, or Pick-IQ compatible models.
Read more...
---
Water resource sustainability management
July 2021, Yokogawa South Africa , System Integration & Control Systems Design
One way Yokogawa is successfully pursuing its sustainability goals is through its service to the global water industry.
Read more...
---
Packaging for sustainability
August 2021, Beckhoff Automation , System Integration & Control Systems Design
PC-based control and EtherCAT enable flexible and sustainable packaging machines.
Read more...
---
SCiBOTRON's quality culture the key to success
May 2020 , System Integration & Control Systems Design
The company was founded on lean principles and quickly grew into a QSE (Qualifying Small Enterprise). Ricardo Paddy, managing director and founding member, attributes one of the reasons for the company's 
...
Read more...
---
Visualisation using vision-specific controls
June 2021, Beckhoff Automation , System Integration & Control Systems Design
TwinCAT Vision combined with TwinCAT HMI.
Read more...
---
Modularity boosts performance
June 2021, SEW-Eurodrive , System Integration & Control Systems Design
Integrated technologies automate, upgrade and streamline existing production processes, while still allowing for future technology to be incorporated.
Read more...
---
Changing negative attitudes towards alarms
June 2021, Omniflex Remote Monitoring Specialists , System Integration & Control Systems Design
Why technology is only as good as the people using it.
Read more...
---
Smart traffic management for Syntell
April 2021 , System Integration & Control Systems Design
Syntell is a leading South African technology company. One of its key projects is the running and management of one third of Johannesburg's traffic lights. Syntell's system is a full traffic management 
...
Read more...
---
PCS Global implements 5-phase control system upgrade at Kiara Health
May 2021, PCS Global , System Integration & Control Systems Design
Kiara Health is the first African company equipped with a fully-scaled server deployment in the AWS Cloud, as well as the first South African company to implement the AVEVA Flex Model.
Read more...
---