printer friendly version
Afrilek: Afrilek enhances customer service through tailored divisions.
July 2014
System Integration & Control Systems Design
Afrilek, providers of automation and electrical solutions, has spent the past few months developing its existing divisions, adding new elements to the business and appointing an industry expert to head up each division.
According to Afrilek's marketing and business development manager, Su-Anne Willemse, the changes implemented by the company will provide its customer base with a wider and more comprehensive service offering.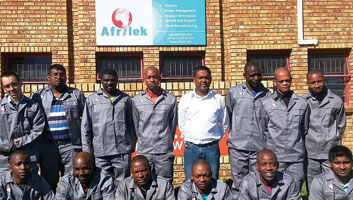 Panel workshop employees.
Willemse points out that the company has grown from 25 to just over 40 permanent staff in recent months. "We have developed the company by strengthening three of the divisions, namely drives, instrumentation and training, and we have established two new offices in Lydenburg and Witbank. In addition we are hosting free workshops every month that are based on solutions to industry. This means that we will not be concentrating on the marketing of products as such, but rather a sharing of our knowledge and expertise with the industry to provide a solutions-based service," she says.
The company can provide a number of services for instrumentation, including design, fabrication, supply, installation and commissioning of instrumentation and analytical process projects including analyser sample conditional systems, complete with distribution boards, wiring and panels.
"We provide full turnkey process industrial shelters and enclosures for our instrumentation. We also provide project management, procurement and engineering, as well as the design, supply, consultation and engineering of process automation equipment and solutions – DCS, PLC, scada and field equipment. Customers have access to plant maintenance and training and we combine the classroom situation and the plant scenario to provide customers with the ability to use their systems innovatively," explains Willemse.
Afrilek Automation is particularly excited about its upcoming CIDB EP6 Rating. Willemse says that EP denotes all electrical engineering works, relating to generation, transmission and distribution of electricity or electrical power generation, transmission control and distribution equipment and systems.
Afrilek's team are specialists in VSD design and engineering and can provide customers with a turnkey service from concept through fabrication, supply, installation and commissioning of VSD panels. Plant specific training and plant maintenance is provided for each customer.
Afrilek training solutions
Effective maintenance of an integrated automation platform requires that staff providing maintenance have the prerequisite technical skills and knowledge to provide first-line support. Afrilek believes that prerequisite skills should be based on the application and require that staff have a technical understanding of the process and the products that provide control within the application.
"Standard product courses allow for skills transfer on a specific product, but a staff member has to know how this product fits into the integrated automation environment. To this end we offer a service that addresses the need of technical employees to acquire the skills needed to offer effective first-line maintenance," says Willemse.
"We make use of a number of processes to ascertain the skill gaps of maintenance staff when measured against their respective KPIs (Key Performance Indicators). These include an application equipment audit, an understanding of technical staff KPIs, a training needs analysis, a training plan showing courses to be attended to address skills gaps, attendance of training as per the development plan (off-site or on-site). The company offers a number of courses in programmable controllers (basic to advanced), HMI (operator panels), scada, DCS, variable speed drives and switchgear.
For more information contact Su-Anne Willemse, Afrilek, +27 (0)11 552 8113, su-anne@afrilek.com, www.afrilek.com
Credit(s)
Further reading:
SCiBOTRON's quality culture the key to success
May 2020 , System Integration & Control Systems Design
The company was founded on lean principles and quickly grew into a QSE (Qualifying Small Enterprise). Ricardo Paddy, managing director and founding member, attributes one of the reasons for the company's 
...
Read more...
---
Smart traffic management for Syntell
April 2021 , System Integration & Control Systems Design
Syntell is a leading South African technology company. One of its key projects is the running and management of one third of Johannesburg's traffic lights. Syntell's system is a full traffic management 
...
Read more...
---
PCS Global implements 5-phase control system upgrade at Kiara Health
May 2021, PCS Global , System Integration & Control Systems Design
Kiara Health is the first African company equipped with a fully-scaled server deployment in the AWS Cloud, as well as the first South African company to implement the AVEVA Flex Model.
Read more...
---
Managing thermal functions with heat exchangers
February 2021, Danfoss , System Integration & Control Systems Design
The various heat exchanger options typically have different operating requirements, as well as preferable refrigerants per application.
Read more...
---
Compressed air savings in egg carton production
February 2021, Beckhoff Automation , System Integration & Control Systems Design
Using open PC and EtherCAT-based automation technology, iZ Systems developed a compact standard controller that enables remote monitoring and optimisation of compressed air systems.
Read more...
---
Update for uniVision software
February 2021, ASSTech Process Electronics + Instrumentation , System Integration & Control Systems Design
Wengor has added another version update for the uniVision configurable standard software for two- and three-dimensional image processing.
Read more...
---
Sustainability in practice at Omron
January 2021, Omron Electronics , System Integration & Control Systems Design
Today, sustainability is no longer a niche topic, but something that companies are integrating into their business strategies on a daily basis. Not only are sustainability practices necessary to answer 
...
Read more...
---
Portion cutter for fish and poultry
November 2020, Beckhoff Automation , System Integration & Control Systems Design
Extremely fast and highly precise meat portion cutter leverages PC control.
Read more...
---
Five factors influencing the choice of industrial control hardware
January 2021, RJ Connect , System Integration & Control Systems Design
Since industrial control systems are a major investment, system integrators are well advised to consider the following five factors during the equipment selection phase of a project.
Read more...
---
Pepperl+Fuchs: entering the digital age
January 2021, Pepperl+Fuchs , System Integration & Control Systems Design
In today's digital world, data should be as readily available as electricity from the socket.
Read more...
---