printer friendly version
Oven control by Hybrid Automation
December 2019
System Integration & Control Systems Design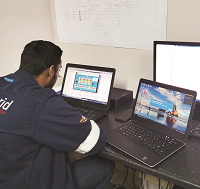 Hybrid Automation was approached by one of its clients, a leading South African FMCG company, to provide an automated solution for an existing plant in the factory. Being a popular confectionary manufacturer, the challenge faced with was to implement more control and monitoring functionality on one of its ovens, which was completely hard wired with all manual control.
The oven required plenty of operator intervention to run. Motors and burners had to be switched on and off manually. There was no interface to control the system or view alarms. If there were faults with electrical equipment or instruments, these were very difficult to fault find, which led to lengthy downtimes on the line, loss of production, and wastage.
The Hybrid Automation solution
The client requested that Hybrid Automation perform an upgrade on the system to automate the oven control. This would entail the control of four gas burners in four double tempering zones for a closed temperature control loop, as well as control of motors and safety monitoring.
The key beneficiaries of the upgrade were the production and maintenance teams. For the production team, it meant they would have a more productive oven with less downtime, and for the maintenance team, it meant that work would be more efficient.
For the biscuit manufacturer, the rewards achieved by the nature of this upgrade were prodigious. This upgrade would create much easier operation, a more automated and controlled system, and an easy to understand central operator interface panel where all operations and faults can be monitored.
The equipment specified in design for this project was as follows:
• A Siemens S7-1500 PLC used for the automation and control: this modular, scalable, and universally usable system is a preferred choice for many automated solutions as it delivers high performance with excellent usability.
• A Siemens TP1200 Comfort touch-screen HMI: the high performance and functionality of this HMI provided a perfect platform for operator control, alarming, trending and maintenance.
• Danfoss FC302 Profinet VSDs: these were used to control the motors as they were the recommended site standard for drives.
Implementation
The specified equipment along with motor protection, switchgear and other electrics were housed in a six-door electrical control panel built and supplied by Hybrid Automation. In addition to this Hybrid also provided field sensory devices and various electrical components. The existing gas burners however, were retained.
The system control was used to run a 40 metre steel oven belt through four double tempering zones for a defined time. This is the baking time for the product and determines the product to travel time from zone 1 to zone 4. The product is baked during the travel and exits onto an unloading conveyor that cools the baked product during transfer to the cream line where it gets creamed and packaged. The operator has full functionality to modify and select recipes, which contain baking times, zone temperatures, damper settings and motor speeds.
PID loops were used to control the temperatures in the four double tempering zones according to the recipes. K-type thermocouples were used to measure the temperature in the four zones and the burners were used to maintain the temperature under control of the PLC. Dampers control the air flow in all four zones.
Ongoing support is provided to the client in terms of improvements and system maintenance.
The success of this project was determined in terms of results required. It was rated a success as the system runs according to the functional specification, there is more control to the system, and all operations and faults can be monitored at the central HMI. The manufacturer now reaps the benefits of an automated oven control system, yet another achievement for Hybrid Automation.
For more information contact Hybrid Automation, +27 31 573 2795, info@hybridautomation.co.za, www.hybridautomation.co.za
Credit(s)
Further reading:
PC-based control decorates plastic lids and containers
December 2019, Beckhoff Automation , System Integration & Control Systems Design
In-mold labelling (IML) is ideally suited to meet today's customer requirements in the plastics industry, especially in the packaging segment.
Read more...
---
Project-based learning challenges the modern engineering student
December 2019, Test Dynamics , System Integration & Control Systems Design
Projects that inherently challenge students to use innovative design thinking often involve interacting with an unknown process or device. Students are encouraged to understand the unknown through theory, 
...
Read more...
---
FieldEcho: the future of integrated IO-Link technology
December 2019, SICK Automation Southern Africa , System Integration & Control Systems Design
Integrated IO-Link technology that enables full data accessibility and transparency across all platforms is here with the FieldEcho from SICK Automation. IO-Link is an increasingly used manufacturer-independent 
...
Read more...
---
AI module improves industrial production
December 2019, Rockwell Automation , System Integration & Control Systems Design
Industrial workers can now use the data from their equipment more easily to predict production issues and improve processes with their existing automation and control skill set. The new FactoryTalk Analytics 
...
Read more...
---
DRH ensures clients remain at the forefront of bulk measurement with Bindicator range
December 2019 , System Integration & Control Systems Design
DRH Components was started in Durban in 2015 when Rob Hare and Kay Goutham retired from CHI Control (now Eaton), after four decades of service. The company has offices in Durban and Pretoria. Venture 
...
Read more...
---
All-rounders EHL handles projects from conceptualisation to completion
December 2019, EHL Consulting Engineers , System Integration & Control Systems Design
EHL is an engineering, procurement and construction management (EPCM), and engineering, procurement and construction services (EPCS) company that began operating in 1980. Manager of automation at EHL, 
...
Read more...
---
A good combination for the primaries and metals industry
November 2019, Endress+Hauser , System Integration & Control Systems Design
Endress+Hauser?s measurement devices for flow, level, pressure, temperature and liquid analysis.
Read more...
---
Four key factors to consider when choosing devices for the control cabinet
November 2019, RJ Connect , System Integration & Control Systems Design
Drawing from over 30 years of experience in providing reliable products for industrial control cabinets, Moxa has identified the following four key considerations for choosing the best control cabinet 
...
Read more...
---
Saryx helps Transnet achieve ROI through scada modernisation
November 2019, Saryx Engineering Group , System Integration & Control Systems Design
Saryx Engineering has set the bar high in terms of scada modernisation and standardisation. So much so that the company won 'Best Control & Information Implementation' in recognition of a project with 
...
Read more...
---
Standardisation of ABInBev automation on three Tanzanian breweries
November 2019, Process Dynamics , System Integration & Control Systems Design
Process Dynamics has a long history within the brewing industry. The company has completed a number of projects for SABMiller and when the company was bought by Anheuser-Busch InBev (ABInBev) in 2015, 
...
Read more...
---