printer friendly version
Machine learning for all areas of automation
June 2019
System Integration & Control Systems Design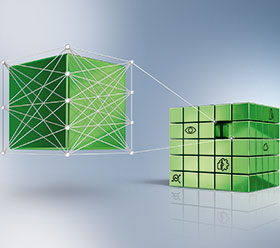 Beckhoff now offers a machine learning (ML) solution that is seamlessly integrated into TwinCAT 3 software. Building on established standards, TwinCAT 3 Machine Learning brings to ML applications the advantages of system openness from PC-based control. In addition, the TwinCAT solution supports machine learning in real-time, allowing it to handle even demanding tasks like motion control. These capabilities provide machine builders and manufacturers with an optimum foundation to enhance machine performance, e.g. through prescriptive maintenance, process self-optimisation and autonomous detection of process anomalies.
The fundamental concept of machine learning is not to follow the classic engineering route of designing solutions for specific tasks and then turning these into algorithms, but to learn the desired algorithms from process data instead. With this alternative approach, powerful ML models can be trained and then used to deliver superior solutions. In automation technology, this opens up new possibilities and optimisation potential in many areas, including predictive maintenance and process control, anomaly detection, collaborative robotics, automated quality control and machine optimisation.
The models to be learned are trained in an ML framework, such as MATLAB or TensorFlow, and then imported into the TwinCAT runtime via the Open Neural Network Exchange Format (ONNX), a standardised data exchange format used to describe trained models. The TwinCAT runtime incorporates the following new functions for this purpose:
• TwinCAT 3 Machine Learning Inference Engine for classic ML algorithms, such as support vector machine (SVM) and principal component analysis (PCA).
• TwinCAT 3 Neural Network Inference Engine for deep learning and neural networks, such as multilayer perceptrons (MLPs) and convolutional neural networks (CNNs).
Model results are directly executable in real-time
Inference i.e. the execution of a trained ML model, can be performed directly in real-time with a TwinCAT TcCOM object. With smaller networks, system response times of less than 100 s corresponding to a TwinCAT cycle time of 50 s are supported. Models can be called via PLC, C/C++ TcCOM interfaces or a cyclical task.
Through seamless integration with the control technology, the multi-core support provided by TwinCAT 3 is also available for machine learning applications. This means, for instance, that different task contexts can access a particular TwinCAT 3 Inference Engine without restricting each other. All the fieldbus interfaces and data available in TwinCAT can be fully accessed as well. This allows ML solutions to use immense amounts of data, for example, for complex sensor data fusion (data merging), and it also means that real-time interfaces to actuators are available to enable, among other things, optimal control.
For more information contact Michelle Murphy, Beckhoff Automation, +27 11 795 2898, michellem@beckhoff.com, www.beckhoff.co.za
Credit(s)
Further reading:
Dome protects communication sticks
December 2019, Beckhoff Automation , Industrial Wireless
With the new CU8210-M001 cabinet dome, the USB port of an industrial PC can be fed out of the control cabinet and still be well protected. In this way, reliable and powerful wireless connections to the 
...
Read more...
---
PC-based control decorates plastic lids and containers
December 2019, Beckhoff Automation , System Integration & Control Systems Design
In-mold labelling (IML) is ideally suited to meet today's customer requirements in the plastics industry, especially in the packaging segment.
Read more...
---
Project-based learning challenges the modern engineering student
December 2019, Test Dynamics , System Integration & Control Systems Design
Projects that inherently challenge students to use innovative design thinking often involve interacting with an unknown process or device. Students are encouraged to understand the unknown through theory, 
...
Read more...
---
FieldEcho: the future of integrated IO-Link technology
December 2019, SICK Automation Southern Africa , System Integration & Control Systems Design
Integrated IO-Link technology that enables full data accessibility and transparency across all platforms is here with the FieldEcho from SICK Automation. IO-Link is an increasingly used manufacturer-independent 
...
Read more...
---
AI module improves industrial production
December 2019, Rockwell Automation , System Integration & Control Systems Design
Industrial workers can now use the data from their equipment more easily to predict production issues and improve processes with their existing automation and control skill set. The new FactoryTalk Analytics 
...
Read more...
---
DRH ensures clients remain at the forefront of bulk measurement with Bindicator range
December 2019 , System Integration & Control Systems Design
DRH Components was started in Durban in 2015 when Rob Hare and Kay Goutham retired from CHI Control (now Eaton), after four decades of service. The company has offices in Durban and Pretoria. Venture 
...
Read more...
---
All-rounders EHL handles projects from conceptualisation to completion
December 2019, EHL Consulting Engineers , System Integration & Control Systems Design
EHL is an engineering, procurement and construction management (EPCM), and engineering, procurement and construction services (EPCS) company that began operating in 1980. Manager of automation at EHL, 
...
Read more...
---
Oven control by Hybrid Automation
December 2019, Hybrid Automation , System Integration & Control Systems Design
Hybrid Automation was approached by one of its clients, a leading South African FMCG company, to provide an automated solution for an existing plant in the factory. Being a popular confectionary manufacturer, 
...
Read more...
---
A good combination for the primaries and metals industry
November 2019, Endress+Hauser , System Integration & Control Systems Design
Endress+Hauser?s measurement devices for flow, level, pressure, temperature and liquid analysis.
Read more...
---
Four key factors to consider when choosing devices for the control cabinet
November 2019, RJ Connect , System Integration & Control Systems Design
Drawing from over 30 years of experience in providing reliable products for industrial control cabinets, Moxa has identified the following four key considerations for choosing the best control cabinet 
...
Read more...
---