printer friendly version
Moore's integrated solutions find favour in various application across the globe
August 2016
System Integration & Control Systems Design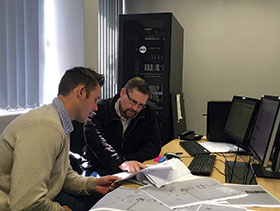 What began as a local representative arm for the Moore DCS brand has in 32 years grown into a company supported by 70 certified technical/engineering personnel in six branches situated in Midrand, Secunda, Vanderbijlpark, Houston, the UK and Singapore. Moore provides integrated solutions from the field instrumentation level right through to the MES layer and integration into ERP systems, and represents a number of high-profile instrumentation and control brands.
The company's portfolio is extensive, with systems integration services ranging from field instrumentation through to DCS and PLC supply, compressor control and alarm management. "We are also involved in base layer optimisation, predictive maintenance, asset and security management, data integration and MES solutions," says the company's Eric Hore. "We have provided a number of downtime and maintenance optimisation systems as well as mobile tracking/satellite tracking systems. These services are complemented by rapid load out tracking and reporting, general reporting solutions and the provision of training simulators that assist clients in visualising and experiencing actualised scenarios.
"Our primary goal is to provide service excellence using the best tools available to ensure our clients' requirements are met and that they retain us as their preferred supplier. We achieve this by aligning ourselves with superior suppliers and offering customised solutions that are tailored to meet specific applications across the industries we serve. Adopting a hands-on approach, the only element we outsource is panel manufacture."
Not only does Moore hold a number of prestigious certifications and compliances, such as ISO and OHSAct, as well as having TUV and SIL certified engineers, but the company is the sole distributor for Moore DCS products, Energy Management Systems and MatrikonOPC. It has also received the stamp of approval as a systems integrator for Rockwell, ABB, Honeywell Automation, Honeywell Advanced Solutions and WonderWare, as well as being a distributor and SI for Siemens products. Working in partnership with Honeywell, Moore is furthermore able to offer tightly integrated industrial security solutions.
In addition to providing clients with a turnkey solution, Moore also offers across-the-board training to its clients for all the product lines it supports. This also extends to the company's employees, who are well versed in the latest technological developments and trends.
Customer service does not end after project handover, but continues in a full range of maintenance solutions across a range of hardware, software and services. The maintenance system is web-based and allows full tracking and management of systems to ensure that clients obtain complete value and return on investment from implemented solutions.
Moore has completed a number of complex and high profile projects in South Africa, the Democratic Republic of Congo, Angola, Nigeria, Equatorial Guinea, Brazil, offshore Canada, offshore Australia, Singapore and Malaysia. These include MES systems for two large collieries in South Africa; an 81 MVA furnace automation project; a 50 MW boiler/turbine automation project; the Deep Panuke offshore platform automation project; base layer optimisation and alarm management solutions for 15 global assets; and subsea automation systems for a number of assets off the west coast of Africa.
In addition, the company has developed a fully functional training simulator with lifelike responsiveness and simulated automation and control with automated score cards and evaluations.
"We will continue to evaluate best in class solutions and improve operability by offering them to our clients," concludes Hore.
For more information contact Eric Hore, Moore Process Controls, +27 (0)11 466 1673/9, eric@moore.co.za, www.moore.co.za
Credit(s)
Further reading:
WLS15 Pro series strip light
July 2021, Turck Banner , System Integration & Control Systems Design
Turck Banner's new WLS15 Pro comes in Pro Editor, IO-Link, or Pick-IQ compatible models.
Read more...
---
Water resource sustainability management
July 2021, Yokogawa South Africa , System Integration & Control Systems Design
One way Yokogawa is successfully pursuing its sustainability goals is through its service to the global water industry.
Read more...
---
SCiBOTRON's quality culture the key to success
May 2020 , System Integration & Control Systems Design
The company was founded on lean principles and quickly grew into a QSE (Qualifying Small Enterprise). Ricardo Paddy, managing director and founding member, attributes one of the reasons for the company's 
...
Read more...
---
Visualisation using vision-specific controls
June 2021, Beckhoff Automation , System Integration & Control Systems Design
TwinCAT Vision combined with TwinCAT HMI.
Read more...
---
Modularity boosts performance
June 2021, SEW-Eurodrive , System Integration & Control Systems Design
Integrated technologies automate, upgrade and streamline existing production processes, while still allowing for future technology to be incorporated.
Read more...
---
Changing negative attitudes towards alarms
June 2021, Omniflex Remote Monitoring Specialists , System Integration & Control Systems Design
Why technology is only as good as the people using it.
Read more...
---
Smart traffic management for Syntell
April 2021 , System Integration & Control Systems Design
Syntell is a leading South African technology company. One of its key projects is the running and management of one third of Johannesburg's traffic lights. Syntell's system is a full traffic management 
...
Read more...
---
PCS Global implements 5-phase control system upgrade at Kiara Health
May 2021, PCS Global , System Integration & Control Systems Design
Kiara Health is the first African company equipped with a fully-scaled server deployment in the AWS Cloud, as well as the first South African company to implement the AVEVA Flex Model.
Read more...
---
Managing thermal functions with heat exchangers
February 2021, Danfoss , System Integration & Control Systems Design
The various heat exchanger options typically have different operating requirements, as well as preferable refrigerants per application.
Read more...
---
Compressed air savings in egg carton production
February 2021, Beckhoff Automation , System Integration & Control Systems Design
Using open PC and EtherCAT-based automation technology, iZ Systems developed a compact standard controller that enables remote monitoring and optimisation of compressed air systems.
Read more...
---