printer friendly version
Metso improves paper quality measurements
May 2014
System Integration & Control Systems Design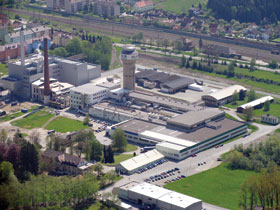 Brigl & Bergmeister, a leading manufacturer of papers for labels and flexible packaging, recently upgraded the existing Metso quality control system at its Niklasdorf mill in Austria. With the modernised quality control system, the mill will be able to enhance the quality of its labels that are found on many world renowned beverage brands. The investment will also extend the life cycle of the entire label paper production line.
"Our papers wear the face of countless familiar brands. The customer's first contact with a branded product is often the label or the packaging, made of our paper. A label is much more than an information carrier; it can enhance a product's success," says Michael Sablatnig, managing director of Brigl & Bergmeister.
Automation technology cooperation between Brigl & Bergmeister and Metso goes back several decades and has covered several automation and quality control system generations. Metso also provides the company with a wide range of professional automation services locally. Today, the mill runs its functions on a single automation system, Metso DNA. The single system architecture saves on cost and effort, ensuring an open platform for future growth. The modernised quality control system has been installed on the same automation platform.
"We prefer to cooperate with Metso because they ensure the best compatibility between their state-of-the-art technology and our existing equipment," adds Wilhelm Fandler, electrical manager at Brigl & Bergmeister.
Technical information
Metso IQ Scanner is a distortion free platform for Metso IQ sensors, providing fast high resolution sheet quality profiles from edge to edge. A solid construction plus built-in intelligence and diagnostics ensure trouble free operation year after year. The scanner is designed to produce accurate and stable sheet quality measurements in the hot, humid and dusty environment of a paper machine. A unique stiff beam design combines a low scanner height with high mechanical stiffness.
Metso IQ CD Control is a high-level intelligent application that optimises the cross-machine performance of tissue, paper and board machines and pulp dryers, including coater and calender applications. Based on the optimisation of high resolution measurements, this unique algorithm handles all cases from a single to the more complex multi-variable control solutions that provide the best possible profile during changing process conditions.
Metso IQ MD Control's model predictive control (MPC) integrates fast-responding wet end process controls and dry end feedback controls to achieve increased performance in paper quality control. Paper process variability is controlled before the wet sheet is formed, attenuating any cycling or upsets that are difficult or impossible to control using only traditional feedback controls from the dry end. The results include better quality through a more stable short circulation and uniformity of the sheet.
Metso IQ Dilution Profiler is a profile control system for the advanced positioning of head-box valves. It has been especially designed to achieve the best possible weight profile that a head-box can produce.
Metso has a wide scope of automation solutions and services for the pulp and paper industry – from single measurements to mill-wide turnkey automation projects. The company also holds a leading position in pulp performance optimisation with its advanced control solutions that help customers lower their operating and maintenance costs.
Credit(s)
Further reading:
WLS15 Pro series strip light
July 2021, Turck Banner , System Integration & Control Systems Design
Turck Banner's new WLS15 Pro comes in Pro Editor, IO-Link, or Pick-IQ compatible models.
Read more...
---
Water resource sustainability management
July 2021, Yokogawa South Africa , System Integration & Control Systems Design
One way Yokogawa is successfully pursuing its sustainability goals is through its service to the global water industry.
Read more...
---
SCiBOTRON's quality culture the key to success
May 2020 , System Integration & Control Systems Design
The company was founded on lean principles and quickly grew into a QSE (Qualifying Small Enterprise). Ricardo Paddy, managing director and founding member, attributes one of the reasons for the company's 
...
Read more...
---
Visualisation using vision-specific controls
June 2021, Beckhoff Automation , System Integration & Control Systems Design
TwinCAT Vision combined with TwinCAT HMI.
Read more...
---
Modularity boosts performance
June 2021, SEW-Eurodrive , System Integration & Control Systems Design
Integrated technologies automate, upgrade and streamline existing production processes, while still allowing for future technology to be incorporated.
Read more...
---
Changing negative attitudes towards alarms
June 2021, Omniflex Remote Monitoring Specialists , System Integration & Control Systems Design
Why technology is only as good as the people using it.
Read more...
---
Smart traffic management for Syntell
April 2021 , System Integration & Control Systems Design
Syntell is a leading South African technology company. One of its key projects is the running and management of one third of Johannesburg's traffic lights. Syntell's system is a full traffic management 
...
Read more...
---
PCS Global implements 5-phase control system upgrade at Kiara Health
May 2021, PCS Global , System Integration & Control Systems Design
Kiara Health is the first African company equipped with a fully-scaled server deployment in the AWS Cloud, as well as the first South African company to implement the AVEVA Flex Model.
Read more...
---
Managing thermal functions with heat exchangers
February 2021, Danfoss , System Integration & Control Systems Design
The various heat exchanger options typically have different operating requirements, as well as preferable refrigerants per application.
Read more...
---
Compressed air savings in egg carton production
February 2021, Beckhoff Automation , System Integration & Control Systems Design
Using open PC and EtherCAT-based automation technology, iZ Systems developed a compact standard controller that enables remote monitoring and optimisation of compressed air systems.
Read more...
---