printer friendly version
Sustainable mobility
Technews Industry Guide: Sustainable Manufacturing 2021
System Integration & Control Systems Design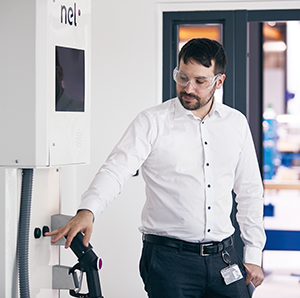 Based in Herning, Denmark, the technology company Nel Hydrogen is focused on developing hydrogen filling stations, a market expected to grow rapidly in the coming years due to increased efforts to achieve sustainability in all areas of life. The energy conversion of hydrogen to create a fuel source is two to three times more efficient than conventional engines. This means that hydrogen-powered vehicles have a longer range while using less fuel than conventionally powered vehicles. In the process, they do not emit any CO2 or other pollutants such as carbon monoxide or nitrogen oxides. The only waste product is water. Today, Nel Hydrogen produces and sells more than 30 stations per year. This number will soon rise to 300.
The automotive industry is rethinking
"We see a shift in strategy among the world's automobile producers," says Michael Stefan, director of product management at Nel Hydrogen. "A significant share of our stations is sold to Korea. Asian car producers have an aggressive strategy when it comes to zero-emission vehicles. In the USA, especially in California, there are attractive leasing offers for hydrogen cars. According to market forecasts, there will be a need for 20 000 to 30 000 hydrogen dispensers worldwide by 2030."
Maturing the market
Nel Hydrogen relies on Beckhoff technology to stay ahead of competition. The challenge is to navigate in a relatively immature market and choose technologies and solutions that can give customers the same experience with hydrogen fuelling as with gasoline. It has to be easy, and with typically only one hydrogen dispenser at each station, it has to work 24/7.
"We have taken a leading position in this market with the goal of making hydrogen a successful alternative to gasoline and diesel," explains Stefan. "We apply Beckhoff automation control solutions, and we can definitely say that Beckhoff's open platform strategy supports our business model."
Real-time is key
Beckhoff's TwinCAT PLCs and EtherCAT fieldbus control the entire fuelling process. Component data is collected, such as pressure, temperature, flow, gas detection and the condition of the vehicle tank, and all data is distributed to the cloud. All processes and parameters are closely monitored in real-time, which enables predictive maintenance and fast reaction if required.
"We need powerful PLCs and fast signal processing to ensure that our equipment is as sophisticated as petrol stations," says Jacob Svendsen, head of technology development, Nel Hydrogen. "Since the first fuelling station was developed in 2003, the stations have become more complex. Real-time data is extremely important. It is a question of milliseconds from data capture to distribution to the cloud. This is the strength of Beckhoff components. There are very few limitations when it comes to speed, and with open standards you can connect to everything. Open standards, real-time speed and flexibility are key for us."
Nel Hydrogen is one of the few filling station manufacturers that develops its own software. The company believes that software-oriented, rather than hardware-based, solutions will emerge as the company's unique selling point.
"We gain valuable insight and experience by building the software solutions ourselves," adds Svendsen. "Beckhoff supports us with this. Programming is made easy with the TwinCAT environment implemented in Visual Studio and the ability to use object-oriented programming. We can re-use code from different PLCs to scale with different CPUs, thereby saving time and resources. We benefit from fast scan rates to control regulation, diagnostics, reporting, and safe shutdowns in case of leaks. At the same time, we can reduce the energy consumption of each individual component. We are able to optimise both functionality and energy consumption for the benefit of consumers as well as the environment."
"Today, a dispenser can serve 40-80 cars per day, but in the near future our stations should serve at least 10 times that number per day," concludes Stefan. "We need solutions that not only keep us up-to-date with market developments, but which help us develop the market. For us, Beckhoff is the right partner because they focus on innovative solutions, which we depend on in our industry. Fortunately, the paths between Beckhoff's development department in Germany and the support in Denmark are very short."
For more information contact Dane Potter, Beckhoff Automation, +27 79 493 2288, danep@beckhoff.com, www.beckhoff.co.za
Credit(s)
Further reading:
TwinCAT for test rig automation
Beckhoff Automation System Integration & Control Systems Design
Flexibility and high performance in control program generation for endurance testing.
Read more...
---
ABB moves toward zero-carbon mines
ABB South Africa System Integration & Control Systems Design
ABB has launched ABB Ability eMine, a portfolio of solutions that will help accelerate the move toward a zero-carbon mine.
Read more...
---
Legacy alarm upgrade for Uganda's power generator
Omniflex Remote Monitoring Specialists System Integration & Control Systems Design
In a digital age, where we rely so heavily on computer-based equipment, do we still need bulky, hard-wired annunciator panels?
Read more...
---
EtherCAT saves space in wind turbines
Beckhoff Automation System Integration & Control Systems Design
At this year's Husum Wind during September, Beckhoff demonstrated its many years of know-how and its broad product range for the wind power industry.
Read more...
---
Smart production line configuration
Iritron System Integration & Control Systems Design
In the discrete manufacturing environment, a tool change or the reconfiguration of a production line is a major cause of production loss.
Read more...
---
Controlling power generation with TwinCAT software
Beckhoff Automation Electrical Power & Protection
Researchers are implementing innovative new control methods on Beckhoff embedded PCs running TwinCAT to validate their grid-forming control methods.
Read more...
---
Migration from factory automation to process engineering
Pepperl+Fuchs System Integration & Control Systems Design
Pepperl+Fuchs has developed a range of high-tech sensors that have proven themselves in discrete applications. With added explosion protection, they are also suitable for process engineering in zones 1/21 and 2/22.
Read more...
---
Totally Integrated Automation – added value in three dimensions
Siemens South Africa Editor's Choice System Integration & Control Systems Design
Discover everything that's in TIA, the leading automation concept from Siemens, and how it all works together to create a unique product for machine builders and industrial enterprises.
Read more...
---
Smart water system management
Saryx Engineering Group System Integration & Control Systems Design
The Saryx Engineering Group is leveraging digital technologies to manage water storage, flow, usage and treatment more efficiently.
Read more...
---
The brewery of the future
Siemens South Africa Process Dynamics System Integration & Control Systems Design
Meeting current and future customer requirements quickly and with the highest quality is key to the food and beverage industry.
Read more...
---