printer friendly version
Linear-linked CNC centre keeps up a high production rate
December 2000
System Integration & Control Systems Design
Flexline, the linear-linked, multimachining centre concept developed by Chiron GmbH, Tuttlingen, has been developed to satisfy the demands of many production professionals for adaptable, yet highly productive manufacturing facilities. The first incorporation of the new GE Fanuc Series 210i CNC with Windows CE played a major role in the successful realisation of this pioneering manufacturing concept.
On the one hand, there are transfer lines, which are rigidly fixed by workpiece handling procedures and on the other, standalone machining centres. The former work in a highly productive way. However, the disadvantage is that they can be adapted to different workpieces only at considerable expense. These production facilities were the preferred method to date, eg for producing workpieces in large-scale production in the automotive industry. Standalone units, however, are more easily and flexibly adapted to shorter runs.
Today, many of the more than 4500 components of a passenger vehicle must be manufactured in small and medium-scale batches as variants in order to conform to customised fittings. Furthermore, people require flexible production facilities that can be adapted at short notice, at less expense in time and labour costs, and still work efficiently.
It is due to these desired changes in manufacturing that the production and machine tool specialists at Chiron developed the flexible production system, known as Flexline. It consists of three to eight machining centres on a standard FZ12 S or FZ18 S high-speed Flexline system. These are linked to linear transfer of workpiece pallets. There is also a loading and unloading station for workpieces.
For controlling and monitoring overall production, each integrated machining centre has a separate GE Fanuc Series 210i control system. In addition to the usual functions, the 210i CNC also monitors a number of sensors. This ensures the highest levels of safety for the more automated sections of production on Flexline. In this way, the driving power and vibrations of the work spindles are monitored, in conjunction with a tool monitoring system. Using this data, the control system can decide whether the tool is operating correctly or if, for example, something is broken. It can also recognise if a workpiece is missing or has not been clamped onto the work-table properly.
Thermal sensors in the chassis and drive components are provided. An integrated, automatic compensation in the CNC enables the starting positions in all axes to be corrected and assessed. In this way, the machining centres can continuously maintain a processing accuracy of 0,01 mm, even in the face of changing environmental conditions. The CNC also monitors the tool change. Each of the integrated centres has 20 tools in its tool store. This means that a total of up to 160 tools are available. A memory chip containing the tool setting data is fitted to the body of each tool. Using a 'tool-box' and a pen for scanning the memory chip, the operator can read in the data when changing a tool. The data is then transmitted directly to the NC program for zero offset compensation, etc. This prevents transfer errors, which could occur if tool data is manually entered via screen dialogue. It also considerably speeds up the process of entering the data.
Flexibility ensured by self-contained CNC
As each of the GE Fanuc 210i Series CNCs is self-contained for independent monitoring of each of the Flexline centres, the whole production system can continue to operate even if an error occurs or a machine stops. For installation and programming or automatic operation, the user simply selects a different operating mode on the user panel of the CNC. Separate user panels for purposes of installation are no longer required.
Production can be easily programmed in the Flexline system. There is the option of manufacturing workpieces in mass production or of several workpieces being manufactured in parallel with alternating stations. Depending on the stages to be carried out, almost any desired combination of strategies can be used. In this way, the system combines in one facility the high flexibility of a standalone centre with the excellent productivity of a transfer line.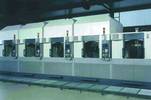 Picture shows Chiron 'Flexline', consisting of linked machining centres, incorporating linear transfer of workpiece pallets and automated workpiece load/unloading station, all monitored by the GE Fanuc Series 210i CNC system (Windows CE)
Carefully co-ordinated control and drive components
The complete drive package from GE Fanuc provides the highest dynamics in all movement axes. Servo controls, power amplifiers, work spindle and servo drives are carefully co-ordinated. For example, the standard design work spindles can reach infinitely variable speeds of up to 10 500 rpm or optionally up to 15 000 rpm. This enables high speed processing of workpieces made of steel and non-ferrous metals in short production times and because of the high levels of surface finish also achieved through higher speed, it further reduces times for producing complex workpieces. In this way some working cycles, eg often required grinding of workpieces from the transfer lines, are no longer required.
Even nonproductive times for changing workpieces are reduced by using the complete drive package from GE Fanuc. The linear workpiece transfer operates at speeds of up to 220 m/min with accelerations of up to 1 g - yet it is still able to exactly position workpiece pallets when changed with accuracy to a few hundredths of a millimetre. The pallets are clamped onto the NC swing table with HSK-B 100 taper shank arbors. This guarantees consistent positioning accuracy of both table and workpiece to within 0,01 mm.
The loading and unloading facility requires only around 1,9 s to change the workpiece pallets. There is the option of clamping them onto an NC indexing table controlled by an NC axis (fourth axis) or in two NC axes (fourth and fifth axis). This enables workpieces to be fully machined at the desired angles on five or, with multiple clamping, even on six sides.
High-resolution, absolute value sensors minimise the period required for setting up and starting the complete flexible production system. After every start, even after an emergency shutdown, the GE Fanuc 210i Series CNCs know the positions of all axes movements. In this way, the user can restart the complete plant or even individual processing stations at any time and at short notice, without having to initiate complicated and time-consuming reference positions.
Worldwide deployment
The considerable benefits of complete flexibility with high productivity render the newly-developed flexible system, Flexline, particularly suitable for automotive manufacturers and their suppliers. These companies are increasingly operating on a global basis and have set up production sites worldwide. This is one of the reasons that Chiron decided to use the CNC systems from GE Fanuc, who also operate on a worldwide basis with expert service personnel and who supply spare parts to virtually any location in the world within 24 to 48 hours. Furthermore, the CNC and drive systems from GE Fanuc enjoy a worldwide reputation for reliability.
Machine stoppages caused by the controls and the drive systems are rare. The highest levels of productivity, particularly in shift operations, are therefore sustained.
Further reading:
Control loop: Case History 182 - A temperature cascade control loop that didn't work
Michael Brown Control Engineering Editor's Choice System Integration & Control Systems Design
The problems encountered in a heater outlet temperature control in a petrochemical refinery were causing considerable difficulties for the operators. Here is another wonderful example of the power of cascade control, even with a really bad control element.
Read more...
---
The role of 'green' packaging in sustainable manufacturing
Omron Electronics System Integration & Control Systems Design
Sustainability in the packaging industry is one of the key aspects in fighting the plastic waste issue and, ultimately, climate change.
Read more...
---
Working hand in hand to meet automotive OEMs' strict requirements
Turck Banner Sensors & Transducers System Integration & Control Systems Design
The LASE Group, producer of machines and assembly cells for the automotive industry, places trust in its close collaboration with Turck Multiprox.
Read more...
---
PC-based control for seed treatment
Beckhoff Automation System Integration & Control Systems Design
The cost and consumption reports generated by the production control system open up new ways of managing and analysing data.
Read more...
---
Cobot boosts production by 15%
Omron Electronics System Integration & Control Systems Design
Topcustom, an Italian producer of custom-made bathroom sinks, has recently transformed part of its operations by deploying a collaborative robot (cobot) from Omron. The new cobot is being used to automate 
...
Read more...
---
Integrated control and software solutions for operational efficiency and traceability
Schneider Electric South Africa System Integration & Control Systems Design
Actionable insight from integrated operations has the potential to transform business and improve risk management.
Read more...
---
Omron and FlexLink design collaborative palletiser
Omron Electronics System Integration & Control Systems Design
The cobot solution, with its small footprint and active safety equipment, enables the handling of up to 8 boxes per minute without the need for fencing or laser scanners.
Read more...
---
Control loop: Case History 181 - Understand the basics of the components in the loop
Michael Brown Control Engineering Editor's Choice System Integration & Control Systems Design
To my amazement I find that people seem to think that because these days we are using 'smart' transmitters, the basic rules can be ignored.
Read more...
---
Reliable drug production requires fast and GMP-compliant labelling
Omron Electronics System Integration & Control Systems Design
By using a new labelling system with smart camera technology from Omron, Steierl-Pharma can label its pharmaceuticals with high process speed and reliability.
Read more...
---
Oval XTS line and PC-based control optimise plastic hose production
Beckhoff Automation System Integration & Control Systems Design
When changing formats, for example, for a conversion to other winding lengths, the solution eliminates the need for mechanical adjustments and re-programming in the six-axis machine responsible for feeding the material.
Read more...
---